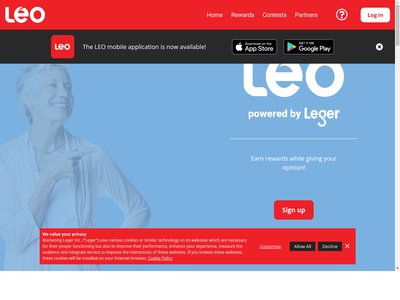 LEO
507 Place d'Armes, Suite 700, Montreal, Quebec H2Y 2W8 CA
Tel: 1-833-375-3007 Contact: https://www.legeropinion.com/en/contact/
Operated by: Leger Marketing

PAYMENTS OFFERED

Cash paid via PayPal

Prepaid debit or credit cards

Amazon gift cards

Starbucks gift cards

Walmart gift cards

Air Miles Reward Miles

Airline Miles

Retail e-vouchers

Donations to charity

Sweepstakes entries

HOW TO PARTICIPATE

Online surveys

Online focus groups

In-person focus groups

Product testing

Mobile surveys

Mobile app

Refer-a-friend program

Teen surveys

REDEEMING REWARDS
$20 minimum account balance required for most reward options. Exceptions are donations to charity, and that 20 Air Miles can be requested for $10.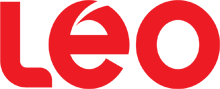 LEO was formally known as LegerWeb. This change occurred on May 1, 2019.
LEO Surveys (Leger Opinion) is Canada's largest online surveys community, conducting approximately 500 survey studies online each year. The panel was founded in 2004 by a dynamic and young group of individuals. LEO has a focus on Canadian survey takers, but if you live in the USA, you can also take surveys through this panel. Many surveys are also geared towards Francophone Canadians, and are offered in French. Over $20,000,000 has been awarded in payments to survey takers to date.

Express Yourself and Get LEO Points
LEO Surveys offers their members the opportunity to earn 'LEO Points' for completing paid surveys. After joining LEO for free, you will be e-mailed invitations to complete surveys, as they become available. If you prefer taking surveys on your phone, you can use the LEO app (available on both Android and iOS) to take surveys, check your account balances and redeem your rewards, straight from your mobile device.
How Much You Can Earn
Cash values of survey completions vary, however Leger Opinion advertises amounts that range between $1-$35. LEO points may be redeemed for cash payments made via PayPal, gift cards, pre-paid Visa cards, Air Miles, and Aeroplan miles. You may request a reward when your account reaches a balance of $20.00.

Reward Details
Rewards come in the form of LEO Points that can be redeemed for cash, Air Miles, Aeroplan Miles, Paypal, Visa prepaid cards, Uber gift cards, as well as for gift cards to Amazon, Walmart, Starbucks, and more.
To collect Air Miles (Canadians-only), you can transfer LEO Points directly into your Air Miles account. Note that LEO points or Air Miles may take 72 hours to appear in your account after you have completed a survey.
Another option is using your points to give back to charitable causes. LEO has partnered with the One Tree Planted and you can donate as little as 18000 LEO points ($18.00) to make a contribution to have 10 trees planted.
Redeeming Rewards
Once you have earned $20 you can choose to cash out via PayPal, e-gift card, or Aeroplan. Alternatively, you can request 20 Air Miles Reward Miles for $10 in earnings.
Visit the LEO surveys website

›
Survey Details
Each survey typically awards $1.00, and because the surveys are quick and easy (most take about 8-10 minutes), your account balance should build up quickly. It can take up to 72 hours for your points to be credited to your account, and longer surveys pay up to $35. Panel members will be sent on average about 1-2 survey invitations a month and most surveys come with a cash incentive in addition to prize draw entries. Note that you will need to complete at least 3 surveys a year to remain an active member.
Complete Surveys Anywhere, Anytime
The Leger Opinion team has created compatibility tools that allow members to participate in surveys anywhere at any time! Download the LEO mobile application on your iPhone or Android phone, so you can be notified directly when surveys become available. The website is also tablet and mobile friendly for added convenience! No need to rush to your computer when a survey has become available.
Visit Leo's website

›

Generous Monthly Draws
Each month, LEO has prize draws that can be won by panel members. Contest entries are accumulated by participating in surveys during a specified time period. The available monthly prizes are valued at around $2,500. The draw takes place on the first Tuesday of each month and includes 5 prizes similar to the following: $1000 cash, $500 cash, a $250 gift card, Air Miles, and more.
Fun Member Polls
Check out the interactive portion of the LEO Surveys website, where fun and interesting poll questions can be answered in real time. Members can even send in their own questions, which may appear on the website!
Love, Hate, Rate
LEO also has an option to participate in their Love, Hate, Rate program which allows you to express yourself as a customer of products you interact with, the places you visit, the events you attend and more. Share your experience in complete confidentiality to express your opinions anywhere, anytime. Comments received are used to identify trends and assign ratings to businesses, products, brands, events and services.
Refer Your Friends
For each friend you refer, you earn $1. A referral is considered complete when the referred party finishes their profile and completes one survey.
Eligibility: Focus on Canadian residents, but residents of both the USA and Canada who are 13+ are welcome to join.
---
August 21, 2020 by Susan from Canada
I have been a panellist for LEO for a number if years and mostly it's been positive. Just recently I have started doing surveys and have started answering the post-screening questions and then been disqualified. Spending 8-10 minutes to then be told I won't be rewarded is annoying but if you complain, all you get are snotty emails telling you that you can basically go take a jump.
September 21, 2019 by Jim from United States
I am from the US and joined LEO (formerly Leger Web) with high hopes as interactions I have had with anything Canadian was positive (to this point). Not so here. You need to be INVITED to take their surveys and I never was. If you look at the positive reviews, you will see they are all from Canada. Why invite US citizens if you do not want their opinions?
Don't bother if you live in the U.S.
June 11, 2019 by Cinque from United States
They blocked my account for no reason (I can't sign in). They never sent me any surveys! It appears they only give out surveys to Canadian citizens. Why do they even allow U.S. residents to sign up if they're not going to send us surveys?...weird!
Lies About Referrals/Surveys Stopped at $19.50
September 1, 2016 by Justin from Canada
Signed up for Legerweb about two weeks ago, initially it was great, I was getting surveys on a daily basis and before I knew it I was nearly at 20.00. I sent some referrals to friends and family members, my cousin and my little brother signed up and both completed surveys. When I noticed that I didn't get my $1.00 x 2 for referrals I contacted legerweb. They informed me that my brother had deleted his referral (a blatant lie as he works right next to me and I watched him sign up and do FOUR surveys) and that my cousin had not yet completed his first survey, both of which were a lie. I replied to this 48 hours ago advising that I am in constant contact with the two individuals in question and have received no response. Furthermore the moment I hit $19.50 my survey invitations stopped completely, in my opinion a bit more than a coincidence. Stay away !!
Dishonest, Deceptive tactics to get your info and not pay you!
July 15, 2015 by Jean-Pierre from Canada
Stay away from this ! It used to be good before but not anymore. Don't be fooled by the lure of the increased payment $2, etc...... What they do is conveniently get all your personal info and answers only to tell you that you either don't qualify OR that they reached all the respondents for this study. Really ? How is it even possible, they just sent met he invite.......No survey should screen you out this way mid way. If their survey is full or closed they should say so from the start.
NOT after getting your information first.

I am filing a better business bureau report for this company + few complaints
to the OPC (The Canadian version of the FTC).

I would rate this market reearch a 0 if I could.
* Too few surveys invitations
* Lousy pay rate
* Deceptive tactics of constantly disqualifying or screening you out.
» Return to: TOP RATED SURVEY SITES
---
Popular Topics
Top Survey Sites of 2022
---
Highest User Rated Survey Sites
---
Survey Sites That Pay Instantly
---
Get $100 Free PayPal Payments
---
9 Product Testing Job Websites
---
12 Online Surveys That Pay Cash
---
How to Earn Free Uber Gift Cards
---
14 Ways to Get Free Amazon Gift Cards
---
Best Paid Focus Groups
---
How to Get a Free Visa Gift Card
---
Ways to Get Free Xbox Gift Cards
---
Featured Advertisers: