LifePoints Reviews and Features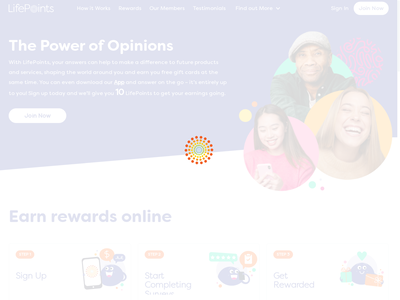 LifePoints
685 US-206, Bridgewater Township, New Jersey 08807 US
Tel: (908) 605-4500 Contact: https://lifepoints.zendesk.com/hc/en-us/requests/new
Operated by: Lightspeed LLC

PAYMENTS OFFERED

Cash paid via PayPal

Amazon gift cards

Apple gift cards

Starbucks gift cards

Best Buy gift cards

Movie vouchers

Retail e-vouchers

Donations to charity

HOW TO PARTICIPATE

Online surveys

Mobile surveys

Product testing

Diary surveys

Video surveys

Teen surveys

REDEEMING REWARDS
Redeem your LifePoints at any time from the LifePoints Rewards Catalog when your account contains at least 550 LifePoints ($5). Choose from PayPal payments, e-gift cards or a donation.
Beginning early 2019, Lightspeed shut down MySurvey and GlobalTestMarket in most countries, and merged those members into LifePoints.
LifePoints is a survey website where people from all over the world can make extra money and earn gift cards by participating in market research surveys. Joining the community is free and your opinions will have a big impact on future products and services.

What is LifePoints Panel?
LifePoints is an online survey site and community of like-minded people who want to share their views and opinions to earn rewards and influence future decisions made by the big brands we know and see every day.
It's also the place to go for those who want to collect rewards for living their lives. Every time you go shopping, to the movies, or simply enjoy a new local service, you can collect LifePoints by sharing your views and opinions about these products, services and experiences.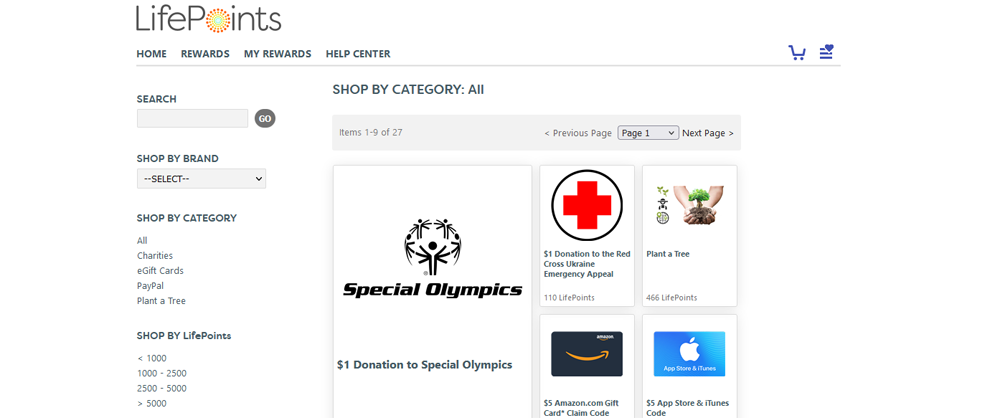 Join to Get Free Points
New members of LifePoints Panel will enjoy 10 free points automatically credited to their accounts upon confirming their email.
Great Rewards Options
In order to request a reward, you must have a minimum of 550 LifePoints ($5) in your account. Once you've reached this balance, you can spend your LifePoints on three main reward options: gift cards, PayPal payments and donations. Note that rewards options may vary between countries.
e-Gift cards - With just 550 points, you can request a $5 e-gift card from Amazon, Starbucks, Best Buy, Google Play, Apple Store, Marks & Spencer, Love2Shop, ebay, to gas stations, and more
PayPal payments - With 1200 points in your account, request a $10 PayPal payment.
Donations - Donate to a great charity with as little as $1 (110 points). Charities include: Red Cross, Special Olympics, Eco Matcher
All rewards are issued within 10 days of request. If requesting a PayPal payment, be sure your PayPal email address is the same as the e-mail address you used to sign up with Lifepoints.
Points Value: 550 Lifepoints = $5.00. Therefore, 10 points = $0.09
Visit LifePoints' website

›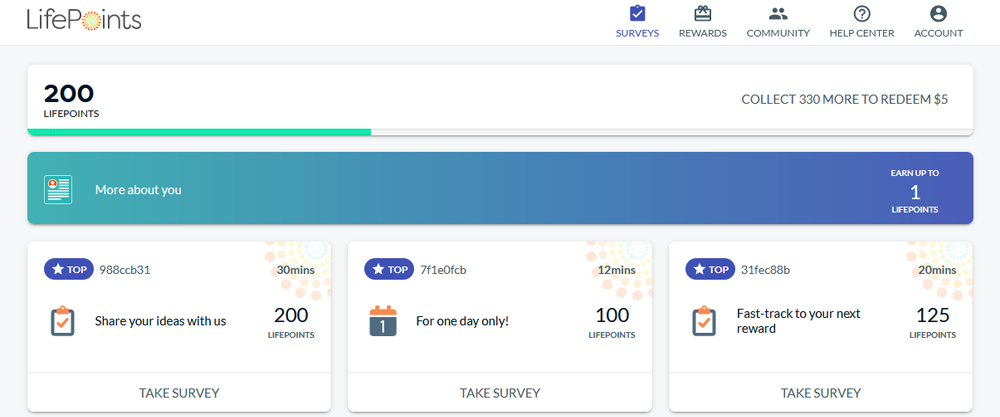 Take Surveys, Earn Points, Get Rewarded
As a LifePoints member, you can contribute your views and opinions by completing online surveys covering various aspects of your daily life. Other activities such as mini-polls, product testing and other types of data collection are also opportunities to earn LPs (LifePoints) to receive exceptional rewards including money and free gift cards.
Survey invitations are sent out by email and can be taken any time during the survey period. Members don't need any special skills to complete the activities within LifePoints consumer panel. If you can contribute your thoughts and fill out the online survey, then you're ready to go!
Survey Lengths
Survey lengths vary, however most surveys will take between 10-15 minutes to complete. Compensation awarded for every survey varies, and depends on its length, as well as the client's urgency for survey takers to complete it. The more urgent the assignment, the more points it will offer.
Receiving More Surveys
To ensure you're being invited to the maximum number of surveys, ensure your personal information on file is up to date. Do this by filling out the profile questions available in your account (which will earn you an extra 10 points!). This will help match you to the best possible surveys and will increase the number of market research studies that are most relevant to you and your lifestyle.
Tip! Be sure to add @LifePointsPanel.com to your list of trusted senders, address book or contact list so that survey invites make it to your inbox.
Earn Points for Disqualifications
If you start a survey but don't get to finish it, LifePoints will reward you with a small number of points as recognition for your time and effort. Point amounts may be 2 or 3 points at a time and can help you reach a cash out sooner. You may earn up to 10 extra LifePoints a day this way, which means you can redeem your earnings for rewards sooner!
Visit LifePoints' website

›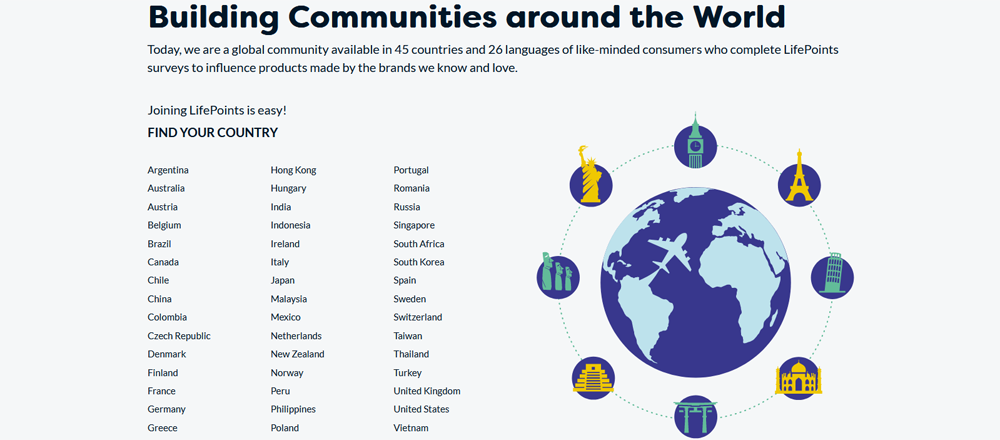 Backed By a Reliable Research Company
LifePoints consumer panel is run by Lightspeed, ranked as the world's largest provider of custom research and analysis, operating across 70 countries. The company conducted its very first research study in 1946! It's safe to say that LifePoints is a strong brand backed by a well-established and reliable research company.
Extra Features
In January 2019, Lightspeed merged their flagship panels - MySurvey and GlobalTestMarket into LifePoints to provide a better global user experience. Today, LifePoints is a community of over 5,000,000 members from all over the world, with over 1.5 million Facebook fans.
LifePoints social media community enjoys the possibility of participating in competitions, special prizes, and giveaways in addition to survey-related activities. Every month, LifePoints rewards its members on social media with prizes such as PlayStations, Apple Watches, an Xbox, Amazon vouchers, Amazon Echos & Alexa devices, Smart TVs, and more.
Is LifePoints Legit or Scam?

Is LifePoints Panel Legit?
LifePoints was originally formed by merging the MySurvey and GlobalTestMarket survey panels which were operational for over a decade. Since then, LifePoints has grown into a community of over 5 million members worldwide and has paid over $22 million to its members.
Lifepoints is a legitimate and safe survey site, run by Lightspeed - a legitimate and credible market research company. Member data is kept private and secure and is never sold. Therefore, LifePoints is not a scam, although as with any online survey site, your experience and success with the site may vary.
Eligibility: The LifePoints panel is open to those 14 years of age and older who are from one of dozens of countries worldwide and the website is available in over 26 different languages.
Joining Bonus! LifePoints is currently offering a 10 point sign up bonus to new members.
» Click here to claim your bonus!
---
» More news and information on LifePoints
Survey Sites Like LifePoints
Survey takers who have joined LifePoints may also be interested in these survey programs:
5 Star Reviews (129)
29.3
1 Star Reviews (232)
52.6
May 19, 2023 by anita from United States
I just won some gift credit from Lifepoints. Sincerely they have been great for offering surveys you can do and for following thru on their rewards.

LifePoints responded to this review on June 2, 2023
Thank you very much for such great review, Anita! We work very hard to offer the best surveys with the best possible rewards, so we're happy to see that reflected on your member experience.
Kind regards,
The LifePoints Team
April 18, 2023 by Mark Anthony from Philippines
Thank you very much lifepoints for providing extra income for me, this is my third pay out. More power and more surveys to come!

LifePoints responded to this review on April 24, 2023
Many thanks for this great review! We are so pleased to see we were able to meet your expectations and can't wait to hear back from you.
Kind regards,
The LifePoints Team
March 20, 2023 by Sandip from India
Awesome the way Lifepoint works its a great app to spend some time and get rewarded.its worth more than the time one gives

LifePoints responded to this review on March 21, 2023
Many thanks for this great review, Sandip! We are so pleased to see we were able to meet your expectations and can't wait to hear back from you.
Kind regards,
The LifePoints Team
March 16, 2023 by Amit Kumar from India
I have been associated with LifePoints Surveys app for many years. Apart from this, I have worked in many survey companies but I like the convenience of LifePoints company because LifePoints Surveys pays your earnings in 4 to 7 days and also gives different payment options. You can earn well from this company.

LifePoints responded to this review on March 16, 2023
Many thanks for this great review, Amit! We are so pleased to see we were able to meet your expectations and can't wait to hear back from you.
Kind regards,
The LifePoints Team
March 4, 2023 by Jay from Philippines
I'm a part of LifePoints panel for almost 2 years now & so far, my experience with LifePoints is great. LifePoints survey site should be the top online paying survey site. Their points redemption is very legit with a number of options to choose from. Their customer service is very helpful, they're always very attentive in addressing my concerns on the site. They also have a community where you can show your support & express your feedback - really lets you know your opinion really matters to them. I love LifePoints!

LifePoints responded to this review on March 7, 2023
Many thanks for this great review, Jay! We are so pleased to see we were able to meet your expectations and can't wait to hear back from you.
Kind regards,
The LifePoints Team
» Return to: TOP RATED SURVEY SITES
---
Popular Topics
Top Survey Sites of 2023
---
Highest User Rated Survey Sites
---
Survey Sites That Pay Instantly
---
Get $100 Free PayPal Payments
---
9 Product Testing Job Websites
---
12 Online Surveys That Pay Cash
---
How to Earn Free Uber Gift Cards
---
14 Ways to Get Free Amazon Gift Cards
---
Best Paid Focus Groups
---
How to Get a Free Visa Gift Card
---
Ways to Get Free Xbox Gift Cards
---
Featured Advertisers: