LifePoints Reviews and Features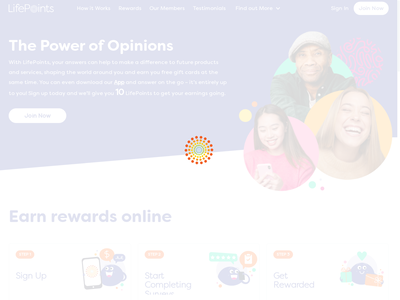 LifePoints
3 Mountain View Road, 3rd Floor Warren, New Jersey 07059-6711 US
Tel: (908) 605-4500 Contact: https://lifepoints.zendesk.com/hc/en-us/requests/new
Operated by: Lightspeed LLC
Quick Overview:
Rewards Offered: Cash paid via PayPal Amazon gift cards iTunes gift cards Starbucks gift cards Retail e-vouchers Merchandise Donations to charity
Member Opportunities: Online surveys Mobile surveys Diary surveys Video surveys Teen surveys
Redeeming Rewards: You can redeem your LifePoints at any time from the LifePoints Rewards Catalog ("LifePoints Catalog"), when your account contains at least 5,500 LifePoints ($5).
Similar Panels: Tellwut, YouGov, Opinion Outpost
Beginning early 2019, Lightspeed shut down MySurvey and GlobalTestMarket in most countries, and merged those members into LifePoints. The LifePoints app has been discontinued.

LifePoints is a community of like-minded people who want to share their views and opinions to influence future decisions made by the big brands we know and see every day.
It's also the place to go for those who want to collect rewards for living their lives. Every time you go shopping, to the movies, or simply enjoy a new local service, you can collect LifePoints by sharing your views and opinions about these products, services and experiences.
Join to Get Free Points
New members of LifePoints will enjoy 10 free points automatically credited to their accounts.
Great Rewards Options
In order to request a reward, you must have a minimum of 5,500 LifePoints ($5) in your account. Once you've reached this balance, you can spend your LifePoints on two main reward options: gift cards and PayPal payments (note that rewards may vary across countries).
The gift e-cards offered are available to major retailers such as eBay, Amazon, Starbucks, and more. Feeling generous? No problem. You may also donate your LifePoints to charities such as Unicef.
Visit LifePoints' website

›
As a LifePoints member, you can contribute your views and opinions by completing online surveys covering various aspects of your daily life. Other activities such as mini-polls, product testing and other types of data collection are also opportunities to collect LifePoints and spend them on exceptional rewards.
Survey invitations are sent out by email and can be taken any time during the survey period. Members don't need any special skills to complete the activities within LifePoints. If you can contribute your thoughts and fill out the online survey, then you're ready to go!
Survey Lengths and Point Amounts
Survey lengths vary, however most surveys will take between 10-15 minutes to complete. Compensation awarded for surveys varies, and depends upon the length of the survey, as well as the client's urgency for survey takers to complete it. The more urgent the assignment, the better rewards it will offer.
Points for Disqualifications
If you start a survey but don't get to finish it, LifePoints rewards you with a small number of points as recognition for your efforts. Points amounts may be 2 or 3 points at a time, but does help reach cashout levels sooner. You may earn up to 10 extra LifePoints a day this way, which means you get to spend your LifePoints sooner!
Visit LifePoints' website

›
Backed By a Reliable Research Company
LifePoints is run by Lightspeed, ranked as the world's largest provider of custom research and analysis, operating across 70 countries. The company conducted its very first research study in…1946! So, it's safe to say that LifePoints is a strong brand backed by a well-established and reliable research company.
Pluses
In January 2019, Lightspeed merged their flagship panels - MySurvey and GlobalTestMarket into LifePoints to provide a better global user experience. Today, LifePoints is a community of over 5,000,000 members from all over the world, with over 1.5 million Facebook fans.
LifePoints social media community enjoys the possibility of participating in competitions, special prizes, and giveaways on top of their survey-related activities. Every month, LifePoints rewards its members on social media with prizes such as PlayStation 4, Apple Watch, Xbox, Amazon voucher, Amazon Echo & Alexa devices, Smart TVs, and more.
Global Eligibility
LifePoints is open to those 16 years of age and older who are from one of dozens of countries worldwide. LifePoints is available in at least 26 languages.
---
December 18, 2019 by Judie from United States
This is a bit of a lengthy review because I'm amazed by all of the negative reviews. I'm an avid survey taker. I belong to about 10 sites. Have been doing them over 2 years. For anyone familiar with the abundance of survey sites, the process can be tedious, redundant and slow-earning. That said, surveys are not meant to be a significant source of income. I'm disabled, so they fill time for me. They are also a form of entertainment and I actually learn a lot taking some surveys. Some sites only offer 3-11 points ($0.03-$0.11) for up to 40 minute surveys and only pay in amazon credit. For me, even those are time well spent. I would earn nothing playing games or watching TV. Lifepoints (formerly mysurvey and global test markets) actually has the best customer service and the highest earning potential--per survey of all the sites I use. Lowest lifepoints incentive $0.50 (points) for 10-20 minutes to up to $10.00 (1000 points) for monthly diaries (about 10 minutes a day). Survey frequency may be less than other sites, but the quality of surveys and earnings are better. Earnings are easy to track per penny, as in 1 point, one penny, verses many sites who offer 2000 point surveys, but require 95,000 points to earn $20. Lifepoint earning Opportunities ebb and flow and they have minor issues now and then. Compared to their competitors, however, I rate Lifepoints #1. In every category including ease and speed of payouts. I have a dedicated paypal account for survey earnings and can honestly say, I have earned $20 AT LEAST 6 times this past year. May not seem worth it to others, but $20 every other month, just to answer questions and participate in interesting surveys, is a distraction for me. Surveys arent for everyone. If you have high expectations of earning a 2nd income, they are not for you! Bug thumbs up to lifepoints!!!
Judie from Melbourne, Fl 12/17/2019

Previous review: I used mysurvey and global test market happily for years, so when they morphed into lifepoints I had my doubts, but despite a slightly bumpy transition, they are my favorite survey site to date. Easiest to earn. I average $20 between 6 and 12 weeks. Easy to collect rewards. PayPal option.
December 5, 2019 by Phil Jandrae from Philippines
already tried this survey website for about 3 weeks at least and I can say that this website really pays you by answering a survey.. they already forwarded 250 credits in my paypal account since it would take 10 days. I have another credit coming and I am just 2 points away from my third payment. I am so happy that I am able to earn from this. Thank you lifepoints!

LifePoints responded to this review on December 10, 2019
Many thanks for this great review, Phil! We are so pleased to see we were able to meet your expectations and can't wait to hear back from you.
December 4, 2019 by Vidhika from India
It's the best survey site i know. I totally loved it.

LifePoints responded to this review on December 10, 2019
Thank you very much for such great review! We work very hard to offer the best surveys with the best possible rewards, so we're happy to see that reflected on your member experience.
November 22, 2019 by Amy from United States
Lifepoints survey panel is a legitimate website that pays their members. I have received money on my PayPal account as well as gift cards. The amount of points it takes to be able to redeem is easily obtainable and it is not a very long wait to get your reward.

LifePoints responded to this review on December 10, 2019
Thank you very much for such great review! We work very hard to offer the best surveys with the best possible rewards, so we're happy to see that reflected on your member experience.
September 26, 2019 by Wayne from United States
I have done surveys on here and only needed 550 or 1100 points to cash out for 5 buck Amazon reward 550 and 1100 got me 10 dollar google play card . 2 cashouts so far.

LifePoints responded to this review on December 17, 2019
Thank you very much for such great review! We work very hard to offer the best surveys with the best possible rewards, so we're happy to see that reflected on your member experience.