LifePoints Reviews and Features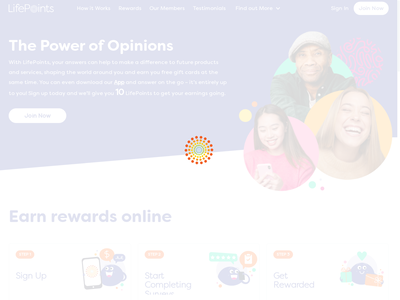 LifePoints
3 Mountain View Road, 3rd Floor Warren, New Jersey 07059-6711 US
Tel: (908) 605-4500 Contact: https://lifepoints.zendesk.com/hc/en-us/requests/new
Operated by: Lightspeed LLC
Quick Overview:
Rewards Offered: Cash paid via PayPal Amazon gift cards iTunes gift cards Starbucks gift cards Retail e-vouchers Merchandise Donations to charity
Member Opportunities: Online surveys Mobile surveys Diary surveys Video surveys Teen surveys
Redeeming Rewards: You can redeem your LifePoints at any time from the LifePoints Rewards Catalog ("LifePoints Catalog"), when your account contains at least 5,500 LifePoints ($5).
Similar Panels: Tellwut, YouGov, Opinion Outpost
Beginning early 2019, Lightspeed shut down MySurvey and GlobalTestMarket in most countries, and merged those members into LifePoints. The LifePoints app has been discontinued.

LifePoints is a community of like-minded people who want to share their views and opinions to influence future decisions made by the big brands we know and see every day.
It's also the place to go for those who want to collect rewards for living their lives. Every time you go shopping, to the movies, or simply enjoy a new local service, you can collect LifePoints by sharing your views and opinions about these products, services and experiences.
Join to Get Free Points
New members of LifePoints will enjoy 10 free points automatically credited to their accounts.
Great Rewards Options
In order to request a reward, you must have a minimum of 5,500 LifePoints ($5) in your account. Once you've reached this balance, you can spend your LifePoints on two main reward options: gift cards and PayPal payments (note that rewards may vary across countries).
The gift e-cards offered are available to major retailers such as eBay, Amazon, Starbucks, and more. Feeling generous? No problem. You may also donate your LifePoints to charities such as Unicef.
Visit LifePoints' website

›
As a LifePoints member, you can contribute your views and opinions by completing online surveys covering various aspects of your daily life. Other activities such as mini-polls, product testing and other types of data collection are also opportunities to collect LifePoints and spend them on exceptional rewards.
Survey invitations are sent out by email and can be taken any time during the survey period. Members don't need any special skills to complete the activities within LifePoints. If you can contribute your thoughts and fill out the online survey, then you're ready to go!
Survey Lengths and Point Amounts
Survey lengths vary, however most surveys will take between 10-15 minutes to complete. Compensation awarded for surveys varies, and depends upon the length of the survey, as well as the client's urgency for survey takers to complete it. The more urgent the assignment, the better rewards it will offer.
Points for Disqualifications
If you start a survey but don't get to finish it, LifePoints rewards you with a small number of points as recognition for your efforts. Points amounts may be 2 or 3 points at a time, but does help reach cashout levels sooner. You may earn up to 10 extra LifePoints a day this way, which means you get to spend your LifePoints sooner!
Visit LifePoints' website

›
Backed By a Reliable Research Company
LifePoints is run by Lightspeed, ranked as the world's largest provider of custom research and analysis, operating across 70 countries. The company conducted its very first research study in…1946! So, it's safe to say that LifePoints is a strong brand backed by a well-established and reliable research company.
Pluses
In January 2019, Lightspeed merged their flagship panels - MySurvey and GlobalTestMarket into LifePoints to provide a better global user experience. Today, LifePoints is a community of over 5,000,000 members from all over the world, with over 1.5 million Facebook fans.
LifePoints social media community enjoys the possibility of participating in competitions, special prizes, and giveaways on top of their survey-related activities. Every month, LifePoints rewards its members on social media with prizes such as PlayStation 4, Apple Watch, Xbox, Amazon voucher, Amazon Echo & Alexa devices, Smart TVs, and more.
Global Eligibility
LifePoints is open to those 16 years of age and older who are from one of dozens of countries worldwide. LifePoints is available in at least 26 languages.
---
January 24, 2020 by John from Canada
After earning $26.50 in the first month and requesting my $25.00, the process was underway. After a week of waiting, I sent them an email. The very next day my account had been deleted.

UPDATE : The above review was left in error, as it was for the wrong company. The correct company is based in Germany.

LifePoints...used to be known as : GLOBAL TEST MARKET (uses the same points-pay-out-system).
I was with GLOBAL TEST MARKET for many years, they had a payout system where you had to earn 7,200 points to cash-out (I know weird amount, right?). Each 2,400 points you earned, you can trade it in for a $20 PayPal amount.
BUT...you need 3 of them to request the cash-out. Therefore : 2,400 x 3 = 7,200 which is $20 x 3 = $60.
So...I go to the website & try to log in & … my account had been deleted!
I had between 1,600 to 2,000 points at the time. This site taught me a "Life" lesson - Ho, Ho, Ho!
January 20, 2020 by RODNEY from United States
i stopped using life points a week ago they stopped paying I cashed out 4 times starting around the 6 of Nov and have not received my payments from Paypal the funny thing is I cashed out to amazon and i have received that.
3 weeks and 6 emails later and no response.
January 14, 2020 by Kara from United States
Update. 1/13/2020. Still nothing from them but the still sensing me emails to follow them on Facebook and to do quizzes. Still haven't gotten my points back, account not reactivated and no answers.Update, today is the 23 of Dec and still no word from lifepoints. My first email was sent 11.29.Beware. Woke up one day and couldn't get into my account. They told me I canceled it. Why would I cancel and then send a ticket asking why I can't get I to my account if I had cancelled it? Duh... They told me to make a new account using a new email and then send them my old email and my new email and my points from my "closed" account would be added to the new one. Well I did everything I was told but they popped back saying it had to be escalated and investigated!' I've heard of others being locked out of their account randomly and unexpectedly. Now I have written to them twice and no response. Try to login and it says error. There are no surveys. I had surveys every day. Weird thing is that when they say I closed my account I was still getting emails from them telling me something bug was in the works. I guess they worked out closing my account and taking my points. I have been withheld from earning and lied on. Beware of this site please. Time to contact the BBB.
Can't redeem pts. or get answer as to why
January 13, 2020 by Amy from United States
I sent them a message that I am not allowed to redeem my pts. back in Oct. '19.....got a response right away that they were looking into the issue. Then up until Dec. 17, I got messages about once a week that they were working on it, and that certain things take time. Have not received any more of these vague replies since then, so resolving myself to write off the points and the time I invested as a loss.

LifePoints responded to this review on January 14, 2020
Hi Amy,
We're sorry that you haven't had the most positive experience with LifePoints and we will gladly carry out a further review of your account.
If you open a new ticket with our Help Center here - https://lifepoints.zendesk.com/hc/en-gb/requests/new - while quoting 'SITEREVIEW-SP', we can ensure that your ticket is escalated with our customer service team.
We hope that we can welcome you back to the LifePoints Community soon.
Kind regards,
Ben
A waste of time with no reward
January 11, 2020 by Jessica from United States
I have taken countless surveys with LifePoints and actually took the time to give thoughtful answers, gotten through the whole survey, just for it to end with them telling me the survey filled up so fast they no longer needed my response, and I get no points. Why would they have me answer the entire survey just to tell me that? I feel LifePoints is not trustworthy because of that. Who's to say they aren't actually taking my response and just trying not to give me my points? When I contacted their customer service to ask about this, they basically sent me a copy and paste response of the same message I get after taking the survey about "sometimes our surveys fill up faster than we expect". It's just a crock, and I'm tired of wasting my time for it. Closing my account RIGHT NOW.

LifePoints responded to this review on January 13, 2020
Hi Jessica,
We're sorry that you haven't had the most positive experience with LifePoints.
Some surveys require only a limited number of responses per category, for example, from a region or age group. Sometimes the number of participants needed for a certain survey is reached very quickly and we are forced to close the survey as soon the quota is reached.
If you open a new ticket with our Help Center here - https://lifepoints.zendesk.com/hc/en-gb/requests/new - while quoting 'SITEREVIEW-SP', we can ensure that your ticket is escalated with our customer service team.
Kind regards,
Ben