LifePoints Reviews and Features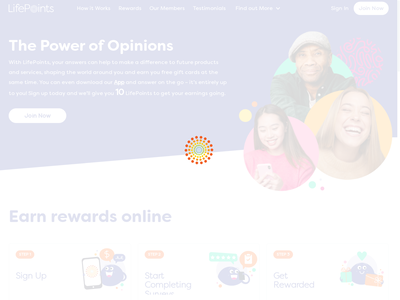 LifePoints
685 US-206, Bridgewater Township, New Jersey 08807 US
Tel: (908) 605-4500 Contact: https://lifepoints.zendesk.com/hc/en-us/requests/new
Operated by: Lightspeed LLC

PAYMENTS OFFERED

Cash paid via PayPal

Amazon gift cards

Apple gift cards

Starbucks gift cards

Best Buy gift cards

Movie vouchers

Retail e-vouchers

Donations to charity

HOW TO PARTICIPATE

Online surveys

Mobile surveys

Product testing

Diary surveys

Video surveys

Teen surveys

REDEEMING REWARDS
Redeem your LifePoints at any time from the LifePoints Rewards Catalog when your account contains at least 550 LifePoints ($5). Choose from PayPal payments, e-gift cards or a donation.
Beginning early 2019, Lightspeed shut down MySurvey and GlobalTestMarket in most countries, and merged those members into LifePoints.
LifePoints is a survey website where people from all over the world can make extra money and earn gift cards by participating in market research surveys. Joining the community is free and your opinions will have a big impact on future products and services.

What is LifePoints Panel?
LifePoints is an online survey site and community of like-minded people who want to share their views and opinions to earn rewards and influence future decisions made by the big brands we know and see every day.
It's also the place to go for those who want to collect rewards for living their lives. Every time you go shopping, to the movies, or simply enjoy a new local service, you can collect LifePoints by sharing your views and opinions about these products, services and experiences.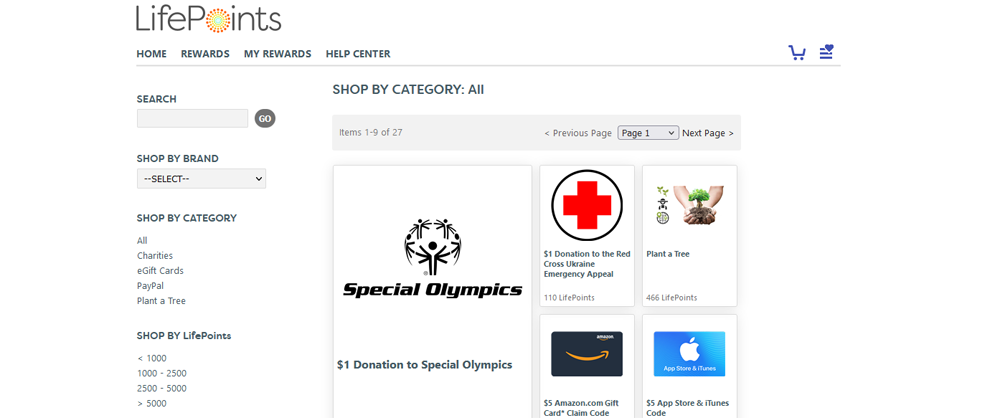 Join to Get Free Points
New members of LifePoints Panel will enjoy 10 free points automatically credited to their accounts upon confirming their email.
Great Rewards Options
In order to request a reward, you must have a minimum of 550 LifePoints ($5) in your account. Once you've reached this balance, you can spend your LifePoints on three main reward options: gift cards, PayPal payments and donations. Note that rewards options may vary between countries.
e-Gift cards - With just 550 points, you can request a $5 e-gift card from Amazon, Starbucks, Best Buy, Google Play, Apple Store, Marks & Spencer, Love2Shop, ebay, to gas stations, and more
PayPal payments - With 1200 points in your account, request a $10 PayPal payment.
Donations - Donate to a great charity with as little as $1 (110 points). Charities include: Red Cross, Special Olympics, Eco Matcher
All rewards are issued within 10 days of request. If requesting a PayPal payment, be sure your PayPal email address is the same as the e-mail address you used to sign up with Lifepoints.
Points Value: 550 Lifepoints = $5.00. Therefore, 10 points = $0.09
Visit LifePoints' website

›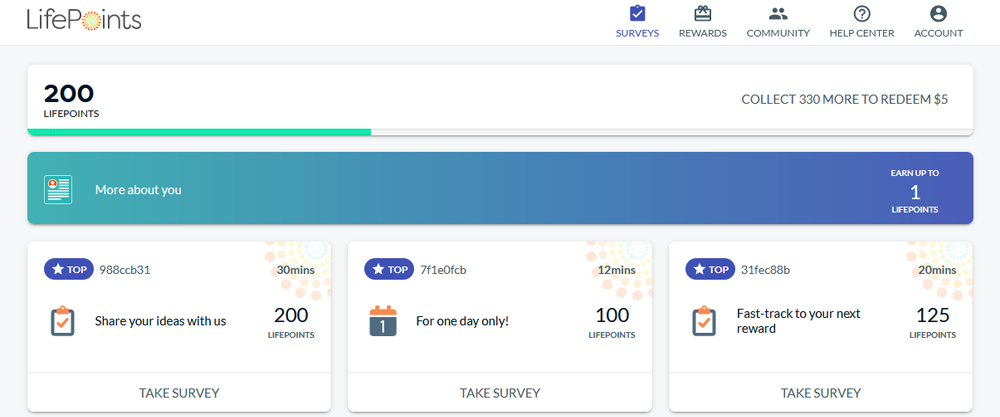 Take Surveys, Earn Points, Get Rewarded
As a LifePoints member, you can contribute your views and opinions by completing online surveys covering various aspects of your daily life. Other activities such as mini-polls, product testing and other types of data collection are also opportunities to earn LPs (LifePoints) to receive exceptional rewards including money and free gift cards.
Survey invitations are sent out by email and can be taken any time during the survey period. Members don't need any special skills to complete the activities within LifePoints consumer panel. If you can contribute your thoughts and fill out the online survey, then you're ready to go!
Survey Lengths
Survey lengths vary, however most surveys will take between 10-15 minutes to complete. Compensation awarded for every survey varies, and depends on its length, as well as the client's urgency for survey takers to complete it. The more urgent the assignment, the more points it will offer.
Receiving More Surveys
To ensure you're being invited to the maximum number of surveys, ensure your personal information on file is up to date. Do this by filling out the profile questions available in your account (which will earn you an extra 10 points!). This will help match you to the best possible surveys and will increase the number of market research studies that are most relevant to you and your lifestyle.
Tip! Be sure to add @LifePointsPanel.com to your list of trusted senders, address book or contact list so that survey invites make it to your inbox.
Earn Points for Disqualifications
If you start a survey but don't get to finish it, LifePoints will reward you with a small number of points as recognition for your time and effort. Point amounts may be 2 or 3 points at a time and can help you reach a cash out sooner. You may earn up to 10 extra LifePoints a day this way, which means you can redeem your earnings for rewards sooner!
Visit LifePoints' website

›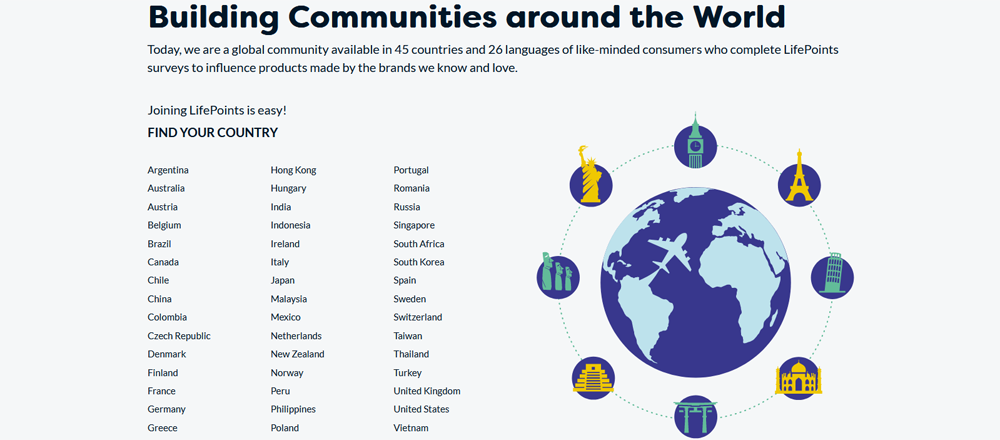 Backed By a Reliable Research Company
LifePoints consumer panel is run by Lightspeed, ranked as the world's largest provider of custom research and analysis, operating across 70 countries. The company conducted its very first research study in 1946! It's safe to say that LifePoints is a strong brand backed by a well-established and reliable research company.
Extra Features
In January 2019, Lightspeed merged their flagship panels - MySurvey and GlobalTestMarket into LifePoints to provide a better global user experience. Today, LifePoints is a community of over 5,000,000 members from all over the world, with over 1.5 million Facebook fans.
LifePoints social media community enjoys the possibility of participating in competitions, special prizes, and giveaways in addition to survey-related activities. Every month, LifePoints rewards its members on social media with prizes such as PlayStations, Apple Watches, an Xbox, Amazon vouchers, Amazon Echos & Alexa devices, Smart TVs, and more.
Is LifePoints Legit or Scam?

Is LifePoints Panel Legit?
LifePoints was originally formed by merging the MySurvey and GlobalTestMarket survey panels which were operational for over a decade. Since then, LifePoints has grown into a community of over 5 million members worldwide and has paid over $22 million to its members.
Lifepoints is a legitimate and safe survey site, run by Lightspeed - a legitimate and credible market research company. Member data is kept private and secure and is never sold. Therefore, LifePoints is not a scam, although as with any online survey site, your experience and success with the site may vary.
Eligibility: The LifePoints panel is open to those 14 years of age and older who are from one of dozens of countries worldwide and the website is available in over 26 different languages.
Joining Bonus! LifePoints is currently offering a 10 point sign up bonus to new members.
» Click here to claim your bonus!
---
» More news and information on LifePoints
Survey Sites Like LifePoints
Survey takers who have joined LifePoints may also be interested in these survey programs:
5 Star Reviews (119)
29.8
1 Star Reviews (207)
51.8
September 1, 2022 by Christina from United States
i have yet to do one survey site that actually pays you once you reach the most high amount of points that they can make u get and it takes hours to get those then its something crazy boots you out or something this is so old.

LifePoints responded to this review on September 1, 2022
Hi Christina,
We're sorry that you haven't had the most positive experience with LifePoints and we will gladly carry out a further review of your account.
If you open a new ticket with our Help Center here - https://lifepoints.zendesk.com/hc/en-gb/requests/new - while quoting 'SITEREVIEW-SP', we can ensure that your ticket is escalated with our customer service team.
We hope that we can welcome you back to the LifePoints Community soon.
Kind regards,
The LifePoints Team
August 28, 2022 by Jeff from United States
Been with MySurvey for many, many years and while it was not perfect, I had few issues and they were always resolved. Now it is called Lifepoints and while still iffy at times, things seem to have improved.

The Customer Service initially was the same as at My Survey. Far too often the response had nothing to do with the inquiry and issues were not always solved. For over a year now, that has changed. The responses are almost always on point and issues do get resolved. One thing I have noted that seems to help is how one approaches an issue. If you use a non-confrontational approach stating just the facts without emotion and ending with a "thank you", the issue does get looked into and resolved. Where I suspect negative results stem from getting nasty right from the start which can be a turn off.

The one big issue is that they seem to have partnered with Cint and now many surveys get routed through them. Some surveys that were routed through Cint have failed to return to the site, no matter if they were completed or were a DQ. An error screen from Cint came up. No points get credited. A simple contact to Customer Service with the survey number and a copy of the error has, at least for the last year or so, resulted in the survey being audited and points awarded within 10 - 14 days.

Two changes that they should make:

- When they tell a user that their account has been terminated due to violating the terms of service, include what the issue was and allow the user to respond. I have not had that issue, but have seen many posts by users that have.

- They have diary type surveys (snack, purchase, daily routine, and beverage). My experience to date has been that one gets stuck with doing only 2 of those and never the others. Would make things more interesting to mix it up a bit.
Good choice that won't waste your time
August 23, 2022 by Rya from Hong Kong
One of the several survey sites that I'm still using after years.
Plenty of surveys every day, points can be earned easily and redemption is quick & easy.
Very good one!

LifePoints responded to this review on August 24, 2022
We are very grateful for your kind words, Rya. Thanks for sharing your review with us and the LifePoints community. Kind regards,
The LifePoints Team
August 15, 2022 by Elizabeth from Canada
i love this website because it helps me earn money and also get gift cards i like it so much its like i use it everyday.

LifePoints responded to this review on August 16, 2022
Elizabeth, thank you for the great review! We're so glad you loved your survey experience with LifePoints and can't wait to hear back from you.
Kind regards,
The LifePoints Team
August 7, 2022 by Stanley from United States
Lifepoints is 1 of a few worthwhile survey web sites in terms of: straight forward surveys, reliable rewards and a very responsive Customer Service staff. And I have years of experience as a survey taker with 50+ survey sites!

LifePoints responded to this review on August 10, 2022
Stanely, thank you for the great review! We're so glad you loved your survey experience with LifePoints and can't wait to hear back from you.
Kind regards,
The LifePoints Team
» Return to: TOP RATED SURVEY SITES
---
Popular Topics
Top Survey Sites of 2022
---
Highest User Rated Survey Sites
---
Survey Sites That Pay Instantly
---
Get $100 Free PayPal Payments
---
9 Product Testing Job Websites
---
12 Online Surveys That Pay Cash
---
How to Earn Free Uber Gift Cards
---
14 Ways to Get Free Amazon Gift Cards
---
Best Paid Focus Groups
---
How to Get a Free Visa Gift Card
---
Ways to Get Free Xbox Gift Cards
---
Featured Advertisers: