NiceQuest Reviews and Features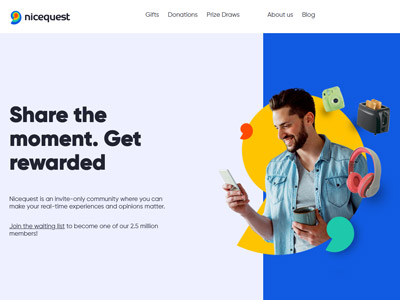 NiceQuest
Nexus I Building, Gran Capitan 2-4 Barcelona, Spain 08034 ES
Tel: (+34) 93 205.00.63 Contact: https://us.help.nicequest.com/customer/en_us/portal/emails/new
Operated by: Netquest

PAYMENTS OFFERED

Merchandise

Movie vouchers

Google Play credits

Donations to charity

Sweepstakes entries

HOW TO PARTICIPATE

Online surveys

Surveys for Hispanics

Mobile surveys

Mobile app

Teen surveys

REDEEMING REWARDS
Most rewards require a minimum of 100 Shells (worth $10). Prize draw entries for as little as 10 Shells are also available.
NiceQuest is an invitation-only survey panel of over 3 million members where you can earn gifts in exchange for giving your opinions in online surveys. Receive approximately 1-3 surveys per month.
Receive Gifts for Taking Surveys
For every survey you complete, you will receive Shells (NiceQuest's currency). You can redeem these for gift items available from the online shop. These include things like electronics, cosmetics, gourmet products, movie tickets, experiences, and more! Your gift items will be mailed to you free of charge, or will be delivered electronically.. As soon as your gift is shipped, you'll receive an email, which will confirm its delivery. Shipping can take anywhere from 15-40 days for delivery.
Merchandise options include things like children's toys such as Lego sets, bicycles, roller skates, and more. Home appliances like blenders, toasters, etc. are also available.
You can also choose to donate your earnings to great charities and NGO's, or try your luck at winning special prizes by using your Shells to win fun prize draws.
Receive Compensation, Even If You Get Disqualified
If you get disqualified from a survey, NiceQuest will still credit you with some Shells, even if they already have all the answers they need.
Donate to Charity
NiceQuest allows you to donate your points to charity! Charities supported in the past and currently include Unicef, UNCHR, Equality Now, and Plan International. Help make a difference by donating as little as 40 Shells to your favorite cause.
Monthly Draw Opportunities
Every month, a prize draw is held for everyone who participates in NiceQuest's partner surveys. You will automatically be entered in such draws, so there's no need to redeem your precious Shells for a ticket, but if you want to get in on the action, and improve your chances, you can enter the draws for as little as 10 Shells. These prize draws are held for highly desirable items such as electronics, including the latest iPhone, or a draw for 5,000 Shells.
Nicequest App
You can also opt to receive surveys through NiceQuest's app, available on Android and iOS. With hundreds of thousands of downloads, and a positive rating from users, the NiceQuest app makes it convenient to take surveys on the go.
Get Active on Facebook for Points
Earn an extra 50 Shells by taking a photo of you with your gift and uploading it to the NiceQuest fanpage on Facebook with the hashtag #nicePhoto. The most original photo will win 50 Shells each month.
NiceQuest Premium Respondents
If you are already a member of NiceQuest, you might be invited to participate in NiceQuest's Premium respondent program. Only a select few panelists are eligible for the Premium program. This involves installing the Nicestats program on your computer, smartphone, and/or tablet to allow NiceQuest to collect your browsing information. You'll receive 100 Shells as a welcome gift for your participation, as well as additional points for every survey you take. You can uninstall the program at any time, or simply decline the original invitation to join.
Eligibility: Ages 16 and up
---
July 25, 2017 by Ricky from United States
I've been with this panel about four or five months I was able to redeem one $10 Amazon gift card since then I have accumulated enough points for another Amazon gift card but when I went to redeem it it,for a Amazon card, said it was not available this went on for 2 to 3 weeks and I emailed them they said they did not know when one would be available the next day I noticed that my points were missing I look back and it said that I had redeemed for a gap gift card which I have never redeemed for that nor would I they redeem this for me on their own I emailed them about it and they just said they do not redeem automatically nothing they can do this company is definitely not honest they have problems with their Amazon cards
July 22, 2017 by Haydee from Peru
Experience started Ok, but it is hard to add the points to be able to redeem a benefit. I have redeem few items, and 3 times I have had problems with the process, first time the product they sent was a different brand, color and quality from the one I selected. Second time product was not available on stock (it was at the moment I redeemed the it, days later they sent an email saying it wasn't available. Last time,they sent the product to a different address in a different city, they are just saying they sent it and it was delivered. They are not even paying attention to their own mistake, address is different!
April 1, 2017 by Shantele from United States
Love the rewards they offer, and their surveys are pretty interesting.
March 13, 2017 by Ann from United States
format is a lot lot like yougov - polls, news, social things, then every once in a while a survey. i like checking out the dashboard.
February 12, 2017 by roselea from United States
Since I joined this panel, I have heard nothing from them. They send out very few surveys. I can think of several better panels to join.
» Return to: TOP RATED SURVEY SITES
---
Popular Topics
Top Survey Sites of 2023
---
Highest User Rated Survey Sites
---
Survey Sites That Pay Instantly
---
Get $100 Free PayPal Payments
---
9 Product Testing Job Websites
---
12 Online Surveys That Pay Cash
---
How to Earn Free Uber Gift Cards
---
14 Ways to Get Free Amazon Gift Cards
---
Best Paid Focus Groups
---
How to Get a Free Visa Gift Card
---
Ways to Get Free Xbox Gift Cards
---
Featured Advertisers: