NiceQuest Reviews and Features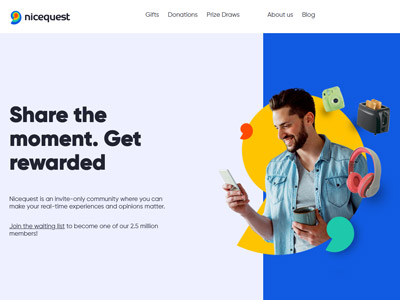 NiceQuest
Nexus I Building, Gran Capitan 2-4 Barcelona, Spain 08034 ES
Tel: (+34) 93 205.00.63 Contact: https://us.help.nicequest.com/customer/en_us/portal/emails/new
Operated by: Netquest

PAYMENTS OFFERED

Merchandise

Movie vouchers

Google Play credits

Donations to charity

Sweepstakes entries

HOW TO PARTICIPATE

Online surveys

Surveys for Hispanics

Mobile surveys

Mobile app

Teen surveys

REDEEMING REWARDS
Most rewards require a minimum of 100 Shells (worth $10). Prize draw entries for as little as 10 Shells are also available.
NiceQuest is an invitation-only survey panel of over 3 million members where you can earn gifts in exchange for giving your opinions in online surveys. Receive approximately 1-3 surveys per month.
Receive Gifts for Taking Surveys
For every survey you complete, you will receive Shells (NiceQuest's currency). You can redeem these for gift items available from the online shop. These include things like electronics, cosmetics, gourmet products, movie tickets, experiences, and more! Your gift items will be mailed to you free of charge, or will be delivered electronically.. As soon as your gift is shipped, you'll receive an email, which will confirm its delivery. Shipping can take anywhere from 15-40 days for delivery.
Merchandise options include things like children's toys such as Lego sets, bicycles, roller skates, and more. Home appliances like blenders, toasters, etc. are also available.
You can also choose to donate your earnings to great charities and NGO's, or try your luck at winning special prizes by using your Shells to win fun prize draws.
Receive Compensation, Even If You Get Disqualified
If you get disqualified from a survey, NiceQuest will still credit you with some Shells, even if they already have all the answers they need.
Donate to Charity
NiceQuest allows you to donate your points to charity! Charities supported in the past and currently include Unicef, UNCHR, Equality Now, and Plan International. Help make a difference by donating as little as 40 Shells to your favorite cause.
Monthly Draw Opportunities
Every month, a prize draw is held for everyone who participates in NiceQuest's partner surveys. You will automatically be entered in such draws, so there's no need to redeem your precious Shells for a ticket, but if you want to get in on the action, and improve your chances, you can enter the draws for as little as 10 Shells. These prize draws are held for highly desirable items such as electronics, including the latest iPhone, or a draw for 5,000 Shells.
Nicequest App
You can also opt to receive surveys through NiceQuest's app, available on Android and iOS. With hundreds of thousands of downloads, and a positive rating from users, the NiceQuest app makes it convenient to take surveys on the go.
Get Active on Facebook for Points
Earn an extra 50 Shells by taking a photo of you with your gift and uploading it to the NiceQuest fanpage on Facebook with the hashtag #nicePhoto. The most original photo will win 50 Shells each month.
NiceQuest Premium Respondents
If you are already a member of NiceQuest, you might be invited to participate in NiceQuest's Premium respondent program. Only a select few panelists are eligible for the Premium program. This involves installing the Nicestats program on your computer, smartphone, and/or tablet to allow NiceQuest to collect your browsing information. You'll receive 100 Shells as a welcome gift for your participation, as well as additional points for every survey you take. You can uninstall the program at any time, or simply decline the original invitation to join.
Eligibility: Ages 16 and up
---
NOT WORTHWHILE AT ALL 👎👎👎
September 2, 2021 by Deanne from United Kingdom
I've been a member for a few years and I wouldn't recommend it, you don't get surveys very often at all and when you do you don't get much for completing them, they have giftcards (Amazon, Tesco etc) at £25 which are 475 points (shells) they used to have a variety of categories (kitchen items, decorative items, perfumes , alcohol etc) but now it's just a few giftcards which would be ok if it wasn't so difficult to redeem it takes literally years to get enough to redeem a £25 giftcard. They should either increase the points given for completing surveys or lower the amount of points needed to redeem or offer lower value giftcards (£10,£15,£20) they could also send more surveys to complete. All in all it's not worthwhile 👎👎👎
Absolute Worst Survey Site
June 30, 2021 by Denise from United States
Update: This is the absolute worst survey site I have ever dealt with and I'm with several survey sites. The reward catalog has a bunch of useless items. When you finally and I mean finally get enough points to get something half decent; it's no longer available. Lately, the surveys have been paying only 3-7 shells. Oh and the Amazon gift cards you see other talking about; I have never seen it listed (I'm in the USA). Avoid it all costs! There are way better survey sites out there that actually pay you. You're doing all the work here and they're keeping all your money and offering you useless junk in return. BRING BACK THE TABLETS!!!!


November 26, 2020 by Eunice from United Kingdom
My points are mounting up - was saving up for Amazon but they kept increasing the number needed then stopped offering Amazon at all. I would like to use my points and leave ( have a worthwhile amount so don't want to just lose them ) but although I get various headings for rewards, no matter which heading I click on I just get shown the same few which are of no interest.

NiceQuest responded to this review on December 14, 2020
Hi Eunice,
Thank you for letting us know and we are sorry for the inconvenience caused.
We inform you that this gifts card is now again available in our online shop.
Regards,
Nicequest Team
A limited selection of rewards
November 7, 2020 by Jack from United Kingdom
For reasons best known to themselves, they've started calling their point "Korus". Not sure why the name matters. More importantly, the selection of things you can redeem them for seems quite limited and doesn't include, say, Amazon vouchers or anything I'd consider to be useful.

NiceQuest responded to this review on November 17, 2020
Hi Jack,
Thank you for contacting us!
We are currently working on including new gifts in our shop and would like to invite you to also look at our other gift categories: You will find Christmas, Special offers and much more.
The idea of Nicequest is to offer you the possibility to reward yourself with a nice gift for participating in market research. That's why we have a shop full of whimsical design objects and also practical items for your home, your office or as gifts for family, friends, kids and even pets.
We hope you will find something that you will like. And we would also like to use this opportunity to thank you for participating in Nicequest for so long and for helping brands and organisations improve their products and services. :)
Regards,
Nicequest Team
September 7, 2020 by Doug from United Kingdom
Don't be conned by "Join the waiting list to become one of our 2.5 million members!", can't believe ANYONE would join their waiting list at present
Becoming an increasingly rip-off site.
The minimal Amazon voucher rose from £50 to £100, but then just disappeared, the surveys are getting longer & (as reported by others) for decreasing numbers of koros, so it's like chasing a disappearing goalpost.
It started out as a good survey company, but recently has been going downhill at an increasing rate.
If there was a reward worth cashing in for, I would & then leave, but they've rigged it that the only way out is to discard all you HARD EARNED points.
DO NOT JOIN unless you love disappointment
» Return to: TOP RATED SURVEY SITES
---
Popular Topics
Top Survey Sites of 2023
---
Highest User Rated Survey Sites
---
Survey Sites That Pay Instantly
---
Get $100 Free PayPal Payments
---
9 Product Testing Job Websites
---
12 Online Surveys That Pay Cash
---
How to Earn Free Uber Gift Cards
---
14 Ways to Get Free Amazon Gift Cards
---
Best Paid Focus Groups
---
How to Get a Free Visa Gift Card
---
Ways to Get Free Xbox Gift Cards
---
Featured Advertisers: