Toluna Influencers Reviews and Features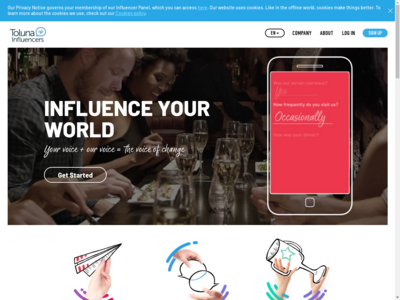 Toluna Influencers
21 River Road, Wilton, Connecticut 06897 US
Tel: 1 (972) 732 7323 Contact: https://us.toluna.com/contactus
Operated by: Toluna Group
Toluna Influencers Quick Overview:
Rewards Offered: Cash paid via PayPal Amazon gift cards Best Buy gift cards iTunes gift cards Starbucks gift cards Target gift cards Walmart gift cards Movie vouchers Reward Link Restaurant gift cards Retail e-vouchers Sweepstakes entries
Member Opportunities: Online surveys Mobile surveys Mobile app Daily surveys Video surveys Diary surveys Teen surveys Refer-a-friend program
Redeeming Rewards: Minimum of 30,000 ($10) worth of points required in account in order to request rewards.
Similar Panels: Opinion Outpost, Branded Surveys, TGM Panel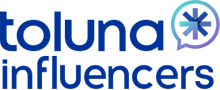 Toluna Influencers is a worldwide survey community which is owned and operated by market research powerhouse, Toluna Group. Toluna Influencers has millions of survey members who participate in a variety of market research opportunities and influence the future of the biggest brands worldwide!
New Member Bonus
New members to the Toluna Influencers community will automatically have 500 points deposited into their accounts. If you invite new members and they join Toluna, you'll also be awarded 500 points per person!
Rewards for Surveys
Toluna Influencers offers an extensive rewards catalog.
Gift certificates and PayPal payments - Toluna Influencers offers a substantial selection of gift certificates to retailers including Amazon, Starbucks, Walmart, iTunes, Tango, Best Buy, Target, and even Bitcoin! Gift certificate values start at 30,000 points, or $10. PayPal payments start at 95,000 points ($30). These amounts are stated for Toluna USA, and may vary slightly by region.
Sweepstakes - Toluna Influencers offers monthly draws for thousands of dollars in cash and items such as electronics whose entries can be redeemed for a relatively small number of points. The Toluna Millionaire Sweepstakes offers a daily draw for 1,000,000 to active Toluna Influencers members. You can earn entry by participating in surveys or by purchasing entry via the reward center for 500 points. Note that sweepstakes draws are not available in all regions.
Visit Toluna's website

›
Additional Ways to Earn Points
Besides participating in online surveys, members of Toluna Influencers can earn additional points by participating in sponsored mini-polls (typically a yes/no question for 15 points), filling out profile surveys (worth 100 points each) and by referring friends (500 points per referral).
Number of Points Per Survey
The number of points will vary per survey and is based on things like the length and complexity of the survey. That said, successful survey completions can award anywhere from 15 - 50,000 points each, and special surveys could offer even more!
Rewards Process
Toluna Influencers states on their website that it can take up to 8 weeks for delivery of rewards after they've been requested. However, many members receive virtual gift cards and PayPal payments within a couple weeks of request. All rewards are redeemed through Toluna Influencers' "Rewards Center" from the community menu on your profile. As stated above, rewards include gift cards to Best Buy, Groupon, overstock.com, Redbox, PayPal, The Cheesecake Factory and more. When points are awarded, they are valid for 12 months.
Visit the Toluna Influencer's website

›
Getting Involved with Toluna Influencers
There are a variety of options to browse if you would like to become a part of the Toluna Influencers community.
Topics: Answer a variety of exciting questions on interesting and sometimes even humorous topics!
Battles: Give your opinions on a battle of products or subjects, i.e. Which do you prefer, a treadmill or elliptical?
Thumb It: Provide a "like" or a "thumbs up" on products or subjects that you enjoy, i.e. Would you give a thumbs up to the act of napping?
Download the Toluna Influencers App
Access your profile from anywhere and stay up to date on the hottest research opportunities. The Toluna Influencers app offers features like snapping photos while on the go and easily creating quick polls. Download from Google Play or the App Store.
Eligibility: Residents worldwide 13+
Joining Bonus! Toluna is currently offering a 500 point sign up bonus to new members.
» Click here to claim your bonus!
---
this site just plain sucks
September 17, 2010 by Sean from United States
Ever since the switch to Toluna a few months ago, I've qualified for TWO surveys! Two frickin surveys in 3-5 months. Luckily I still had a decent amount of money when the switch came so now I can cash out for $60. Once I get my check in a few months, I'm unsubscribing.
September 17, 2010 by Kathy from United States
This company is full of it. I have been signed up with them for a couple of months now and not once have I received a survey invite from them.
September 17, 2010 by Michael from United States
Now with this 60,000 points = #20 bit, no thank you. Sorry to see Greenfield become part of them. Greenfield is an excellent company, but becoming part of Toluna...sad.
September 17, 2010 by Cathy from United States
I have been a member of Toluna for only a short while..I have been a member of Microsoft's GreenfieldOnline,alot longer!It broke my heart to find out that Toluna bought Greenfiel!Alot of the changes that Toluna has made is due to this fact..It will take you longer to cashout,and even longer to get the 60,000 points.Once you have the points to cashout..you have to wait almost 2 months to get paid!Greenfield is in a class of it's on,and I hate this merger happened!I am going to close my account with Toluna..All the surveys they send now,I never qualify for.It has gotten to the point now,I do not even open them,but send them to my trash filter!
September 17, 2010 by Catherine from United States
Where do I start? It was bad enough, but now, Toluna has partnered w/ Greenfield. I have had problems with surveys from Toluna, when you get to the end suddenly you get an ERROR message. Sure you do, they have gleaned you for all the necessary information at that point. Today I stupidly took another survey from the "new Toluna/Greenfield , finished the survey, got a screen that said "Those are all the questions we have for you today. Thank you Again for taking part in our survey. Click the NEXT button to submit your answers".
I clicked Submit. And then Toluna gives me a screen saying the quota had been met. So they won't have
to pay me for my time.
WHAT?? Seriously? AFTER I'd finished the whole survey?
I've written customer support a few times about
survey problems, never got an answer.
I will not take another survey from this RIP off company.
» Return to: TOP RATED SURVEY SITES
---
Popular Topics
Top Survey Sites of 2020
---
Highest User Rated Survey Sites
---
Survey Sites That Pay Instantly
---
Survey Sites with Low Cash Outs
---
Surveys That Pay by Check
---
12 Online Surveys that Pay Cash
---
14 Ways to Get Free Amazon Gift Cards
---
Get Paid for Browsing the Internet
---
How to Get a Free Visa Gift Card
---
Get Paid by PayPal Without Fees
---
Featured Advertisers: