E-Rewards Reviews and Features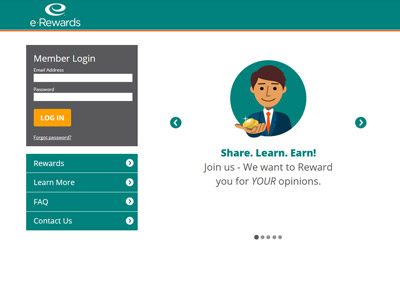 E-Rewards
6 Research Drive, Shelton, Connecticut 06484 US
Tel: 877-254-1234 Contact: [email protected]
Operated by: Dynata

PAYMENTS OFFERED

Airline Miles

Air Miles Reward Miles

Best Buy gift cards

Starbucks gift cards

Walmart gift cards

Home Depot gift cards

Target gift cards

iTunes gift cards

Retail e-vouchers

Merchandise

Restaurant gift cards

HOW TO PARTICIPATE

Online surveys

Teen surveys

Product testing

REDEEMING REWARDS
Point amounts vary greatly per reward. Yearly magazine subscriptions range from $10-$70 e-Rewards currency. A $25 gift card redemption may require $60 worth of points.

e-Rewards is one of the world's leading market research panels. Share, earn and learn by sharing your experiences about top global brands.
Earn e-Rewards
Earn Opinion Points/e-Rewards currency for taking surveys. Exchange your points for gift cards, magazine subscriptions, hotel reward points, and airline points. Choose from over 30 different retailers to redeem gift cards with, including Best Buy, CVS Pharmacy, Walmart, Macy's and more. You may redeem a gift card only once per quarter with most gift card options.
Prizes
e-Rewards can also be redeemed towards prizes. Many prizes come in the form of discounts towards purchasing products and services they provide.
Redeem Your e-Rewards Currency
In most cases, your account will be credited as soon as you complete a survey. However, in some cases the credit may take up to 7 days to appear on your account. Similarly, e-Rewards sends most electronic gift cards immediately upon request (within one hour). Most physical gift cards will be sent out within 4-6 weeks of redemption.
e-Rewards also requires mobile and landline verification in order to redeem your rewards. This verification helps you keep your rewards secure. For data security, they will need to verify your account with a valid US mobile or landline number in order to redeem your reward. Once you provide your number, you will receive a verification code via that number that you will need to enter in order to finalize the redemption process.
You can redeem your e-Rewards Currency/Opinion Points as soon as you accumulate enough to qualify for the reward you desire (the lowest gift card option is $10).
Invitation-Only Panel
e-Rewards is an invitation-only online survey panel. You may be invited to become a member by providing your email to one of the e-Reward partner companies. Once invited, e-Rewards is free to join.
Survey Setup
e-Rewards provides members the option to participate in various surveys and studies. Respondents have 30 days to complete the surveys.
Eligibility: Must be 13+ to join in USA/Canada. Minimum age to join varies in other regions.
Alternatives to e-Rewards
Survey takers who have joined e-Rewards are also interested in these survey programs:
1 Star Reviews (174)
41.5
November 25, 2021 by Joe from United States
I was a longtime member of E-Rewards in 2002-2006 and cherished it. I reaped the rewards. But yet another example of a Survey/Rewards site that's lost their way. They're exclusive these days and that excludes me...and you. Open up your membership like the good old days and return to Prominence and E-Glory.
November 18, 2021 by GARY from United States
Not worth my time anymore. I receive e-mails for taking the surveys, but cannot get on to the e-rewards web site.
It used to be great to earn rewards and the surveys paid pretty well.
Good at one time, but terrible now
November 16, 2021 by Joe from United States
I was a member of E Rewards for many years, but I decided to end my membership. Here's why:

1. At least once a day, I'd carefully answer all of the questions in a survey, but the survey would terminate me on the last screen and I would not receive a reward for completing the survey. It's INCREDIBLY frustrating to spend 15 or 20 minutes on a survey, and not receive credit for it.

2. E Rewards has steadily lowered the rewards they pay for both partial and completed surveys. At one time, E Rewards paid $1.00 for partially completing a survey, but it's down to $0.25 now. Likewise, in the past, members would receive $4.00 or $5.00 to complete most surveys, but now the bulk of E Rewards' surveys pay just $0.75 if you complete them. In the past year, E Rewards has started paying $0.25 to complete some surveys, the same amount they pay for partially completing a survey, which means you get paid exactly the same whether you spend 10 minutes to complete a survey or error out after 30 seconds.

3. As others have said, E Rewards will deactivate accounts without warning, for no reason at all. This happened to me at least once every two or three months, and although I'd always been able to get my account reactivated without losing any of my points, I knew at some point E Rewards would refuse to reactivate my account and I'd lose all of my points.

Other people on this website have expressed frustration about how E Rewards keeps getting worse. If people were to stop taking E Rewards surveys, they would go out of business. However, as long as people continue to participate in E Rewards, their management has no incentive to change their business practices.
November 4, 2021 by ann from United States
I have been a member for years of E-rewards, opinion world and valued opinion surveys. They are all owned by dynata. I have had my accts. frozen numerous times over the years I have been a member. I get the same canned response I did something wrong. I ask what I did wrong and get another canned response. They never say specifically what I did because they know I did nothing wrong and can't prove it. I have done nothing wrong and each time I went through the BBB to get my accts reactivated. This last time I cashed out almost all my points with opinion world and within a week all 3 survey sites were frozen.
As for surveys yes I did get a lot of them but probably 90% I did not qualify for. The survey would say 5 min. but after answering the same screening questions the survey would suddenly be 20 min. I would spend time taking the surveys to often get an error page and unable to finish the survey or at the end get a message I did not qualify or survey full. They got my answers and I got nothing for my time. I would warn anyone who does any of these survey sites to cash out ASAP and not let points sit until you have a lot.
September 10, 2021 by Cleoreese from South Africa
I love doing the surveys but i want more and its simple and easy do to i also like short and fast surveys long ones get boring at time.
» Return to: TOP RATED SURVEY SITES
---
Popular Topics
Top Survey Sites of 2022
---
Highest User Rated Survey Sites
---
Survey Sites That Pay Instantly
---
Survey Sites with Low Cash Outs
---
9 Product Testing Job Websites
---
12 Online Surveys That Pay Cash
---
How to Earn Free Uber Gift Cards
---
14 Ways to Get Free Amazon Gift Cards
---
Best Paid Focus Groups
---
How to Get a Free Visa Gift Card
---
Ways to Get Free Xbox Gift Cards
---
Featured Advertisers: