E-Rewards Reviews and Features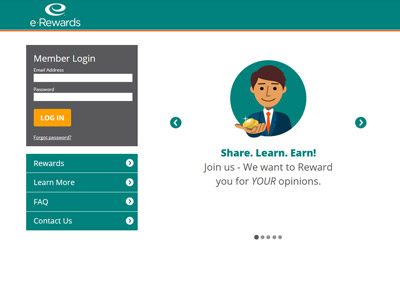 E-Rewards
6 Research Drive, Shelton, Connecticut 06484 US
Tel: 877-254-1234 Contact: [email protected]
Operated by: Dynata
E-Rewards Quick Overview:
Rewards Offered: Airline Miles Air Miles Reward Miles Best Buy gift cards Starbucks gift cards Walmart gift cards Home Depot gift cards Target gift cards iTunes gift cards Retail e-vouchers Merchandise Restaurant gift cards
Member Opportunities: Online surveys Teen surveys Product testing
Redeeming Rewards: Point amounts vary greatly per reward. Yearly magazine subscriptions range from $10-$70 e-Rewards currency. A $25 gift card redemption may require $60 worth of points.
Similar Panels: Branded Surveys, Panel Champ, MySoapBox

e-Rewards is one of the world's leading market research panels. Share, earn and learn by sharing your experiences about top global brands.
Earn e-Rewards
Earn Opinion Points/e-Rewards currency for taking surveys. Exchange your points for gift cards, magazine subscriptions, hotel reward points, and airline points. Choose from over 30 different retailers to redeem gift cards with, including Best Buy, CVS Pharmacy, Walmart, Macy's and more. You may redeem a gift card only once per quarter with most gift card options.
Prizes
e-Rewards can also be redeemed towards prizes. Many prizes come in the form of discounts towards purchasing products and services they provide.
Redeem Your e-Rewards Currency
In most cases, your account will be credited as soon as you complete a survey. However, in some cases the credit may take up to 7 days to appear on your account. Similarly, e-Rewards sends most electronic gift cards immediately upon request (within one hour). Most physical gift cards will be sent out within 4-6 weeks of redemption.
e-Rewards also requires mobile and landline verification in order to redeem your rewards. This verification helps you keep your rewards secure. For data security, they will need to verify your account with a valid US mobile or landline number in order to redeem your reward. Once you provide your number, you will receive a verification code via that number that you will need to enter in order to finalize the redemption process.
You can redeem your e-Rewards Currency/Opinion Points as soon as you accumulate enough to qualify for the reward you desire (the lowest gift card option is $10).
Invitation-Only Panel
e-Rewards is an invitation-only online survey panel. You may be invited to become a member by providing your email to one of the e-Reward partner companies. Once invited, e-Rewards is free to join.
Survey Setup
e-Rewards provides members the option to participate in various surveys and studies. Respondents have 30 days to complete the surveys.
Eligibility: Must be 13+ to join in USA/Canada. Minimum age to join varies in other regions.
Alternatives to e-Rewards
Survey takers who have joined e-Rewards are also interested in these survey programs:
July 4, 2020 by Janet from United States
I've been an E-Rewards panel member since November 2008. I was invited at the beginning from my Delta Sky Miles account. I thought hey, a great way to earn some extra gift cards and give my opinion on products and services.

Have completed hundreds of surveys. Some very long, some very short. I always took my time with them. Never once, gave silly answers or rushed through them.

Once the site and company was taken over by Dynata, things changed. I noticed at the beginning of the year, the site would go down for days. Sometimes a week with no surveys.

I'd email customer service, I'd get some vague answer about clearing your cache and cookies. Always did that. Never changed anything. I would never get an email confirming my account was back up, I would just log on and I'd be doing surveys again.

Now this time was different. I knew something was up. I tried to redeem a reward. Got an error code. I didn't redeem the reward too soon, I waited for the allotted time between. Nothing.

So I email customer again.

I got the dear John letter that my account was deactivated. I was told I could only have one account. (Who has time for 2 accounts and how you could remember a new person?). And that my attentiveness and inaccuracies caused them to flag my account. And it's now deactivated.

I've got around $40 in my account that they're just going to take. For no reason.

They're either not telling me the truth or I'm no longer a desired demographic or they're going out of business.

I guess it doesn't matter.

This is a deceitful, underhanded, sneaky way of doing business.

Shame on you E-Rewards. I guess you needed that money more than I did.
July 1, 2020 by La from United States
I am a long time member of E-Rewards, and have redeemed points for items. But, lately I keep encountering problems when I redeem my points for Starbucks. I have been getting BOGUS redemption codes. Then, the latest one I got a code that I put into my STARBUCKS account. It showed that the redemption code was valid, but the amount listed is ZERO. Yes, ZERO dollars for the valid gift card code from E-Rewards. I have sent them an email regarding this problem and a screen shot of the card. But, they WILL NOT REPLY to my concerns. So, if you are using E-Rewards be aware you may have redemption problems.
June 21, 2020 by frank from United States
This place sucks and rips people off, constant problems with credit and tech issues and hard to contact and when you do it is BS and your fault that the survey gave you no credit or shut down in the middle of your 30 survey.
June 19, 2020 by Julie from United States
They've stopped sending surveys and have suspended my account for no reason. I had been a member for over 10 years. Find a better site, this one is a waste of time.
If I could give below zero I would
June 18, 2020 by Bobi from United States
These people are horrible to deal with. They conveniently don't kick you out of a survey until you've completed a significant amount of it then they claim they never use your input if they haven't paid you. If you do complete their surveys their pay is notoriously low. Expect to spend hundreds of hours to get a $25 gift card!
» Return to: TOP RATED SURVEY SITES
---
Popular Topics
Top Survey Sites of 2020
---
Highest User Rated Survey Sites
---
Survey Sites That Pay Instantly
---
Survey Sites with Low Cash Outs
---
Surveys That Pay by Check
---
12 Online Surveys that Pay Cash
---
14 Ways to Get Free Amazon Gift Cards
---
Get Paid for Browsing the Internet
---
How to Get a Free Visa Gift Card
---
Get Paid by PayPal Without Fees
---
Featured Advertisers: