E-Rewards Reviews and Features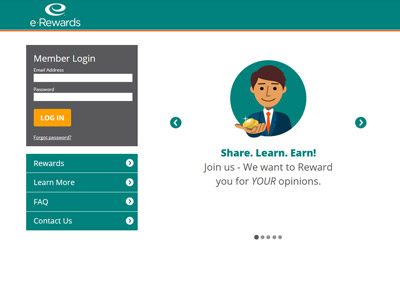 E-Rewards
6 Research Drive, Shelton, Connecticut 06484 US
Tel: 877-254-1234 Contact: [email protected]
Operated by: Dynata
Quick Overview:
Rewards Offered: Airline Miles Air Miles Reward Miles Best Buy gift cards Merchandise Retail e-vouchers Restaurant gift cards Starbucks gift cards
Member Opportunities: Online surveys Teen surveys
Redeeming Rewards: Point amounts vary greatly per reward. Yearly magazine subscriptions range from $10-$70 e-Rewards currency. A $25 gift card redemption may require $60 worth of points.
Similar Panels: Branded Surveys, Panel Champ, Opini, MySoapBox
Share, Earn and Learn
e-Rewards is one of the world's leading market research panels. Share, earn and learn by sharing your experiences about top global brands.
Invitation-Only Panel
This is an invitation-only online survey panel. You may be invited to become a member by providing your email to one of the e-Reward partner companies. Once invited, e-Rewards is free to join.
Survey Setup
e-Rewards provides members the option to participate in various surveys and studies. Respondents have 30 days to complete the surveys.
Earn e-Rewards
Earn Opinion Points/e-Rewards currency for taking surveys. Exchange your points for gift cards, magazine subscriptions, hotel reward points, and airline points. Choose from over 30 different retailers to redeem gift cards with. You may redeem a gift card only once per quarter with most gift card options.
Prizes
e-Rewards can also be redeemed towards prizes. Many prizes come in the form of discounts towards purchasing products and services they provide.
Redeem Your e-Rewards Currency
In most cases, your account will be credited as soon as you complete a survey. However, in some cases the credit may take up to 7 days to appear on your account. Similarly, e-Rewards sends most electronic gift cards immediately upon request (within one hour). Most physical gift cards will be sent out within 4-6 weeks of redemption.
e-Rewards also requires mobile and landline verification in order to redeem your rewards. This verification helps you keep your rewards secure. For data security, they will need to verify your account with a valid US mobile or landline number in order to redeem your reward. Once you provide your number, you will receive a verification code via that number that you will need to enter in order to finalize the redemption process.
You can redeem your e-Rewards Currency/Opinion Points as soon as you accumulate enough to qualify for the reward you desire (the lowest gift card option is $10).
Eligibility: Must be 13+ to join in USA/Canada. Minimum age to join varies in other regions.
---
November 15, 2019 by Mark from United States
After reading several reviews about E-rewards and similar survey sites I feel compelled to mention my experience with them and offer some gainful advice when it comes to survey sites.

I actually let my account relapse for three years before I came back to E-rewards in order to take advantage of the several hotels they have partnered with. To my appreciation and amazement, I was given membership back. After 14 months of usage I have redeemed around 50 rewards by simply going in and reentering ANY survey invite email they give you. Do not log into the website and expect to take more than one survey in a session, as this will simply not happen. For some reason, however, an email link will allow you (if you have the time) the ability to take 5-10 surveys a day and the potential to earn ~14-25 dollars in panel currency a day.

One key benefit with E-Rewards, as well as their sister site Guest Opinion Rewards Panel, is that you receive panel credit with EVERY disqualification. Not every panel is generous in that sense. Time may be wasted with a later than expected disqualification but users should recognize that admission in any survey here is guaranteed income.

It's best to remember that you do not own anything from this site until the magazine is your hands/hotel points post/or your gift card e-code shows up in your email. Sad stories of members losing out on 700+ in panel currency have only themselves to blame if they get their accounts locked. Each panel site reserves the right to terminate accounts without any justification so there is assumed risk with every panel in this sense. Never allow your balance to grow very high past the highest available reward (which on my rewards center appears to be Starbucks for $50.00 @ 145 bucks panel currency). All I can say is that you simply run the risk of having it stolen from you.

It helps to pay attention to the redemption limits that every reward carries with it. All airlines are once a month, most hotels are once a quarter, and most gift cards are once every 6 months. Consider this before you go in gung-ho and build up a hefty amount of reward money but nothing to spend it on. I have found that choice privileges is suitable for me, as they have no redemption limit as of Nov 2019.

Other advice I can think of- never deviate from your personal information. Never speed thru. They do keep track of that. The next time you come to complain about a late disqualification they will look into your account and ban you.

These sites buy the gift cards/points from partners and sell them to you for your time in giving your opinion. Your opinion is payed for by a third party entity that wants some question solved. Remember that the origin of debt here resides with some honest company trying to garner research on a consumer taste or product that they'd like to introduce to the real world markets. Don't fool around with this because the panel site is responsible for every answer they turn in to the company paying them in the first place. Just my two cents-but I have been very successful (so far) on this site.
November 11, 2019 by Robert from United Kingdom
I was mildly excited when E rewards shouted from the rooftops they were announcing great things ahead.New website, new rewards, the whole shabang. Well iv'e checked the rewards section out and lo n behold its like mother hubbards cupboard, barely a thing in it 90% of reward options are out of stock. In fact the only thing available is ziizzi vouchers,whoever they are. So what's going on E rewards.
October 26, 2019 by elaine from United States
I saw reviews by other people that bash this site.
they have limits, true
it takes time to get points. true
I have been a member for years and use it mostly to get my starbucks money.
no complaints from me!
October 18, 2019 by Mark from United States
If you want to cash out for an Amazon ecard it's once every three months. Walmart cards are once every 180 days. So there's no incentive to crank out the surveys from these guys. I had $300+ and now I find out the hard way that I have to wait to redeem again. Oh and like most survey sites you can waste an hour to be approved for a survey.
October 11, 2019 by Christina from United States
I always read reviews for survey sites but I dont agree with any of the poor reviews. I'm sure people have had problems and some dont qualify.. I recently had my account closed, Due to some circumstances I was unable to participate and I was locked out. I emailed member services after a couple of days I had access again and my reward balance was not taken from me. My personal experience the rewards add up quickly if you do all surveys available and then go into the emails you were sent. I use my rewards for choice privileges and I can get a free room fairly quickly when in an emergency.. I personally love it,I have never had any issues.. If you got a invite and your reviewing it deciding to join or not, my advice is sign up and see how you like it and enjoy the experience. This should have way more positive reviews...