E-Rewards Reviews and Features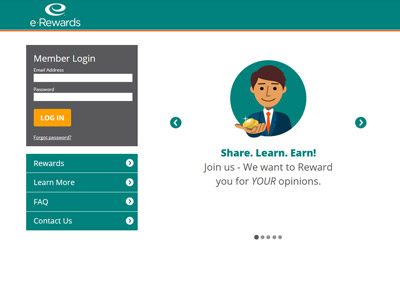 E-Rewards
6 Research Drive, Shelton, Connecticut US
Tel: 877-254-1234 Contact: [email protected]
Operated by: Dynata
Quick Overview:
Rewards Offered: Airline Miles Air Miles Reward Miles Best Buy gift cards Merchandise Retail e-vouchers Restaurant gift cards Starbucks gift cards
Member Opportunities: Online surveys Teen surveys
Redeeming Rewards: Point amounts vary greatly per reward. Yearly magazine subscriptions range from $10-$70 e-Rewards currency. A $25 gift card redemption may require $60 worth of points.
Similar Panels: Branded Surveys, Panel Champ, Opini, MySoapBox
Share, Earn and Learn
e-Rewards is one of the world's leading market research panels. Share, earn and learn by sharing your experiences about top global brands.
Invitation-Only Panel
This is an invitation-only online survey panel. You may be invited to become a member by providing your email to one of the e-Reward partner companies. Once invited, e-Rewards is free to join.
Survey Setup
e-Rewards provides members the option to participate in various surveys and studies. Respondents have 30 days to complete the surveys.
Earn e-Rewards
Earn Opinion Points/e-Rewards currency for taking surveys. Exchange your points for gift cards, magazine subscriptions, hotel reward points, and airline points. Choose from over 30 different retailers to redeem gift cards with. You may redeem a gift card only once per quarter with most gift card options.
Prizes
e-Rewards can also be redeemed towards prizes. Many prizes come in the form of discounts towards purchasing products and services they provide.
Redeem Your e-Rewards Currency
In most cases, your account will be credited as soon as you complete a survey. However, in some cases the credit may take up to 7 days to appear on your account. Similarly, e-Rewards sends most electronic gift cards immediately upon request (within one hour). Most physical gift cards will be sent out within 4-6 weeks of redemption.
e-Rewards also requires mobile and landline verification in order to redeem your rewards. This verification helps you keep your rewards secure. For data security, they will need to verify your account with a valid US mobile or landline number in order to redeem your reward. Once you provide your number, you will receive a verification code via that number that you will need to enter in order to finalize the redemption process.
You can redeem your e-Rewards Currency/Opinion Points as soon as you accumulate enough to qualify for the reward you desire (the lowest gift card option is $10).
Eligibility: Must be 13+ to join in USA/Canada. Minimum age to join varies in other regions.
---
September 16, 2019 by Jennifer from United States
Although this site is legit, it takes a long time to get enough money to actually get a reward and then you can only redeem a certain gift card once per quarter! They're aren't enough good gift cards for this to be a fair policy. However, worst of all is OFTEN you do a whole survey to then at the end be told that "the opportunity expired." It's a waste of 15-20 minutes when that happens. That's 15-20 minutes I could use to clean, relax, play with my kids. I need extra money, but this just isn't worth it. The last straw was when I completed an entire survey and on the very last question it said it was expired. I contacted e-rewards because I was pretty annoyed and their response was that my survey was "flagged for speeding." Excuse me?! First, it was the end of the survey! Second, I read and answered every question truthfully. Third, you get penalized for being speedy?! I always read the questions thoroughly and always see the "just checking if you're paying attention" questions, so this is pure nonsense.
September 10, 2019 by Andy from United States
Like many of the recent reviews, my account was recently deactivated for no apparent reason with a balance of approximately $300 (high because E-Rewards only allowed quarterly redemptions for the rewards I was interested in). This will very likely happen to you as well should you join their panel, so I strongly urge you not to waste your time. Oddly enough, E-Rewards continues to send me daily emails urging me to take a survey but then will not allow me to take any surveys or redeem any rewards.
September 2, 2019 by Bob from United States
Like many readers here, my account was recently deactivated with a balance of almost $745 to be spent. Also cited by eRewards was a canned response that "the accuracy and attentiveness of your account has been flagged." Of course, they could not cite any specific surveys or other information other than their Accounts Department made this final decision.
I had been a long time survey taker and successfully completed hundreds of surveys of which they received money for my time and effort. Obviously earning so much in credits, I never had a problem with accuracy and attentiveness.
I suspect they are purging their membership to avoid having to pay out legitimately earned rewards. Among others I wonder how Amazon, Starbucks, iTunes and Best Buy would feel knowing potential gift card purchases have been arbitrarily reclaimed by this devious and dishonest tactic.
August 29, 2019 by David from United States
Erewards is a BAD site. They suspended my account for some unknown reason and denied me my "points" which I hadn't redeemed for a while since I was building them up. I think they did it to deny me the credits I had earned. They promote restaurants.com but their "deals" are bad and not worth the time STAY AWAY and tell everyone that they are a rip off. As several others have said, this happened in August of this year. They are just not wanting to pay what was earned!!!!!
August 22, 2019 by Hiro from United States
I had the same problem with others recently. For years, I have been participating their surveys actively and attentively with my honest opinions. However, all of sudden they deactivated my account. I had 700+ E-Rewards amount.

I contacted them but they simply refused to hear my claim.
As many others mentioned that their accounts were deactivated recently, I suspect they have some critical financial issues, and want to void the unclaimed points to minimize their potential expenses.

If you are a member and have any balance with your account, I strongly recommend that you claim your balance for any available rewards and stay away from them. Otherwise you will lose your valuable time.