E-Rewards Reviews and Features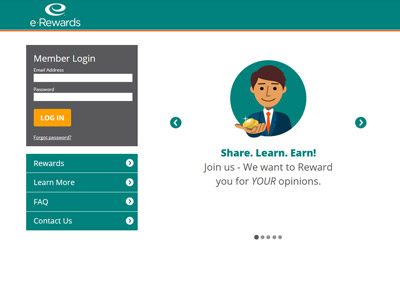 E-Rewards
6 Research Drive, Shelton, Connecticut 06484 US
Tel: 877-254-1234 Contact: [email protected]
Operated by: Dynata

PAYMENTS OFFERED

Airline Miles

Air Miles Reward Miles

Best Buy gift cards

Starbucks gift cards

Walmart gift cards

Home Depot gift cards

Target gift cards

iTunes gift cards

Retail e-vouchers

Merchandise

Restaurant gift cards

HOW TO PARTICIPATE

Online surveys

Teen surveys

Product testing

REDEEMING REWARDS
Point amounts vary greatly per reward. Yearly magazine subscriptions range from $10-$70 e-Rewards currency. A $25 gift card redemption may require $60 worth of points.

e-Rewards is one of the world's leading market research panels. Share, earn and learn by sharing your experiences about top global brands.
Earn e-Rewards
Earn Opinion Points/e-Rewards currency for taking surveys. Exchange your points for gift cards, magazine subscriptions, hotel reward points, and airline points. Choose from over 30 different retailers to redeem gift cards with, including Best Buy, CVS Pharmacy, Walmart, Macy's and more. You may redeem a gift card only once per quarter with most gift card options.
Prizes
e-Rewards can also be redeemed towards prizes. Many prizes come in the form of discounts towards purchasing products and services they provide.
Redeem Your e-Rewards Currency
In most cases, your account will be credited as soon as you complete a survey. However, in some cases the credit may take up to 7 days to appear on your account. Similarly, e-Rewards sends most electronic gift cards immediately upon request (within one hour). Most physical gift cards will be sent out within 4-6 weeks of redemption.
e-Rewards also requires mobile and landline verification in order to redeem your rewards. This verification helps you keep your rewards secure. For data security, they will need to verify your account with a valid US mobile or landline number in order to redeem your reward. Once you provide your number, you will receive a verification code via that number that you will need to enter in order to finalize the redemption process.
You can redeem your e-Rewards Currency/Opinion Points as soon as you accumulate enough to qualify for the reward you desire (the lowest gift card option is $10).
Invitation-Only Panel
e-Rewards is an invitation-only online survey panel. You may be invited to become a member by providing your email to one of the e-Reward partner companies. Once invited, e-Rewards is free to join.
Survey Setup
e-Rewards provides members the option to participate in various surveys and studies. Respondents have 30 days to complete the surveys.
Eligibility: Must be 13+ to join in USA/Canada. Minimum age to join varies in other regions.
Alternatives to e-Rewards
Survey takers who have joined e-Rewards are also interested in these survey programs:
1 Star Reviews (174)
41.5
August 19, 2021 by Constance from United States
Amazingly I'm not one of the MANY people who had their accounts terminated when they tried to cashout. If you are unaware of this serious situation, read through hundreds of people posting on here about it happening to them. I also know someone who logged into their account to see a message claiming they had cancelled the account themselves, which was obviously false since he had unredeemed earnings in his account. Nobody cancels their own account before cashing out their earnings! But I guess that's something new that's happening maybe so they can try to lower their stats of terminated accounts in case a class action suit happens. Regardless, although I know people who have had their account terminated or "cancelled" during the past couple years, that's not the purpose of my review.

What I've become completely fed up with is how e-Rewards lies about the surveys they offer to you. For example, let's say their invitation to a survey offers $3 of e-Rewards currency (~$1 in real money value) for a "5 minute" survey. You think that's not bad so you click on it. Firstly, before you ever get to the actual survey site, they send you to their site to answer a few minutes of their own general questions supposedly to help find other surveys for you. That wouldn't be so bad but a) it happens before every single survey and b) half they questions are either already answered in your profile or you've repeatedly answered the same question several times recently. So that's all usually a waste of time, every time. Then you finish that and finally get transferred to the actual survey. And, I am not kidding you, on the very first page of it, the people behind the survey will give you the real estimate of how much time it takes. Keeping with the example above, they tell you it should take 10-15 minutes. In other words, 2-3 times as long as what e-Rewards claimed. By the time you finish everything, the pre-survey questions + the actual survey questions, that 5 minutes initially quoted is often more like 15 minutes. $1 of real world value for 15 minutes equals $4 an hour. I could give you more example but you get the idea. The total times spent is often much longer than the invitation said and turns out to not have been worth your time. And I think e-Rewards knows that, which is why they routinely show a survey time which is way less than the actual survey tells you it will take right at the beginning of the survey. And e-Rewards has to see that when they publish the survey yet instead of honestly quoting the time the survey creators provided, they show routinely show much shorter, completely unrealistic times instead. And I can say they are unrealistic both from personal experience and the undeniable fact that e-Rewards themselves have terminated numerous accounts using a reason of rushing through surveys. It's a no-win situation. Either be prepared to spend way more time on surveys than advertised and/or be prepared to have your account terminated for rushing through them trying to finish within the time they initially said it would take.
June 13, 2021 by Roberta from United States
This site has gone through many changes. It has high paying survey but you need a lot of credit to get something from them. You get about 2-3 surveys a week and most of the time you do qualify. It is just the payout system that could be so much better.
Dynata and E-rewards are Disgraceful
March 13, 2021 by Steve from United States
Like so many others here, I was a very long time member of this panel for over 15 years. Recently my account was paused. When I inquired why, they gave me the same multiple bogus responses like everyone else - multiple accounts, accuracy of answers, profile information, etc, all of which were patently untrue. After a few emails, they said they suspended my account. I had a balance of over $700 which they refused to pay out. It is unconscionable that they kept this money after working on hours of diligent survey responses. Not only that, but they also suspended my account on the Oneopinion panel as well which had a $600 balance. Dynata now owns both of these companies. I checked the Better Business Bureau's web site and there were over 1,000 similar complaints filed against Dynata along with poor customer reviews. Dynata's larger clients are subject of many of the surveys that include Disney, NBC Universal, JD Power, Carl's Jr., Microsoft, Apple, US Bank and many others. Anyone who has been terminated in a similar situation should consider emailing these companies who pay Dynata for these surveys and let them know how outrageous these actions are against panelists. Then urge them to suspend their marketing efforts with Dynata so they can partner with more reputable survey companies.
March 5, 2021 by Daniel from United States
Its the best for me, it is very very good, and it is very very nice.
February 24, 2021 by Mark from United States
This is an updated review from one I gave in November 2019.

E-rewards continues to be a worthwhile site as long as the members keep honesty and patience close by.

For users who feel burnt by getting locked out as you were piling up those points- remember, panel currency belongs to the provider, not the end user. Realization of that will save many future one star reviewers heartache. There is no reason, at all, ever, ever, ever to have more panel currency in your account than what's needed for the highest possible reward. That's 150.00 in panel currency as of my records in February 2021.

For responsible go-getters, each survey session consists of 5 surveys to take, resetting after around 12 hours. Set a target reward, take note of redemption limitations and cash in as soon as you hit the mark.

Don't mess with E-rewards, they pay money to get answers for clients who pay them first so they necessarily have to take inconsistencies seriously.

I respect them for what they are and what they allow me to accomplish. When the day comes that if/when account gets flagged, I will bid them thank you for the good times and shake the dust off my feet.

One key benefit with E-Rewards, as well as their sister site Guest Opinion Rewards Panel, is that you receive panel credit with EVERY disqualification. Not every panel is generous in that sense. Time may be wasted with a later than expected disqualification but users should recognize that admission in any survey here is guaranteed income.

It helps to pay attention to the redemption limits that every reward carries with it. All airlines are once a month, most hotels are once a quarter, and most gift cards are once every 6 months. Consider this before you go in gung-ho and build up a hefty amount of reward money but nothing to spend it on. I have found that choice privileges is suitable for me, as they have no redemption limit as of Nov 2019.

Other advice I can think of- never deviate from your personal information. Never speed thru. They do keep track of that. The next time you come to complain about a late disqualification they will look into your account and ban you.

These sites buy the gift cards/points from partners and sell them to you for your time in giving your opinion. Your opinion is payed for by a third party entity that wants some question solved. Remember that the origin of debt here resides with some honest company trying to garner research on a consumer taste or product that they'd like to introduce to the real world markets. Don't fool around with this because the panel site is responsible for every answer they turn in to the company paying them in the first place. Just my two cents-but I have been very successful (so far) on this site.
» Return to: TOP RATED SURVEY SITES
---
Popular Topics
Top Survey Sites of 2021
---
Highest User Rated Survey Sites
---
Survey Sites That Pay Instantly
---
Survey Sites with Low Cash Outs
---
9 Product Testing Job Websites
---
12 Online Surveys That Pay Cash
---
How to Earn Free Uber Gift Cards
---
14 Ways to Get Free Amazon Gift Cards
---
Best Paid Focus Groups
---
How to Get a Free Visa Gift Card
---
Ways to Get Free Xbox Gift Cards
---
Featured Advertisers: