E-Rewards Reviews and Features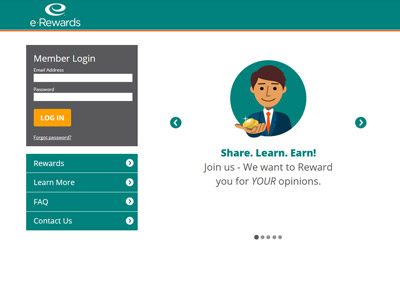 E-Rewards
6 Research Drive, Shelton, Connecticut US
Tel: 877-254-1234 Contact: [email protected]
Operated by: Dynata
Quick Overview:
Rewards Offered: Airline Miles Air Miles Reward Miles Best Buy gift cards Merchandise Retail e-vouchers Restaurant gift cards Starbucks gift cards
Member Opportunities: Online surveys Teen surveys
Redeeming Rewards: Point amounts vary greatly per reward. Yearly magazine subscriptions range from $10-$70 e-Rewards currency. A $25 gift card redemption may require $60 worth of points.
Similar Panels: Branded Surveys, Panel Champ, Opini, MySoapBox
Share, Earn and Learn
e-Rewards is one of the world's leading market research panels. Share, earn and learn by sharing your experiences about top global brands.
Invitation-Only Panel
This is an invitation-only online survey panel. You may be invited to become a member by providing your email to one of the e-Reward partner companies. Once invited, e-Rewards is free to join.
Survey Setup
e-Rewards provides members the option to participate in various surveys and studies. Respondents have 30 days to complete the surveys.
Earn e-Rewards
Earn Opinion Points/e-Rewards currency for taking surveys. Exchange your points for gift cards, magazine subscriptions, hotel reward points, and airline points. Choose from over 30 different retailers to redeem gift cards with. You may redeem a gift card only once per quarter with most gift card options.
Prizes
e-Rewards can also be redeemed towards prizes. Many prizes come in the form of discounts towards purchasing products and services they provide.
Redeem Your e-Rewards Currency
In most cases, your account will be credited as soon as you complete a survey. However, in some cases the credit may take up to 7 days to appear on your account. Similarly, e-Rewards sends most electronic gift cards immediately upon request (within one hour). Most physical gift cards will be sent out within 4-6 weeks of redemption.
e-Rewards also requires mobile and landline verification in order to redeem your rewards. This verification helps you keep your rewards secure. For data security, they will need to verify your account with a valid US mobile or landline number in order to redeem your reward. Once you provide your number, you will receive a verification code via that number that you will need to enter in order to finalize the redemption process.
You can redeem your e-Rewards Currency/Opinion Points as soon as you accumulate enough to qualify for the reward you desire (the lowest gift card option is $10).
Eligibility: Must be 13+ to join in USA/Canada. Minimum age to join varies in other regions.
---
July 30, 2019 by Edward from United States
I've been a loyal e-rewards user for the past several years. I visited the site every day and racked up $300+ credit as of 3 days ago when I tried to log in only to receive a message stating that my account was inactive. I contacted them through email and received an automated reply stating my account was deactivated due to not being attentive enough which is bull. That's some way to treat your regular users.
July 29, 2019 by Brian from United States
How is it this panel calls itself E-Rewards, yet the actual rewards are so lame? Use to be this site offered rewards I actually used, like Borders certificates or Target gift cards. The vast majority are now airline or hotel points, which might be fine if you travel for business or are retired and constantly on vacation, but that's got to be maybe 10-15% of the population? Most the rest of the rewards require you buy something first, in other words you need to spend 20 dollars and up at some site or restaurant just to get the reward. Then there's the magazine subscriptions, about the only thing I use, but the selection could use more broad based titles like Smithsonian or Entertainment Weekly than narrow niche publications like Cigar Aficionado. E-Rewards REALLY needs to hook up with Paypal or such and start offering cash payments or prepaid cards.

On the plus side, the site does send out a fair amount of surveys per week and the amount given is worth the time spent. Oh well, points never expire, so guess I'll just keep taking surveys and sitting on my $700 plus points until they come up with something worthwhile rewards wise.
July 27, 2019 by Cynthia from United States
They are quick to deactivate your account. I recently tried to login but couldn't because my account was deactivated for inactivity. Its only been 2 or 3 weeks since I completed a survey, because I've been busy. That is not a long time. Of course the only way to access the gift card I redeemed was by logging in and I could not do that. There are better sites.
July 26, 2019 by Shannon from Canada
They suddenly deactivated my account just as I was close to cashing in my points for a reward. They claimed I was not attentive enough, which is completely untrue. I took a long time to do each survey and gave my honest answers. It was hard to get points in the first place because the majority of the surveys would tell me I didn't qualify, even quite far into answering their questions. Then just before I finally get enough points for a reward, my account gets deactivated. Definitely stay away from e-rewards!!
July 24, 2019 by T Nicola from United States
Despite the less than stellar reviews here, I decided to give e rewards a try after I received an email invitation. I joined back in January, and had no issues until last week. I tried to sign in, and my account was marked as inactive which was strange because I check in at least once a day. I emailed the company, and a auto response happened the same day. A real response took 3 to 4 days. They said that my account was suspended indefinitely. They didn't give a specific reason besides attentiveness and accuracy. My profile and response has been pretty accurate. I read the surveys and sometimes they take longer than their estimated time. If I don't like a survey, I just click that x. Fortunately I usually made sure to cash in on rewards when I reach the threshold. W magazine, a couple of Sally Beauty gift cards, Itunes gift card, and Burlington e gift cards all 4 or 5 of them.

After months, they suspended my account without warning, no real explanation of why that happened besides the generic response. I never tried to misrepresent myself. They probably knew more about me than the government.

Don't join or if you do there's an possibility of them banning you based on whatever system they are using, and there's nothing that you can do about it. The minutes adds up.