E-Rewards Reviews and Features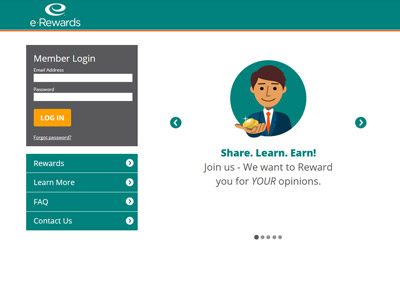 E-Rewards
6 Research Drive, Shelton, Connecticut 06484 US
Tel: 877-254-1234 Contact: [email protected]
Operated by: Dynata

PAYMENTS OFFERED

Airline Miles

Air Miles Reward Miles

Best Buy gift cards

Starbucks gift cards

Walmart gift cards

Home Depot gift cards

Target gift cards

iTunes gift cards

Retail e-vouchers

Merchandise

Restaurant gift cards

HOW TO PARTICIPATE

Online surveys

Teen surveys

Product testing

REDEEMING REWARDS
Point amounts vary greatly per reward. Yearly magazine subscriptions range from $10-$70 e-Rewards currency. A $25 gift card redemption may require $60 worth of points.

e-Rewards is one of the world's leading market research panels. Share, earn and learn by sharing your experiences about top global brands.
Earn e-Rewards
Earn Opinion Points/e-Rewards currency for taking surveys. Exchange your points for gift cards, magazine subscriptions, hotel reward points, and airline points. Choose from over 30 different retailers to redeem gift cards with, including Best Buy, CVS Pharmacy, Walmart, Macy's and more. You may redeem a gift card only once per quarter with most gift card options.
Prizes
e-Rewards can also be redeemed towards prizes. Many prizes come in the form of discounts towards purchasing products and services they provide.
Redeem Your e-Rewards Currency
In most cases, your account will be credited as soon as you complete a survey. However, in some cases the credit may take up to 7 days to appear on your account. Similarly, e-Rewards sends most electronic gift cards immediately upon request (within one hour). Most physical gift cards will be sent out within 4-6 weeks of redemption.
e-Rewards also requires mobile and landline verification in order to redeem your rewards. This verification helps you keep your rewards secure. For data security, they will need to verify your account with a valid US mobile or landline number in order to redeem your reward. Once you provide your number, you will receive a verification code via that number that you will need to enter in order to finalize the redemption process.
You can redeem your e-Rewards Currency/Opinion Points as soon as you accumulate enough to qualify for the reward you desire (the lowest gift card option is $10).
Invitation-Only Panel
e-Rewards is an invitation-only online survey panel. You may be invited to become a member by providing your email to one of the e-Reward partner companies. Once invited, e-Rewards is free to join.
Survey Setup
e-Rewards provides members the option to participate in various surveys and studies. Respondents have 30 days to complete the surveys.
Eligibility: Must be 13+ to join in USA/Canada. Minimum age to join varies in other regions.
Alternatives to e-Rewards
Survey takers who have joined e-Rewards are also interested in these survey programs:
1 Star Reviews (174)
41.5
very disappointed about their redemption process and customer service
April 22, 2015 by VIVIAN from Canada
It used to be one of my fav survey site but sorry to say not anymore. There is a 3 month period for redeem the amazon card. The card is not available for a long time but finally restock in February. So I redeem the card and received the confirmation email says my card shoud be arrived within 24 hours. If I did not get the card I should contact the customer support. I waited for 3 days and nothing came. so I email them about the issue. a week later they replied me says there is a technical issue which they are working on to get resolved that's why I did not get the card. A week later I emailed them again and they replied says they are still working on resolve the issue and they don't know when it will be resolved. In early April, that's 2 months after I redeem my card, I email them again to follow up, they replied me says they have refund me the points ... However I cannot redeem it because I have redeemed the card for that period. I am so pissed! and ask them if they can send me a card or waive that limit thing because it is totally not my problem ! they replied says nothing they can do... well I'm very disappointed about this site now. and this problem could happen again in the future and they will do nothing to compensate me. So I stopped using their site.
February 3, 2015 by Paul from United Kingdom
This survey company really has gone down the pan recently. For months now on the UK site, most decent rewards "OUT OF STOCK" - no Amazon vouchers, No The Hut vouchers, No IWOOT vouchers, No Lookfantastic vouchers, no My Protein - you get the picture. And this has been the case for a few months now - SO, if you're thinking of joining, don't bother - their customer service is terrible.
Horrible customer service.
January 9, 2015 by Stephen from United States
You can earn what's offered here. But, you will incur a lot of frustration along the way (if you pay attention to what they are doing). If you need to contact customer service, be prepared to have to contact them 2 or 3 times before you get a reply. And, when you do, it will be long after the "5 business days" their website indicates. You will also frequently experience getting well into surveys only to get booted out for a nominal "reward". And, last but not least. you MUST be certain to verify that you get the credit to which you are entitled. It is a FREQUENT, RECURRING problem in that once you complete a survey, you do not get the payment you are due, and you have to nag customer service to get it.
July 1, 2014 by Becky from United States
E-Rewards used to be a great place. Now, most of the time I answer questions, and answer questions and answer questions, and specific product questions and specific spending habit questions only to be told at the end of a lengthy process that they already have all the responses they need. What a nasty way to treat your members, especially those that have been with you for several years.
October 21, 2013 by Robert from Canada
I used e rewards for longer than a year and had good success getting surveys and collecting my money in Alaska Air-miles until the last 3 months when it became impossible to sign in. I currently have over $50.00 on my account but cannot collect it as I cannot sign in. I have had only the usual auto reply and not contact by phone to correct this problem would give them a very poor rating.
» Return to: TOP RATED SURVEY SITES
---
Popular Topics
Top Survey Sites of 2022
---
Highest User Rated Survey Sites
---
Survey Sites That Pay Instantly
---
Survey Sites with Low Cash Outs
---
9 Product Testing Job Websites
---
12 Online Surveys That Pay Cash
---
How to Earn Free Uber Gift Cards
---
14 Ways to Get Free Amazon Gift Cards
---
Best Paid Focus Groups
---
How to Get a Free Visa Gift Card
---
Ways to Get Free Xbox Gift Cards
---
Featured Advertisers: