Google Opinion Rewards Reviews and Features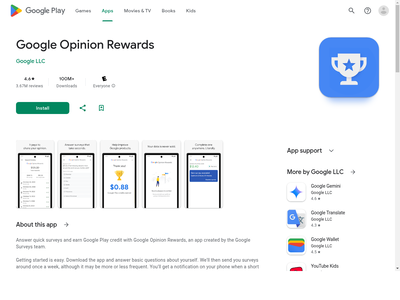 Google Opinion Rewards
1600 Amphitheatre Pkwy, Mountain View, CA 94043 US
Tel: +1 650-253-0000 Contact: [email protected]
Operated by: Google

PAYMENTS OFFERED

Google Play credits

HOW TO PARTICIPATE

Mobile app

REDEEMING REWARDS
You can use credits for anything in the Google Play Store. However, if you do not have enough credits, you cannot split the balance between credits and credit card/carrier billing. Any redemption must be either fully from credits or fully from a credit card/carrier billing.
Google Surveys is Google's in-house market research tool that helps market researchers create online surveys to share with voluntary users who fill out the surveys in order to earn rewards. Users answers are aggregated and shared with the market researcher and answers are completely anonymous unless explicitly stated at the beginning of the survey.
During the setup process, you associate your Google payment profile with your Google Opinion Rewards profile so that Google can apply Google Play credits to your account. Once you go through the introductory survey based on demographic questions and go through a survey tutorial, you will receive notification for your first paid survey. Upon completion, you will be directed to a confirmation page confirming the credit applied to your Google payment profile.
Help Shape the Future of the Internet, Just By Surfing!
Join the Google Opinion Rewards to help Google make its products better and gain insight into the average consumer. Once you've signed up, Google will send you everything you need to set up your devices (TV, tablets, computer and phone). Then, you simple access the Internet as you normally would and earn rewards along the way. If you ever need privacy from the service, you simply enter "Guest Mode" to keep you browsing or preferences private.
Sign up
Sign up and get sent everything you need for Google to monitor your device(s) and track your rewards. Rewards are paid out in the form of Google Play credits. Google Opinion Rewards are surveys run by market researchers. The frequency of receiving surveys may vary, and you do not have to answer every survey you receive.
Earn Rewards
The amount of credits received can vary from survey to survey and is dependent on the number of questions and the amount of time it takes to complete a survey. Answering questions in a certain way is not required to receive a credit. The more honestly a person can answer a question, the more valuable the opinion is, and as a result you may receive more surveys or credit.
PayPal payments are not offered by Google Opinion Rewards - only Play credits are awarded.
Google Opinion Rewards are surveys run by market researchers. The frequency of receiving surveys may vary, and you do not have to answer every survey you receive.
Redeem Rewards
To redeem your credit, simply tap on "spend your play credit" on the home screen of the mobile app or by shopping directly in the store. You choose your reward in the form of books, games, music or movies - anything that's on Google Play is yours to redeem!
Note that accrued credits expire 1 year from the date of the credit.
In 2018, Cross Media Panel merged with Google Opinion Rewards. As such, although some of the reviews below appear to be for Cross Media Panel, they now apply to Google Opinion Rewards, as the panel is the same.
Alternatives to Google Opinion Rewards
If you're looking for a site like Google Opinion Rewards (especially if you're looking for reward options besides Play Store credits, the following sites may be of interest to you:
---
Google Opinion Rewards Reviews (67)
Annie's view: Google Opinon
January 3, 2023 by Annie from South Africa
Thanks Google! These are so quick and easy, now I save my cash and pay with my opinion.
Works well paid immediately
September 26, 2021 by Jim from United States
You earn credit in the Google play store and it is super reliable. Surveys are just 4 or 5 questions long so it is fast. I play mobile games so this is one way to buy extras in those games.
August 13, 2021 by Sumit from India
Nice app. It gives google balance which help us to do top up game currency easily. So i love it very much.
November 21, 2020 by LeNita from United States
I enjoy all of 5 seconds it may take me to actually answer one of their surveys! Seriously, no joke...I've been with them a few months, have never had a survey with more than 4 quick questions and then right at the end of the little quiz, it tells you how much change just went into your Google Play account. There's no wait time, no guesswork to anything, they send you a notification saying you have a survey, you answer, you get change. It straight up does what it says and couldn't be easier. And yes, I've used my little chump change on in-game purchases instead of tapping into other money I really shouldn't be spending...it's handy.
April 16, 2020 by Simon from United States
I love this app. I have made over $200 since I got it, I am able to buy/rent films, books, games from the playstore, for answering a few 3-5 question surveys every few days. Location being on will get you more surveys!! A winner!
» Return to: TOP RATED SURVEY SITES
---
Popular Topics
Top Survey Sites of 2023
---
Highest User Rated Survey Sites
---
Survey Sites That Pay Instantly
---
Get $100 Free PayPal Payments
---
9 Product Testing Job Websites
---
12 Online Surveys That Pay Cash
---
How to Earn Free Uber Gift Cards
---
14 Ways to Get Free Amazon Gift Cards
---
Best Paid Focus Groups
---
How to Get a Free Visa Gift Card
---
Ways to Get Free Xbox Gift Cards
---
Featured Advertisers: