OpinionSite Reviews and Features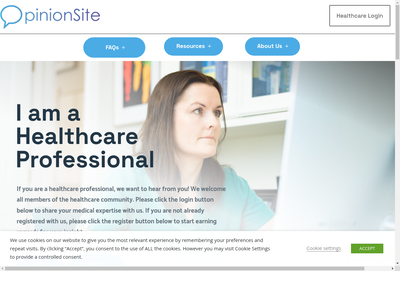 OpinionSite
888 West Alameda Road, Pocatello, Indiana 83201 US
Tel: (212) 391-5243 Contact: https://surveys.opinionsite.com/survey/selfserve/20dc/180809#?
Operated by: SurveyHealthcare
Quick Overview:
Rewards Offered: Cash paid via check Amazon gift cards iTunes gift cards Walmart gift cards
Member Opportunities: Online surveys Medical surveys Business surveys Teen surveys
Redeeming Rewards: 14,000 points ($10 worth) minimum balance required in order to request rewards.
Similar Panels: Branded Surveys, Opinion Outpost, Univox Community

OpinionSite has been around since 1997 and deals with a variety of market research opportunities. They are owned by Universal Survey - an umbrella company that backs a variety of smaller research panels. Over the years, OpinionSite has collected millions of valuable opinions from a range of consumers, business and healthcare professionals, leading to the future of many important company decisions.
Two Communities to Join
OpinionSite offers new members the option to join two different communities depending on their demographic. The first is a "Consumer Community" which ranges from business decision makers to consumers of everyday products. The second is the more exclusive "Healthcare Professional Community" which is for anyone who identifies as a healthcare professional. Members are welcome to join both if they fit the bill!
Take Online Surveys for Cash And Gift Cards
OpinionSite offers online surveys for cash that is sent in the form of a check. Accumulate points that can then be redeemed for a check when your account balance reaches $10 (14,000 points). The check will arrive at your given address in approximately 6-8 weeks time. If you choose a gift card option, you can expect to receive it 1-2 weeks after redemption. Gift cards available include Amazon, Walmart, and iTunes gift cards.
Join and Get $1, Complete Profiling Survey, Get $2
Confirm your registration with OpinionSite and receive 1,400 ($1.00) credited to your account. Complete the short profiling survey available in your account and earn an additional 2,800 points ($2.00).
Earn Fair Compensation
OpinionSite claims to strive to offer competitive and appropriate compensation and has set an absolute minimum of 50 points per participation, including for survey disqualifications. Survey payouts usually range from $0.50 - $2.00 per survey, but are fun and quick in nature. Once you have reached 14,000 points, or $10, you can begin to redeem your points for rewards.
Excellent Customer Service
OpinionSite prides themselves on having quality customer service for its panel members. If you have an issue or question, responses are usually quite quick and helpful!
Eligibility: Residents of the United States, 13+
---
April 4, 2014 by Mary from United States
I`ve been with this company for years and I must say I received more incentives and surveys from them than most other companies, they're a keeper!
February 28, 2014 by Candice from United States
I don't see what the fuss is about.. other reviews make it sound like Opinionsite is so much worse than it is.
Yes, it make take some time to accumulate points (surveys are worth $2-3$), but the checks arrive quickly (around 3 weeks usually). Also, anytime I have an issue or the site crashes, their team is really friendly and helpful.

December 13, 2013 by Greg from United States
I am a member of many survey sites and one I can tell is good is Opinionsite. Most of the surveys are really interesting and you can redeem the points for $10. But recently I receive invite for a survey and I won an Amazon gift card.
October 21, 2013 by Fred from United States
I collected a couple of times for a $10 Amazon Certificat. On October 7 at 5:50PM I participated in a 90 minute focus grop that was supposed to pay $75. I received nothing. In emailing them 7 or more times I finally got a reply telling me how to use their stupid points. They offered no assistance in informing me of the $75 reward that I got screwed out of. Don't even think about this site it's a waste of time.
I Won't Live Long Enough To Cash-out!
August 6, 2013 by Kayeren from United States
In a year, I've earned 4,600 points. To redeem your points you must have 14,000...and that's for $10.00!!! I finally dropped them, as the other companies I was signed with, I was reaching their cash-out threshold & I was finally seeing my efforts rewarded (I signed with a lot of them @ the same time). I've reached a 2nd cash-out on several. Then I look @ 4,600 to 14,000...well, you do the math!!