PaidViewpoint Reviews and Features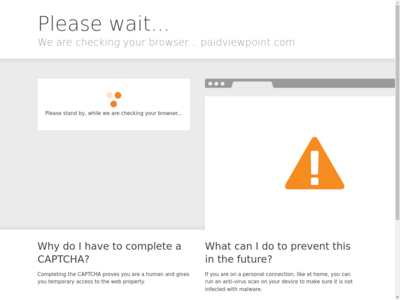 PaidViewpoint
123 10th St., San Francisco, California 94103 US
Tel: (415) 364-8601 Contact: [email protected]
Operated by: AYTM
Quick Overview:
Rewards Offered: Cash paid via PayPal Amazon gift cards Walmart gift cards
Member Opportunities: Online surveys Mobile surveys Refer-a-friend program
Redeeming Rewards: $15 USD minimum account balance required. Rewards processing done within 72 hours of request.
Similar Panels: Branded Surveys, Tellwut, Opinion Outpost, MySoapBox

PaidViewpoint is operated by aytm.com - Ask Your Target Market. With your help, AYTM is revolutionizing the market research industry by making quality market research easily accessible and affordable to businesses large and small everywhere.
PaidViewpoint is built upon 4 principles:
Pay cash for every completed market research survey.
Never screen you out once you've been invited into a survey.
Take "boring" out of the survey answering experience.
Respect privacy and do not sell personally identifiable information to anyone.
New Member Cash Bonus
Join and immediately get a sign up bonus deposited into your account. Amounts vary per country, but for USA and Canada, it is $1.00.
How PaidViewpoint Determines How Much You'll Earn Per Survey
Every survey gets a fixed portion of the sale price allocated to the respondents who answer the questions. That pot of money is divided up between the respondents, based on their TrustScore. Adjustments are made to level the playing field so that newer members of PaidViewpoint are treated equally well as compared to longstanding members. The respondent pool is divided into groups and the higher-level groups get paid more for each survey answer.
Payment Process
Take online surveys in exchange for cash and gift cards. All cash-out payments are made through Paypal or their partner, Virtual Incentives. Get paid when you have accumulated a $15.00 USD balance. Rewards are processed within 72 hours of request. If you are located outside the USA, you will still be paid to your PayPal account, or issued an e-gift card in US dollars.
Visit PaidViewpoint's website

›
Getting Notified for Surveys
Receive e-mail notifications when full surveys (biz surveys) become available. These will also be displayed in your account when they become available. Upon logging in, you will see a message in the top right corner that says, "1 survey available".
Survey Lengths
Survey lengths vary, but are typically between 5-6 minutes. All surveys have limits placed on the number of characters in a question (120-240) and in survey answers (90-120) to give a Twitter-like feel. The number of answer choices is limited. Long, classic, complex, matrix-type questions are forbidden and the number of open-ended questions (where you have to type in answers) is limited. The maximum number of questions in a survey is limited on average, to around just 10 questions long.
Daily Surveys
You can wait to be e-mailed about regular online surveys when they become available, but you can also take "Trait Surveys" and earn between $0.03 and $0.10, on most days. These Trait Surveys not only serve to increase your earnings slowly, but also helps increase your Trustscore. Note that receiving trait surveys regularly may depend on your region.
Visit PaidViewpoint's website

›
Up Your TrustScore, and Earn More
PaidViewpoint's patent-pending TrustScore system was invented to assess the candor and consistency of survey respondents and to incentivize these characteristics. The higher your TraitScore, the more you can earn per survey. A high TrustScore allows you to receive the maximum number of surveys per month. Achieve a Traitscore of 9000, and become part of the top 10% of members. This means you'll earn even more per answer.
VIP Community Builder
PaidViewpoint offers a generous referral program where you will earn 20% of what your referrals earn for taking "biz surveys". In other words, earn 20% from your referrals when they take surveys other than "Traits Surveys". You can have an unlimited amount of referrals and can earn up to $25 per referral. If you can refer friends from the USA, you will likely find you can earn more.
To get this privilege of being a part of the VIP Community Builder club, you need to have 100+ ACTIVE friends/referrals. Active means your referrals have to have been a member for more than 30 days and must be visiting the site and completing surveys on a regular basis.
Eligibility: Worldwide, 18+
---
Note: McAfee antivirus has been known to mistake PaidViewpoint as a "phishing" website. You can ignore this warning.
Why so many good reviews?
September 19, 2019 by Marc from Australia
I just can't see why this site has so many positive reviews. There is an extraordinarily long process of filling out details which, from what I could tell, could literally take months to complete. Maybe if you live in the USA the system works better but for me it turned out to be an utter waste of my time. I deleted my account and will never go back.

PaidViewpoint responded to this review on September 21, 2019
Hi Marc,
First of all, thanks for giving us a try from Australia. We do not understand why you feel that we have a long process of filing out details that would take you months to complete. We ask for some demographic information, yes, but that form is short. In the beginning, we do send a lot of surveys asking for product usage, habits, and other traits to determine your consistency, likes, and dislikes. Unlike most survey sites, you are paid for these simple, short questions.
You will not make a lot of money on our site if you wait for email or text invites. We do not send out many of those. However, if you checked our site through out the day for surveys that spontaneously appear (and disappear as surveys are fulfilled by other members) you would make more cash.
And finally, yes, a lot of our clients are looking for responses from members who live in the USA, but some clients look for world wide respondents. We are sorry to hear that you closed your account but we do understand our site may not be for everyone.
Regards,
April
can't stand answering the same questions over and over and over again
September 18, 2019 by julie from United States
cute site years ago and i have made paypal money as well as doing amazon codes but now a few years later, it is the same questions over and over and over and over ...you get the idea. even though it is a quick minute or two the repetitious nature of the site is annoying. i have after two months gotten to the fifteen dollar incentive point again and doubtful i will continued the site. if you are fine with the same questions all the time and you know you can wait for a couple of months for less than twenty dollars, then this is the site for you.

Update: In reply to paid viewpoint, i have been a member since august of 2012, think you should know me by now, and no there are no real interesting surveys, so as of today i did delete my account and even that took more time than it should. please save your generic lying comments for people who have only been on the site for a few months. update first same old questions only gives a dime and few and far between with high paying surveys. surveys are generic not certain who could be paying the bills for this site but answers don't allow for not using the product. must be the worst site only reason for one star is they do pay quickly. it does take a couple of months to earn when incentives are a dime but they do pay quickly

PaidViewpoint responded to this review on September 21, 2019
Hi Julie,
We appreciate your comments. I will take your issue to the next Panel Staff Meeting. We are always striving to make PaidViewPoint more interesting for the respondent. These repetitive questions should slow after we learn enough about you. They are repetitive in nature to ensure you are consistent with your answers and not answering our TRAIT surveys haphazardly. If your history of answering these TRAIT surveys is consistent, we will invite you to the better-paying surveys from our clients. These questions vary by subject and can be very interesting. We will miss you and wish you the best.
Update: 9/20/19:
We are sorry to hear you closed your account. But, we understand our site may not be a good 'fit' for everyone. Sometimes respondents are too inconsistent in the way they answer our in-house Trait Surveys and are deemed unreliable. This may be the case here. If you are considered unreliable, you will NOT receive the more interesting, better paying surveys from our customers. And, yes, if deemed unreliable, you will not earn much money from our site. Consistency is the key to our site.
Deleting your account is a very easy process. You go to the settings page and scroll to the bottom and select "Close my account". Then you are prompted to verify this request. After that, you are done. We couldn't have made this process any shorter or easier.
We wish the the best,
Florence & April
August 24, 2019 by Luke from United States
I had $3.00 in my account, and now they won't let me log in.

PaidViewpoint responded to this review on August 26, 2019
Hi Luke,
If the suggestions below don't work, please write to us at
[email protected]
It's always best to clear your cache. If you forgot your password, you can request a reset from the login page.
Hope this helps,
Flo
Don't waste your time, should be reported to the BBC
July 29, 2019 by Brian from United States
I fail to see how this site is ranked so high? Since signing up, I've yet to take an actual survey, just the ones that are profile type (which they call 'trait') questions that apparently are supposed to build some kind of goofy 'trust' level and raise you to a level where you get more points. These are worth next to nothing, 10 cents.

Of the 2-3 real surveys I've actually be sent, not been able to take a single one as they put a three hour limit on them which is freaking lame as most people work or have other daily matters where they are not going to be able to check their e-mail constantly to see if this site has an actual survey. (And they give you an insulting screen with a couple of pigeons an a message about 'early birds' getting the survey!) I've even read on here that they don't send out e-mail alerts for every survey, so again, I guess I'm just supposed to check into the site constantly, totally lame. So basically I've thus far earned about what I could earn taking a SINGLE survey on any other site. Yeah, the site does work well, and you do always qualify for and get paid for the trait surveys at least, but it's going to take months to even reach the $15 minimum cash out level. This whole thing seems based around profile than actual surveys and I'm really wondering why waste my time when I could be making more on other sites that have you set up a profile from the start then give surveys you can actually take.
Since writing the above, I've dropped the site, they don't even send out e-mails anymore for anything, so what the hell is the point? Totally lame, waste of time site that should be reported to the BBC
Waste of time outside the US it would appear.
April 26, 2019 by Nick from United Kingdom
UK panelist from April 2017 to March 2019.

Total earnings - $16.01 - not even GBP.

Traitscore maxed out ruling that out a factor, and I pretty much qualified for every survey offered, so it was a shame that they paid so poorly and were so infrequent.

PaidViewpoint responded to this review on April 27, 2019
Hello, Nick,
Yes, we pay in US dollars. This is because we are located in the United States and we state this in our Terms of Service. If we were located in the UK, then we'd offer GBPs.
Yes, surveys can be infrequent if you wait for email invites. Also, most of our clients will use the setting for USA based respondents since those clients are mostly located in the US. Occasionally, our clients will use the world-wide setting, but this is less frequent.
Our cash incentives are driven by many factors in order for us to remain profitable and operational. We have two categories of incentives; pennies to a dime for our in-house TRAIT surveys and much more for our clients' surveys. Most likely, you are answering our TRAIT surveys because you are either not getting many Market Research Surveys from our paying clients or because you are not logging in when a survey is waiting for you to be completed. Surveys appear and disappear from your dashboard as they are fulfilled and expired.
Thanks for giving us a try, anyway. We realize our site will not be a good fit for everyone.
Have a nice weekend,
April