Qbord Reviews and Features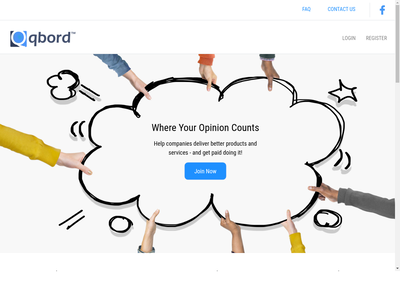 Qbord
5 Spring St, St. Jacobs, Ontario N0B 2N0 CA
Tel: 519.746.3997 Contact: https://www.qbord.com/contact-us/
Operated by: PMG Intelligence

PAYMENTS OFFERED

Prepaid debit or credit cards

Amazon gift cards

Best Buy gift cards

Home Depot gift cards

Apple gift cards

Google Play credits

Starbucks gift cards

Merchandise

Retail e-vouchers

Sweepstakes entries

Donations to charity

HOW TO PARTICIPATE

Online surveys

In-person focus groups

Refer-a-friend program

REDEEMING REWARDS
10,000 points (worth $25) minimum balance required in order to request Visa pre-paid cards.
Qbord is owned and operated by PMG Intelligence, a market research company based in Waterloo, Ontario which was established back in 1993. The Qbord panel is a community of individuals looking to make a difference. You can share your opinions and potentially impact the future of business and other industries.
How it Works
The process with Qbord is simple – complete surveys, earn points for your time, then cash out your points towards different reward options.
Reward System
Earn reward points for the online surveys you complete. Once you accumulate enough points, you can use them in many different ways.
Visa Prepaid Cards: Use points to get Prepaid Visa cards in $25, $50 or $100 denominations.
Gift Cards: Redeem your points for gift cards to great places such as: Best Buy, Petro Canada, The Bay, Tim Hortons, Starbucks, Home Depot, Canadian Tire, Netflix, Google Play, McDonald's and many more.
Auctions: Use your points to bet on auction prizes - if you lose the auction, you'll still keep your points.
Charity Donations: Charity donations are also available. Check the website for the latest featured non-profit organization. Each time a panelist donates to a charity then Qbord donates an extra $10 to the same charity on your behalf.
Sweepstakes: Use your points to enter into a chance to win prizes or cash.
Focus Group Opportunities
Qbord advertises to their Canadian members the opportunity to participate in paid focus groups where, if selected, a minimum of $75 will be awarded.
Win a Contest!
Qbord offers contests to their panelists for doing various tasks. If you recruit a friend, fill out a poll or interact on social media you could earn yourself an entry into a sweepstakes with winnings that could come in the form of free cash or merchandise.
Check out the Website Blog
Check out the Qbord website blog for interesting facts about anything from pencils to Canadian history.
Eligibility: Canadian residents only.
November 16, 2021 by Nora from Canada
I was due a $10 Amazon payment on October 15th. I have emailed them 4 times since then, with not one reply. Really awful customer service! This is the first time I've had any problems with them, and I've been with Qbord for about 10 years. It makes me wonder if the company has changed hands. In any case, to refuse to answer 4 emails is unconscionable.
October 28, 2021 by aymen from Canada
i redeemed my reward 2 months ago, but i never received it. I contacted support but they never replied.
Not a trusted paid survey website
March 29, 2021 by Michelle from Canada
I cashed out for 2 Amazon gift cards feb15th. On the site it says rewards would be issued the following month so I patiently waited.
Nothing showed up. I didn't get an email about cashing out and no kind of reply.
I sent 3 emails asking about when I would receive them. After all this is why we do surveys, its for the rewards and Id like to use it on my next purchase. These rewards are small to some but when you are on disability you look for these paid surveys to help with buying something.
I have not received 1 reply at all which does not give a good feeling. They could at least reply with information on a date to expect the gift cards.
I will likely send another email and hopefully get a reply or better yet, my gift cards soon.
I will update if anything new happens.
Garbage site..holding back rewards for months
May 2, 2020 by Frank from Canada
I've had enough of this site..Qbord is garbage in my opinion..you redeem for your reward & they either never send the reward to you & you need to send multiple emails to try & contact them or it takes months & months for them to ever send off a small reward...customer service is awful..nobody works there or ever answers the phone when you call..I would suggest staying away from this company..not worth the hassle for the rewards in the end.
March 26, 2020 by Martha from Canada
I've been with this survey panel for a very long time and was mostly satisfied. But now I'm quite disappointed. I redeemed my points weeks ago for two gift cards that were supposed to be paid out by mid December. I'm still waiting. I've received two emails asking me to be patient, stating they are overloaded, that they're working on it...blah, blah, blah. Will I ever receive what I'm due? I don't know. But in the meantime, I would advise anyone interested in signing up with this panel to think twice until all this is sorted out one way or another.

**********UPDATE**********
Today is February 08, 2020... I'm still waiting for these two gift cards to arrive. Nothing yet. At this point I don't think I'll ever get paid for my time. But Qbord did have the audacity to send me a survey to complete. I ignored it. Until I receive what I'm due, I will not participate. I would advise not getting involved with this survey site for now. I'm not sure what's going on with it but be cautious.
**********UPDATE**********
Today is March 13, 2020...
Still no payment. No explanation. No answer. I have sent Qbord three messages inquiring about lack of payment, all of which have been ignored. I will keep contacting this survey site and keep adding an update. Please reconsider this site if you're thinking of joining. There are many other quality survey sites to choose from.
**********UPDATE**********
Today is March 25, 2020...
I finally got my gift cards today after months of waiting. I thank Qbord and have, in all fairness, changed the rating. But I still recommend being cautious until there's more evidence that things are better. I never received a reply to any of my messages to them and was never offered an explanation for the lengthy delay. I am pleased to have finally received what I was owed and sincerely hope that they make amends with everyone.
» Return to: TOP RATED SURVEY SITES
---
Popular Topics
Top Survey Sites of 2022
---
Highest User Rated Survey Sites
---
Survey Sites That Pay Instantly
---
Get $100 Free PayPal Payments
---
9 Product Testing Job Websites
---
12 Online Surveys That Pay Cash
---
How to Earn Free Uber Gift Cards
---
14 Ways to Get Free Amazon Gift Cards
---
Best Paid Focus Groups
---
How to Get a Free Visa Gift Card
---
Ways to Get Free Xbox Gift Cards
---
Featured Advertisers: