Qbord Reviews and Features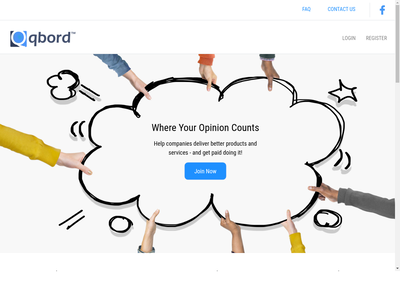 Qbord
5 Spring St, St. Jacobs, Ontario N0B 2N0 CA
Tel: 519.746.3997 Contact: https://www.qbord.com/contact-us/
Operated by: PMG Intelligence

PAYMENTS OFFERED

Prepaid debit or credit cards

Amazon gift cards

Best Buy gift cards

Home Depot gift cards

Apple gift cards

Google Play credits

Starbucks gift cards

Merchandise

Retail e-vouchers

Sweepstakes entries

Donations to charity

HOW TO PARTICIPATE

Online surveys

In-person focus groups

Refer-a-friend program

REDEEMING REWARDS
10,000 points (worth $25) minimum balance required in order to request Visa pre-paid cards.
Qbord is owned and operated by PMG Intelligence, a market research company based in Waterloo, Ontario which was established back in 1993. The Qbord panel is a community of individuals looking to make a difference. You can share your opinions and potentially impact the future of business and other industries.
How it Works
The process with Qbord is simple – complete surveys, earn points for your time, then cash out your points towards different reward options.
Reward System
Earn reward points for the online surveys you complete. Once you accumulate enough points, you can use them in many different ways.
Visa Prepaid Cards: Use points to get Prepaid Visa cards in $25, $50 or $100 denominations.
Gift Cards: Redeem your points for gift cards to great places such as: Best Buy, Petro Canada, The Bay, Tim Hortons, Starbucks, Home Depot, Canadian Tire, Netflix, Google Play, McDonald's and many more.
Auctions: Use your points to bet on auction prizes - if you lose the auction, you'll still keep your points.
Charity Donations: Charity donations are also available. Check the website for the latest featured non-profit organization. Each time a panelist donates to a charity then Qbord donates an extra $10 to the same charity on your behalf.
Sweepstakes: Use your points to enter into a chance to win prizes or cash.
Focus Group Opportunities
Qbord advertises to their Canadian members the opportunity to participate in paid focus groups where, if selected, a minimum of $75 will be awarded.
Win a Contest!
Qbord offers contests to their panelists for doing various tasks. If you recruit a friend, fill out a poll or interact on social media you could earn yourself an entry into a sweepstakes with winnings that could come in the form of free cash or merchandise.
Check out the Website Blog
Check out the Qbord website blog for interesting facts about anything from pencils to Canadian history.
Eligibility: Canadian residents only.
January 17, 2020 by Kimberly from Canada
I have been with this panel for a long time. I decided to obtain a lot of points and then redeem them. At the end of November 2019 I decided to redeem my points for two fifty dollar Amazon gift cards. I received an email from them thanking me for my order and I waited for my rewards which according to them would come by December 15 2019. Two days after that date I received a message that they were flooded with requests and they were working on their new website which was going to introduce new things and that they would be another two weeks. It is now January 17 2020 and I have received nothing not even a survey. I received a survey 2 days after I was told of the delay and since then nothing and no response to my inquires either. I was counting on my gift cards to buy a few things from Amazon especially a few things that were for a time lower priced but I have not been able to and the lower priced items on Amazon have gone back up. I have never had a problem with survey companies in this regard and it is really sad and frustrating to take my time to answer surveys and not get anything for it. Qbord should have worked out everything by now or at least sent messages out to let their panelists know what is going on. I always thought they were a good company now I do not know.
Waiting two months for payment
January 8, 2020 by Laura from Canada
Update: I was paid my $85 ( months late) but was paid so I am happy to change my rating.


January 4, 2020 by Elizabeth from Canada
Qbord used to be average...survey invites were few and far between, but never any issues with payment (I always redeemed for the prepaid Visa which I would receive in the mail after about 4-6 weeks).

Now they have undergone some kind of update (including more reward options) that looked very promising. They awarded old members like myself with appreciation points for our patience as they made updates to the site.
As soon as I was able to access the new site, I redeemed my points for 2 Indigo gift certificates and an Amazon gift certificate. Now, I belong to a few survey sites and by now I am used to instant redemption codes when you select this type of reward...after redeeming I was totally dismayed to find that because I narrowly missed the deadline to receive my reward Nov 15 (deadline was Nov 1, but the new site had only gone live a day or two before that I believe...?) So I had to wait until DECEMBER 15TH for an ONLINE REDEMPTION CODE. Excuse me, what? How does that make any sense at all? A physical reward or cash, okay...but a redemption code to be sent to my email?
Long story short (I emailed them asking if I really had to wait 6 weeks for an online code, NO RESPONSE, and I even redeemed another Amazon card on Nov 22nd), December 15th comes and goes and no rewards are emailed to me. I see in the website FAQ to wait 3 business days before contacting them about missing rewards. Also checked junk mail religiously, confirmed on the confirmations I received that my email was entered correctly, etc.).
Dec 16th they send an email saying they had experienced some bumps along the way in regards to the site updates and are working to have our rewards sent out 'within a few weeks' which is absolutely infuriating after not replying to me directly. And after already waiting six weeks, hoping to receive my rewards in time for Christmas.
It's been over a week now since that email was sent, still no reward(s) or replies (I've sent a few more and also reached out via Facebook to no avail), asking how it could possibly be taking this long to receive my redemptions. Blaming the delay on 'new processes' isn't really an excuse when I put in these redemption requests at the beginning of November. They should have been better prepared to ensure the redemption process, however archaic, will run smoothly.
I am starting to think they have absolutely no intention to pay me and are willingly withholding these rewards for whatever reason.
I've been a loyal member now for several years, now this?
I hope they get shut down.
December 12, 2019 by Carolyn from Canada
I have been doing their surveys for several years..........6 at least. Never had an issue doing them, getting lots to do, and qualifying for said surveys. Now I rarely qualify. If I do the surveys take forever for 200 pts........not worth the time. So I decide to cash in 5000 pts on Nov. 1 for a Red. Lobster $50 gift certificate. Still have not received it. Have phoned and left messages several times and no one has returned calls. I would avoid these guys. Not sure what has gone on with them.
January 16, 2018 by Darrin from Canada
I have been with them for a long time , cashed out with no problems , lots of surveys and then bang sometime in October there was nothing , no activity , no responses to any emails/calls . Now things happen , who knows except them BUT I had accumulated enough points to cash out and now they have taken from me . Watch for their parent company when registering with another survey site - PMG Intelligence . The weird part of all this is PMG is a very highly respected and established company it just isn't their style . Anyway be diligent / research not just look for what they offer in incentives but check reviews look for who has oversight and take the odd screenshot for a record in case you get locked out or they deny you the opportunity to redeem .
» Return to: TOP RATED SURVEY SITES
---
Popular Topics
Top Survey Sites of 2022
---
Highest User Rated Survey Sites
---
Survey Sites That Pay Instantly
---
Get $100 Free PayPal Payments
---
9 Product Testing Job Websites
---
12 Online Surveys That Pay Cash
---
How to Earn Free Uber Gift Cards
---
14 Ways to Get Free Amazon Gift Cards
---
Best Paid Focus Groups
---
How to Get a Free Visa Gift Card
---
Ways to Get Free Xbox Gift Cards
---
Featured Advertisers: