Survey Junkie Reviews and Features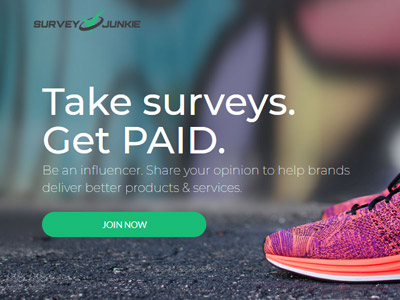 Survey Junkie
800 N. Brand Blvd, Floor 21 Glendale, CA 91203 US
Tel: Contact: https://www.surveyjunkie.com/help?show=contact-us#
Operated by: Disqo

PAYMENTS OFFERED

Cash paid via PayPal

Cash paid via bank transfer

Amazon gift cards

Target gift cards

Walmart gift cards

Apple gift cards

Starbucks gift cards

Prepaid debit or credit cards

HOW TO PARTICIPATE

Online surveys

Mobile surveys

Mobile app

Online focus groups

Teen surveys

Daily surveys

REDEEMING REWARDS
500 point minimum account balance required to request a $5 reward.
Survey Junkie is an online platform that connects its 20 million members to research studies in the form of online surveys from big brands and market research companies. Members can earn their choice of cash or gift cards in exchange for their participation.
It is available to residents of the USA, UK, Canada and Australia.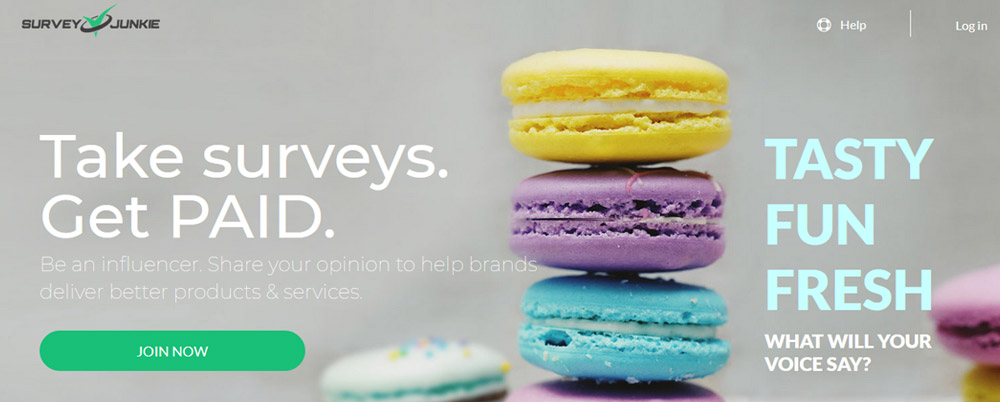 Earn up to $40 Per Month
With Survey Junkie, you can participate in online surveys on your computer or using the app in order to earn rewards including cash paid to your PayPal account (or gift cards and bank transfers in the USA). For prospective members wondering how much they can make from Survey Junkie, the site advertises that members who complete three surveys daily and can earn as much as $40 monthly. Creating an account is free and can be done via your Facebook or Google account.
New Member Sign Up Bonuses
New members of SurveyJunkie receive 25 free points immediately after signing up and an additional 25 points for confirming their e-mail address. Fill out the profilers to earn 10-50 points per profiler. Joining, clicking the confirmation link in your e-mail and filling out the general profiler is worth 100 points in total ($1.00). With a minimum cash out of $5.00, this is 20% of the way to an initial reward!
Survey Lengths
The average length of time it takes to complete a survey with Survey Junkie is 15 minutes. The estimated time for completions is stated on survey invitations (or in the app). New surveys are available daily.
Short Point Approval Times
Once you take a survey, it may take up to 24 hours to approve your points. Points do not expire as long as you are an active member. In order to be considered 'active', simply log in to your Survey Junkie account and complete a survey within a 12 month period.

Earn Cash for Completing Surveys
With just $5 worth of survey earnings (500 points), you can 'cash out' your points balance for two cash options:
PayPal - receive an instant PayPal payment by selecting this rewards option. Note that you must redeem your full points balance when selecting PayPal for reward payments.
Bank transfer (USA only) - If you live in the USA, you can choose to receive a bank transfer payment. Bank transfers are handled by a third-party partner and take 3-4 business days to complete and are a safe way to receive your money.
Points Value: 500 points = $5.00. 1 Survey Junkie point therefore equals 1 cent.
Choose a Gift Card Instead
If you live in the USA, you can also choose to redeem your points for e-gift cards. e-gift cards are available in denominations of $5, $10, $15, $20, $25 and $50. You can choose from major retailers including Amazon, Target, Walmart, Sephora, Groupon, Apple and Starbucks. You can also select a pre-paid Visa card.
Earn Points for Disqualifications
If you attempt to complete a survey but get disqualified before you're able to finish it, Survey Junkie will still credit your account with 2-3 points. Payouts for surveys themselves vary and will depend on the length of the survey, how difficult it is to qualify, as well as other criteria.
To increase your chances of qualifying for a survey, look for surveys that have green diamonds. These indicate surveys that you are most likely to be able to successfully complete. Red diamonds on the other hand, may carry higher payouts, but will have the lowest chance of being able to complete.
Complete Profile Surveys to Earn Points and Get Better Matched
Survey Junkie has numerous profile surveys available to members in their account dashboards. Complete these profilers to earn 10-50 points for each completion, and benefit from being better matched to future surveys.
Visit Survey Junkie's website

›
Survey Junkie Awards
Unlock badges by reaching key milestones such as completing profiles, tutorials, taking your first survey, reaching your first 300 points, etc. Each badge completion awards anywhere from 5-10 points and can be found under the 'Awards' link located at the top of your account dashboard.

Survey Junkie App
Survey Junkie has a mobile app available on Google Play, for Android phone users and in the Apple store for iOS users. The app functions similarly to the website in that you can take surveys, check your available points balance, and redeem rewards. The Survey Junkie app will notify you when new surveys become available, which can be helpful in reducing the chances of being disqualified from a survey if you are one of the first respondents to complete a survey.
BBB Accreditation
Survey Junkie is a member of the Better Business Bureau of Glendale, California and maintains a solid BBB rating. They have hundreds of reviews posted on the BBB's website, most of which are positive and amount to a star rating that's between 4-5 stars.
Survey Junkie Pulse

Survey Junkie Pulse is a browser extension (you can install it via the mobile app, too) US residents can install in order to receive exclusive surveys that are based on your browsing activity. You'll receive a notification of new surveys directly in your browser, as soon a survey becomes available. SJ Pulse is designed to connect you with surveys based on your browsing interests and does not collect personal information such as passwords, emails, credit card information, etc.
Keep the extension enabled for 30 days on your desktop computer, and receive bonus points credited to your Survey Junkie account! As an added bonus, SJ Pulse users may also receive access to exclusive surveys that SJ Opinion users may not receive.
Visit Survey Junkie's website

›
Is Survey Junkie Legit or Scam?

Is Survey Junkie Legit
Survey Junkie is not a scam and is considered to be a safe and legitimate survey panel. It is a real website which you can use to earn gift vouchers and cash in exchange for participating in online surveys. They are a member of the BBB and have a good reputation there.
Although everyone's experience with the website may be different in terms of whether it's worth the time and how much you can ultimately earn, with over 20 million survey takers registered on their site, Survey Junkie is legit.
Eligibility: Residents of USA, UK*, Canada, Australia, 16+ only.
*Survey Junkie opened up their panel to UK residents in late 2022.
Sign Up Bonus! Survey Junkie currently offers a 50 point sign up bonus to new members who confirm their e-mail address. » Click here to claim your bonus!
Alternatives to Survey Junkie
People who have taken surveys with SurveyJunkie are also interested in these survey sites:
Survey Junkie Reviews (262)
5 Star Reviews (149)
56.9
August 26, 2022 by Kara from United States
Getting worse, qualify for nothing and I'm tired of spending 15 minutes on a 20 minute survey only to get 2 cents and they act is if I should be grateful. So basically Im doing 15 minute surveys for 2-3 cents. Waited 18 days for them to give me earned 65 cents. Refused to respond to my tickets as they stated until they found out what happened? What takes 3 weeks??? So disrespectful I'm done here.
Completely Disheartening Platform
August 22, 2022 by Nancy from United States
Survey Junkie has become little more than a black hole.

I have been a member for 6 or so months and find their support non-existent. Many times in the last month I am lured into spending 20+ minutes completing a survey that has indicated it will pay 50 points (which is worth 50 cents so that isn't bad), but when I am done I am redirected back to the survey offer page . . . no points paid out, not even 2 or 3 disqualification points.

After 2 or 3 times of this occurring on the Research Insights (Qualtrics) surveys I started bailing out as quickly as I could while still getting a couple of DQ points. If you answer their little math question wrong, you'll usually get a couple of points. It is much better than spending 15-20 mins finishing a survey for nothing.

When you take a screen shot and try to send a request for the points they will tell you that having the number is the only way for them to look at it. But the SJ platform disappears the survey ID numbers immediately upon clicking on it so the only way to keep the numbers would be to write them down. What a waste of time! And of course there is the passive aggressive "We understand this can be frustrating, however disqualification and termination decisions are made by third party survey providers.third-party,"

So, new folks . . . be advised. SJ is only good for what I call survey surfing, which is clicking and attempting surveys just for DQ points while you are watching tv or otherwise engaged.
August 11, 2022 by george from United States
I am a fan of this site, but i do not know if they reject every tenth completed survey, or some type of formula like that as i have spent 20 minutes on studies, been thanked within the study, and then redirected and told i broke some sort of rule. I then opened a complaint ticket, but sadly they do not have an area where you can attach a screen shot, showing 100 percent complete, and being thanked for completion.
I am guessing , they do not have that, so they provide less avenue for people who had the foresight to take a screen shot to be able to further their case of getting paid, Which by the way, does not occur when one opens a ticket EVER

One may get a reply, but it is generic nonsense, saying that is part of market research , try another survey

so they do pay reliably, but have chosen not to allow completed surveys which are BLATANTLY redirected in ERROR to be investigated, so a complete lack of service

UPDATE

On July 30 i went to cash out, was unable to, told i need to verify information on the phone, left my phone number and email, and did not get a call back,

I do not know if this is how they decide that you are no longer a member and take your earnings, but my account is about useless at this point, and no one is reaching out to provide resolve

SHAMEFUL,


UPDATE

So i was told i was in phone queue on Monday August 1, at noon on August 3, I have still not been called, and with this site, that renders MY EARNINGS inaccessible, so much wrong with this scenario. I understand their need for a W9 on file, I SENT IT TO THEM, and i understand if they want to confirm information, but THEN CALL ME, to be a in SUPPOSED queue for two days, makes one wonder if this actually exists,

SHAMEFUL



UPDATE #2

August 1 told that i need PHONE VERIFICATION, it is now August 10, I still have not been called back and leaving my number numerous times

I was told i needed to submit a W9 as i was approaching 600 dollars, so i did, scanned it, and sent it back, that was on August 5

August 10, still cannot access my earnings and still cannot get an email reply or phone verification

This is a waste of time, and do not give this site your time and effort , as they are going to screw you over,, what saddens me about this, is a month ago, i would have given this site a 5 out of 5 rating,

Survey sites need to remember that HONESTY is not just for panelists to provide but also for the sites to provide TO THE PANELISTS.

I guess that 48 dollars is gone, and another dishonest site profits
July 21, 2022 by Margaret from United States
I have been a member of Survey Junkie for 3 years and all of a sudden all the surveys I take either are closed, I don't qualify for, or I go through the survey and all of a sudden it tells me that I was not honest, went too fast or some other bull crap even when I take my time and give honest and thorough answers. It gets frustrating when you don't qualify and only get 2 or 3 points. I am done with this survey website. And NO I would not recommend this site to anyone.
May 6, 2022 by Mitchell from United States
Survey junkie is quickly becoming my favorite site to do there's always survey's to do if you don't qualify for a survey you still get a few points just for trying and their support is top notch.

Update: Those last 5 surveys i took didn't do me right the first two didn't ask me anything just disqualified em the last ones only ask my birthday or income then disqualified me. They'll take off points for that I'm sure.

Edit: There surveys are all long and hard to get qualified for on top of that i get knocked out of the little ones all the time.

Update on this site i did survey worth 45 points finished the survey at the end it said i earned 45 points. but it hasn't added those points to my total.
» Return to: TOP RATED SURVEY SITES
---
Popular Topics
Top Survey Sites of 2022
---
Highest User Rated Survey Sites
---
Survey Sites That Pay Instantly
---
Get $100 Free PayPal Payments
---
9 Product Testing Job Websites
---
12 Online Surveys That Pay Cash
---
How to Earn Free Uber Gift Cards
---
14 Ways to Get Free Amazon Gift Cards
---
Best Paid Focus Groups
---
How to Get a Free Visa Gift Card
---
Ways to Get Free Xbox Gift Cards
---
Featured Advertisers: