VIP Voice Reviews and Features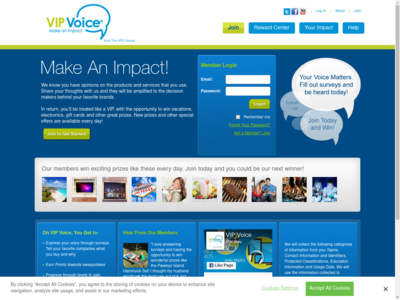 VIP Voice
900 W Shore Rd, Port Washington, New York 11050 US
Tel: 1.866.444.1411 Contact: http://www.vipvoice.com/Toluna.MR.TrafficUI/MSCUI/Page.aspx?pgtid=13
Operated by: NPD Group
VIP Voice Quick Overview:
Rewards Offered: Retail e-vouchers Prepaid debit or credit cards Merchandise Sweepstakes entries
Member Opportunities: Online surveys Diary surveys Teen surveys Refer-a-friend program
Redeeming Rewards: Redeem points by participating in SweepLand. No minimum account balance required.
Similar Panels: Branded Surveys, Univox Community, Opinion Outpost, MySoapBox
VIP Voice was formally known as NPD Online Research.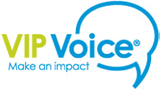 VIP Voice is an online research community that's part of The NPD Group. The NPD Group, founded in 1967, provides market information and advisory services to help companies make better business decisions. They conduct more than 12 million surveys a year on topics such as electronics, mobile, sports, toys, apparel, accessories, beauty and more.
The More You Participate, the More Points You Get
VIP Voice offers a tiered rewards program that spans 5 different levels. The more surveys you complete, the higher you move up in levels, and the more points you will earn. In addition, your reward level determines the prizes you are able to try to win through SweepLand.
For each survey you complete, you will earn points. The number of points you receive will depend on your current reward level as well as whether or not you qualify to complete a survey.
Try Your Luck in Sweepland
SweepLand is a sweepstakes program where your points can be entered into sweepstakes for a variety of different prizes. Winners are chosen at random. Each point you use in the sweepstakes is considered an entry, so the more points you put into the draw, the better your chances of winning a prize. Prizes have high values and are for things like HDTV's, $5000 cash, trips to tropical destinations, etc.
Bidland Discontinued in 2020
BidLand was an auction-style program where you could use your points to bid on various items. The highest bidder at the end of the auction would win the prize and had their points deducted from their account. If you did not win the prize, your points were returned to your account. VIP Voice e-mailed their membership base in May 2020 to inform them that, 'due to the challenging economic climate caused by the COVID-19 pandemic...[they were] terminating the BidLand Program and auction site, effective May 12, 2020'. To counteract this, they also stated that they would increase the amount of prizes available on SweepLand.
Visit VIP Voice's website

›
Survey Point Values
Each VIP Voice point is worth one sweepstakes entry or one auction bid. You can use as many or as little points as you'd like to enter the SweepLand sweepstakes.
VIP Participation Points
If you successfully complete a survey, you will earn VIP Participation Points. Level 1 members will earn 25 points for completing a survey while level 5 members earn 200 points.
VIP Qualification Points
If you attempt to complete a survey but do not qualify, you will earn VIP Qualification Points. Level 1 members will earn 50 points for being disqualified, while level 5 members earn 550!
Visit the VIP Voice website

›
Exclusive Discounts and Special Offers
US members of VIP Voice have access to exclusive discounts and special offers from a variety of different businesses. These exclusive member discounts do not require any points to use.
Special Opportunities and Contests
On occasion, VIP Voice offers special contests and sweepstakes opportunities to their members. One such opportunity is Pigskin Pick-em where you can win cash prizes every week during the football season!
Eligibility: USA 13+ and Canada 18+
---
Dont even sign up with them.
September 17, 2010 by jenise from United States
I been with them for one year and I am regretting that I lost my time with them. Most of the survey is wack and don't get any point. Oh and point system blows, what the point in being with them if you are not being rewarded. The reward system is nothing more then a drawing for each month to see who will get the prize. I rather be with Harris Poll then to be with this survey group. Don't trust them.
September 17, 2010 by Stephanie from United States
I'm a member of over 40 survey sites and this is the only one I will complete for sweeps entries, since I get to chose what I'm entering myself for and the surveys are usually engaging, fun, and easy.
September 17, 2010 by Celeste from United States
Bidding on Prizes!?!
This is the biggest waste of time!
Talk about stingy!
There are at leat 20 quality survey sites to choose from.
I resigned from this one.
Maybe I Can Change Your Minds...??
September 17, 2010 by Lakisha from United States
I used to feel the same way about NPDOR until earlier this year. I've been with them about 2 years, and I got an email in May saying that I had won a $100 Dining Gift Card that would be sent in 4-6 weeks. Almost 3 weeks later, I received a $100 American Express Gift Cheque,which could be converted to cash.
September 17, 2010 by jamie from United States
Free is exactly right. I stopped taking their surveys, you'll never make a dime here. Dont they realize that WE realize how easy it is to scam us and put a list of so called winners on their site. Bologny!
» Return to: TOP RATED SURVEY SITES
---
Popular Topics
Top Survey Sites of 2020
---
Highest User Rated Survey Sites
---
Survey Sites That Pay Instantly
---
Survey Sites with Low Cash Outs
---
Surveys That Pay by Check
---
12 Online Surveys that Pay Cash
---
14 Ways to Get Free Amazon Gift Cards
---
Get Paid for Browsing the Internet
---
How to Get a Free Visa Gift Card
---
Get Paid by PayPal Without Fees
---
Featured Advertisers: