FocusGroup.com Reviews and Features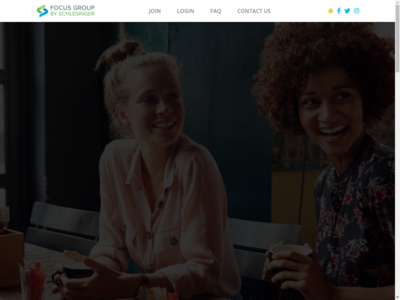 FocusGroup.com
The Wanamaker Building, 100 Penn Square East, Suite 1200 Philadelphia, PA 19107 US
Tel: 800-220-3730 Contact: https://www.focusgroup.com/Contact
Operated by: Focus Pointe Global
Quick Overview:
Rewards Offered: Amazon gift cards Cash paid via check Prepaid debit or credit cards Sweepstakes entries
Member Opportunities: In-person focus groups Online focus groups Online surveys Product testing Video surveys Telephone surveys Mystery shopping Refer-a-friend program
Redeeming Rewards: 100 points = $1. Redeem with 2000 points ($20) in your account or after 3 months, even if a $20 balance has not been accumulated.
Similar Panels: Branded Surveys, Univox Community
Focus Group is part of Focus Point Global, a market research company founded in 1988. They now have 20 research facilities across the US and host in-person focus groups as well as opportunities to participate in webcam focus groups, telephone interviews, online surveys, mystery shopping and more.
Focus Pointe Global Surveys
Focus Pointe Global invites you to get paid to share your opinions. Join today to begin receiving invitations for upcoming studies.
Variety of Interesting Topics
Not only does Focus Pointe Global offer many research types, they also provide a variety of studies on completely different industries which include: consumer, business and medical topics.
Lots of Rewards
The compensation provided varies from project to project, and is paid out either via pre-paid Visa card, check, gift card, or cash. Payment for research can vary from $75-$150. Most groups and interviews take less than 2 hours to complete.
In-Person Rewards: Rewards for in-person marketing research projects are typically given to participants via prepaid Visa card or check, at the end of the session. Sometimes rewards can be gift cards, coupons or even prizes. Rewards will be outlined before taking the study.
Telephone Interviews: these are rewarded with pre-paid Visa cards and usually take 6-8 weeks to arrive. Note, however, that some studies take a few weeks to complete and the incentive payment processing will take place only after the study has closed.
Online Rewards: Online surveys are rewarded with "Online Focus Pointes" which are racked up in your member account. The average survey pays between 100 and 1000 Pointes, which translates to $1 to $10. Panel members can cash out once they reach 2000 Pointes, or when three months have passed. Pointes are rewarded in pre-paid Visa cards and members can choose between physical and virtual cards. Virtual cards can be used immediately whereas physical cards are mailed within 7 to 10 business days. Accumulated balances may be withdrawn by the participant once the account balance reaches 2000 points, or 3 months, whichever happens first.
In-Depth Online Research: Rewards are similar to "in-person" rewards and can come in different forms i.e. gift cards, cash or prizes. Once the study is complete, expect rewards to arrive within 6-8 weeks.
Exciting Sweepstakes!
Each time you complete a screener or survey, you will receive one entry into the Focus Pointe Global Monthly Sweepstakes! Each month, 7 winners are chosen at random. The first winner will receive $100 and the next 6 winners will be awarded with $25. Winners are acknowledged by email and are mailed an Amazon.com e-card in their winning amount. Also, don't forget that for each friend you refer, you will receive one free sweepstakes entry!
4 Steps of Eligibility:
To participate in a research study with Focus Pointe Global, you must pass 4 stages of screening:
Step 1 - Eligibility: Short screening survey determining what products and services you are familiar with. If the answers you provide fit into a group that is needed then you will move on to the next phase.
Step 2 - Verification: In this phase, you will speak with a Focus Pointe Global representative who will confirm that the answers you have given are correct. There may be other additional questions asked in this phase.
Step 3 - Confirmation: Focus Pointe Global will work to identify who the best candidates for a study will be. If you are chosen as a participant you will receive a confirmation email.
Step 4 - Participation: A location will be set and you will be asked to share your insights and experience.
Eligibility: United States residents only.
---
THEY DONT PAY OR RETURN EMAIL
August 18, 2018 by Milly from United States
I completed a long hour survey that I was supposed to get a $25 gift card for. And of course that did not happen, I emailed focus group and told them and got no response. Seems like they just want you to do stuff for free and don't hold up on their word.
Not a good place to do surveys. I give half star. If they have the time to send emails to do the surveys they should have time to pay for the surveys.

FocusGroup.com responded to this review on November 19, 2018
Hi Milly, we apologize for the late response. We assure you we are a legitimate company who pays people for sharing their opinions on products and services. I would like to look into this issue further for you, please email
[email protected]
with your study number. Thank you.
November 29, 2017 by jc from United States
This review will be brief & concise: Focus Pointe Global's Sr. VP of Operations got involved in my case and ultimately perpetuated a well-documented deception & suspension of my account, prohibiting any further activity or any claim to my balance. You see, the Senior Vice President of Operations was caught in a couple of lies; most notably that a client had not recorded my complete participation in a study, when unbeknownst to her, they had already confirmed the completion to me. To cover her tracks, she informed me that no further contact would be permitted, instructed her staff in the same manner and suspended my account, forbidding the possibility of ever cashing out its balance. FPG at best demonstrates the ethics of a child and does not act in good faith to resolve valid disputes. All of this is well documented, has been reported to their local BBB and perhaps most importantly, should be a warning to anyone considering FPG as a reasonable and honest company.
If I could give 0 stars I would
November 17, 2017 by Salma from United States
They give you these lengthy screening and at the end they say that someone will be contacting you by phone and nothing. I have done 16 screenings so far and I have received "0" calls from anyone. DON'T WASTE YOUR TIME or find a LEGIT company.
No Pay, No Responses to Emails
July 12, 2017 by Monica from United States
I did an offsite survey in mid May with my roommate and we were told we would get a gift card emailed in 4 weeks. Well it's been well over 8 and I've emailed a couple times and still no response. This is unacceptable
Great Live Panels, so-so emails ones.
March 11, 2017 by Michael from United States
I've done three live sessions, including one "mock jury" about a product lawsuit: they're interesting, friendly, and pay quite well. The email surveys usually only "pay" about $6/hour though, and you ALSO end up putting in five minutes or so on 3/4 of them just to find out you don't qualify and thus get nothing but a free sweeps entry of questionable value (entered 50ish -- no wins.) They NEED to organize their email-survey qualifier questions for faster disqualifications, but their live panels are very well worth it!