Maru Voice Canada Reviews and Features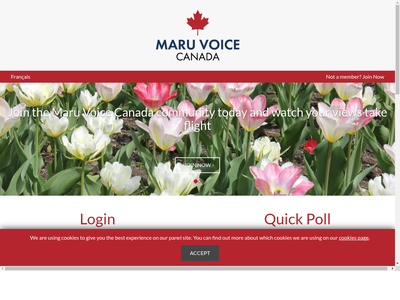 Maru Voice Canada
2 Bloor Street East, Suite 1600, Toronto, Ontario M4W 1A8 CA
Tel: Contact: [email protected]
Operated by: Maru/Blue

PAYMENTS OFFERED

Cash paid via PayPal

Amazon gift cards

Apple gift cards

Prepaid debit or credit cards

Google Play credits

Sweepstakes entries

Donations to charity

HOW TO PARTICIPATE

Online surveys

Mobile surveys

Product testing

Telephone surveys

Refer-a-friend program

REDEEMING REWARDS
5,000 points (worth $50) minimum account balance required in order to request rewards.
Note: As of April, 2018, the Angus Reid Forum community became Maru Voice Canada. However, the Angus Reid Forum still exists, and consists of members of the now defunct, YourInsights panel.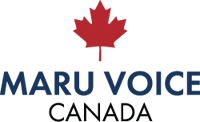 Maru Voice Canada is operated by Maru Blue and is a leading Canadian market research community, allowing Canadians to opportunity to share their opinions that will ultimate influence the brands, products and services they use every day.
A Panel Run By Canadians, for Canadians
Maru Voice Canada is a Canadian-run survey panel which aims to help companies, media and government learn about the values, attitudes, tastes and preferences of Canadians. Most surveys award between 50 and 500 points and you can expect to receive between 1-4 surveys a month.
Join and You Could Win $1000!
New members of Maru Voice Canada will automatically be entered into the $1000 cash prize draw upon joining the community.
Points for Surveys
The amount of points you receive and/or if you receive draws into a sweepstakes depends on the length and complexity of surveys. In order for your account to stay active, Maru Voice Canada requests panelists complete a survey at least once every 3 months.
Impact Canada's Future With Your Opinions
Maru Voice Canada gives you the opportunity to voice your opinions about Canada's future, impacting companies and policymakers who impact the country's future. Have your opinions heard in boardrooms, media and government across the nation.
Earn Cash and Gift Cards for Participating
After taking a survey, you will earn either points or contest entries for every study you complete. Redeem these for PayPal, iTunes, Amazon.ca gift cards, VISA cards, Google Play credits, and more. You may also choose to donate your earnings to a great charitable cause, if you wish. On Maru's homepage, you will see the dollar value of rewards awarded to members the month before; this typically numbers in the tens of thousands of dollars.
Redeeming Your Points
When you reach 5,000 points, you can redeem your points for a $50 denomination of your chosen reward. Rewards are delivered via email within a week of request.
Refer Your Friends to Rack up Points
Refer your friends to the community, and earn 200 bonus points. Successful referrals are defined as those who have confirmed their membership and participate in at least 2 surveys within their first month of membership. Simply click the 'Refer a Friend' link in your account to grab your unique referral code to share with friends, on social media, etc.
As per above, although some of the reviews below appear to be for Angus Reid Forum, they now apply to Maru Voice Canada, as the panel is the same.
---
Maru Voice Canada Reviews (33)
hard to get points but worth it.
February 21, 2022 by Carolyn from Canada
It takes a long time to get points but it is well worth it. i have cashed out and i must say do join this site. your choice of rewards are good. this site is not a scam and I recommend this site.
Survey not worth your time and effort.
August 6, 2021 by Kamel from Canada
Just to be unbiased I will give the PRO's and CONS:
Pros: Its a legit survey. Pays out quickly when you cash out. Good and short surveys to answer. Pays 50CAD or 50 rewards gift card per cash out.

Now coming to the CONS:

I joined for almost three years only cashed out once. Seldom gives you surveys. (Mostly 1-2 surveys per week.) When you open the surveys its closed or not available anymore. The CAP up mark is 5000pts. "No wonder why it will take you more than a year to cash out.
The worst part is. I think this survey is biased. Doesn't want your opinion. If you answer it with what you think its right. "They will flag you and tell you that the answer is inconsistent to what they require or gibberish.

Important point to be aware for survey takers. Watch out when you are taking care of your points when you're almost there to cash out. They will "unsubscribe your account." Without notifying you. And when you asked them for an explanation. Will let you wait for a day or two to get an answer. And As I've said "reason is your answer doesn't meet with what they are expecting."
Honestly I really don't care about the cash out rewards reason for joining the survey is that It talks about what is happening about the Canadian society. And survey is short and accurate with reality.

Note: Maybe the survey site does not want you to answer on different computers. Like I'm answering it from my home, cellphone and work. Maybe the reason why I have been disconnected is due to having different IP address. (home, cellphone and work IP address.)
Noticing negatives changes.
June 5, 2021 by Sea from Canada
When I initially started completing surveys with Maru Voice Canada, I remember being surprised how quickly my points added up, for the first while. Then I noticed that there was the option to fill out forms from other companies through Maru Voice Canada. So, I just thought that it's nice to have options. Then I started to notice that with these companies, the predicted time frame was off. When they claimed a survey would take 15 minutes, it would be 20 or 25. While I am honest, so read and consider my answers, I am also decisive, so seldom spend time questioning which option I should choose. But repeatedly find that the time was off. Which a drag in a variety of ways but the foremost being, that I have 15 minutes to do the survey and the points sound fair for that timeframe but then it takes much longer so I either delete and lose my points (and waste my time) or am late for what I was supposed to do. In addition, it seems like it takes much longer to accumulate points, perhaps this is my perception due to the previous mentioned concerns, but I honestly don't think so. Mostly because during Covid I have a noticeable amount of time at home so why not make use of it to fill out surveys. Lastly, the one time that I contacted them to ask a question about the wording and structure of a question that I found confusing and ambiguous, the reply was so blunt, accusatory and unprofessional AND it never answered my question. But on the positive side it was such a defensive and unprofessional reply that it made me laugh for a good minute.
I am over ½ way to getting a GC but I am increasingly thinking of cutting my losses and just deleting my account.
January 21, 2020 by John from Canada
I was with this site for almost 4 years. The emails are few and takes on average 1 year for 1x payout of $50. The first 3 years were fine, this year I had barely earned 2,000 of the needed 5,000 points to cash out and my account was deleted.
June 23, 2019 by Ayla from Canada
I have been a member since December 18, 2018 and I'm not even half way toward the reward. I get kicked off of many surveys. I was under the impression we were going to receive real products to review, that is how they roped me in on Instagram, but I find this company frustrating. I am part of many other surveys but only ever redeemed from 2. I feel it is not worth my time because I haven't even made it half way to my first reward.
» Return to: TOP RATED SURVEY SITES
---
Popular Topics
Top Survey Sites of 2023
---
Highest User Rated Survey Sites
---
Survey Sites That Pay Instantly
---
Get $100 Free PayPal Payments
---
9 Product Testing Job Websites
---
12 Online Surveys That Pay Cash
---
How to Earn Free Uber Gift Cards
---
14 Ways to Get Free Amazon Gift Cards
---
Best Paid Focus Groups
---
How to Get a Free Visa Gift Card
---
Ways to Get Free Xbox Gift Cards
---
Featured Advertisers: