Maru Voice Canada Reviews and Features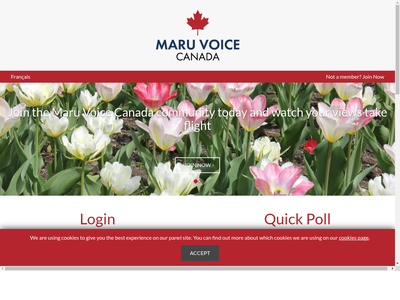 Maru Voice Canada
2 Bloor Street East, Suite 1600, Toronto, Ontario M4W 1A8 CA
Tel: Contact: [email protected]
Operated by: Maru/Blue

PAYMENTS OFFERED

Cash paid via PayPal

Amazon gift cards

iTunes gift cards

Prepaid debit or credit cards

Google Play credits

Sweepstakes entries

Donations to charity

HOW TO PARTICIPATE

Online surveys

Mobile surveys

Product testing

Telephone surveys

Refer-a-friend program

REDEEMING REWARDS
5,000 points (worth $50) minimum account balance required in order to request rewards.
Note: As of April, 2018, the Angus Reid Forum community became Maru Voice Canada. However, the Angus Reid Forum still exists, and consists of members of the now defunct, YourInsights panel.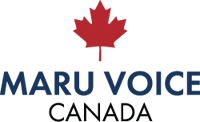 Maru Voice Canada is operated by Maru Blue and is a leading Canadian market research community, allowing Canadians to opportunity to share their opinions that will ultimate influence the brands, products and services they use every day.
A Panel Run By Canadians, For Canadians
Maru Voice Canada is a Canadian-run survey panel which aims to help companies, media and government learn about the values, attitudes, tastes and preferences of Canadians. Most surveys award between 50 and 500 points and you can expect to receive between 1-4 surveys a month.
Join and You Could Win $1000!
New members of Maru Voice Canada will automatically be entered in the $1000 cash prize draw upon joining the community.
Points for Surveys
The amount of points you receive and/or if you receive draws into a sweepstakes depends on the length and complexity of surveys. In order for your account to stay active, Maru Voice Canada requests panelists complete a survey at least once every 3 months.
Impact Canada's Future With Your Opinions
Maru Voice Canada gives you the opportunity to voice your opinions about Canada's future, impacting companies and policymakers who impact the country's future. Get your opinions heard in boardrooms, media and government across the nation.
Earn Cash and Gift Cards for Participating
After taking a survey, you will earn either points or contest entries for every study you complete. Redeem these for PayPal, iTunes, Amazon.ca gift cards, VISA cards, Google Play credits, and more. You may also choose to donate your earnings to a great charitable cause, if you wish. On the survey panel's website, you will see the dollar value of rewards awarded to members the month before; this typically numbers in the tens of thousands of dollars.
Redeeming Your Points
When you reach 5,000 points, you can redeem your points for a $50 denomination of your chosen reward. Rewards are delivered via email within a week of the request.
Refer Your Friends to Rack up Points
Refer your friends to the community, and earn 200 bonus points. Successful referrals are defined as those who have confirmed their membership and participate in at least 2 surveys within their first month of membership. Simply click the 'Refer a Friend' link in your account to grab your unique referral code.
As per above, although some of the reviews below appear to be for Angus Reid Forum, they now apply to Maru Voice Canada, as the panel is the same.
---
Maru Voice Canada Reviews (30)
January 21, 2020 by John from Canada
I was with this site for almost 4 years. The emails are few and takes on average 1 year for 1x payout of $50. The first 3 years were fine, this year I had barely earned 2,000 of the needed 5,000 points to cash out and my account was deleted.
June 23, 2019 by Ayla from Canada
I have been a member since December 18, 2018 and I'm not even half way toward the reward. I get kicked off of many surveys. I was under the impression we were going to receive real products to review, that is how they roped me in on Instagram, but I find this company frustrating. I am part of many other surveys but only ever redeemed from 2. I feel it is not worth my time because I haven't even made it half way to my first reward.
May 11, 2019 by Sylvie from Canada
Just answered completely a very long survey worth 300 points and guess what? No points. The answer I got :

Sometime we may not reach a particular quota or completes required, and additional invitations are sent out closer to the deadline. It can happen that by the time you start/finish a survey, we've have reached its quota.

So... please don't waste your time like I did.
July 8, 2018 by Rachel from Canada
I have been chasing the agency for some time to find out where my $50 Amazon gift card reward is--should have received it five months ago. The consistent repeated message to all my inquiries is that they have an "unusually high number of requests and are working diligently to respond to all..." I think they are a working diligently to avoid paying. Don't sign up, your opinion might be valued, but you won't be. They are making money off your time, but not following through on the rewards for it. Angus Reid honored their survey takers. Maru Voice doesn't. Hucksters!
June 28, 2018 by Laura from Canada
Maru took over for Angus Reid and it has gotten very bad - I have not been able to complete the last 15 surveys they have sent me. They said they were making it better and were going to offer more points. For me it has only gotten worse and the points are still the same. I am very disappointed with them
» Return to: TOP RATED SURVEY SITES
---
Popular Topics
Top Survey Sites of 2021
---
Highest User Rated Survey Sites
---
Survey Sites That Pay Instantly
---
Survey Sites with Low Cash Outs
---
9 Product Testing Job Websites
---
12 Online Surveys That Pay Cash
---
14 Ways to Get Free Amazon Gift Cards
---
Best Paid Focus Groups
---
How to Get a Free Visa Gift Card
---
Get Paid by PayPal Without Fees
---
Ways to Get Free Xbox Gift Cards
---
Featured Advertisers: