OneOpinion Reviews and Features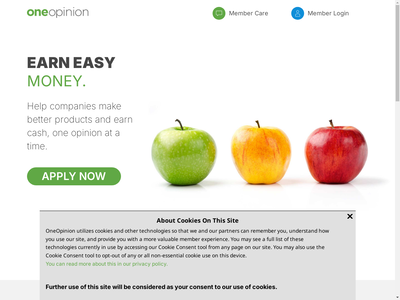 OneOpinion
6 Research Drive, Shelton, Connecticut 06484 US
Tel: (800) 651-8794 Contact: [email protected]
Operated by: Dynata
Quick Overview:
Rewards Offered: Cash paid via PayPal Amazon gift cards Prepaid debit or credit cards
Member Opportunities: Online surveys Mobile surveys Product testing Diary surveys Teen surveys
Redeeming Rewards: 25,000 points ($25/£25) minimum account balance required to request rewards in the form of pre-paid credit cards or PayPal.
Similar Panels: Branded Surveys, Univox Community, Opinion Outpost
Note: OneOpinion closed the .ca (Canadian) .fr (French), Australian, German and Italian versions of their survey panel on June 30, 2019. The USA, UK, etc. version of their websites continue to be operational.

OneOpinion was founded in 2011 and is owned by Dynata. OneOpinion conducts surveys on behalf of the world's leading market research companies. Learn about new products and services and influence their development by sharing your opinion! By joining, you'll be a part of a worldwide panel that actively participates in research studies from top companies, all while earning great rewards.
Simple Sign Up
Signing up for OneOpinion is quick and easy – simply fill out the registration form (or chat with 'Emily' the bot to sign up), and follow the instructions once you receive your confirmation email. Once your registration is confirmed you can start taking surveys and earning rewards!
Earn Gift Cards or Cash
Once you have reached 25,000 Points (1,000 points = $/£1.00) you are able to redeem towards items in the OneOpinion Rewards Program. You could redeem your points for a $25 virtual Visa Debit Card instantly! These cards will be sent via UPS to your home. If you do not want to wait until the physical card is delivered (keep in mind that it can take up to 10 days to arrive), you can also opt for a virtual gift card that will instantly be sent to you and ready for use, or you can elect to receive your funds as cash via your PayPal account. Amazon gift cards are also available.
OneOpinion also has a "One Rewards Program", which lets you trade your well-earned points for diverse rewards that you can choose from, if you prefer rewards beyond cash or pre-paid debit cards.
Visit OneOpinion's website

›
Collect Your Points
Most surveys pay the points equivalent of $1 to $5 ($1 = 1,000 points), so you'll hit the 25,000 point threshold needed to start redeeming your rewards quickly if you are an active member of the panel. Even if you screen out of a survey, OneOpinion will still reward you with 50 points!
Get your Points Immediately!
After you take an online survey, your reward points will instantly be loaded into your account. These points can be traded in towards great rewards from the OneOpinion Rewards Program.
Take Part in LOTS of Surveys
If you qualify, and your profile matches the studies criteria, there may be a new survey for you to take every day!
Visit OneOpinion's website

›
Product Testing and Online Surveys
Members of OneOpinion get the opportunity to see and test new products that are not even on the market yet. Try new products right in your home and tell OneOpinion about your experience!
24/7 Member Care
OneOpinion promises its members great customer service. If at any point you have a question about anything regarding OneOpinion, fill out the contact form or call the customer service line, and you will be connected with a customer representative that can answer your question(s).
Eligibility: Residents of the USA, UK, Spain, Germany, Italy, France, The Netherlands, Australia and Canada may join. Must be 13+ (members 18 and under must get parental consent before joining). Multiple members from the same household may join.
---
October 15, 2015 by TaTanisha from United States
I recently received 4 survey invitations from this site and made the mistake of clicking on the link it one of their emails which claimed I would get $8 for completing and hour long survey which I did. It actually took me well over an hour to complete it. At the end I got a message saying I would be credited the $8. To verify this I tried to login with the email and password I always use on survey sites but got an error message saying that the info was incorrect. No problem I just submit a reset password request and get a new password. They apparently have some record of me since it accepted my email address and said I would receive an email to reset my password. I did this at least twice to no avail. I never got the emails and yes I did check my spam folder to be sure. Since that did not work I tried using the contact link on their website to contact them and it bounced back as being undeliverable. That's strike two. Today I called the number on the site and someone did answer. I explained what happened to the woman who took my info and said someone would contact me within a day. About 20 minutes later I got an email from the co-founder Hugh Davis who instructed me to do the same thing I had already done and failed, request a password reset, which I did and once again it failed. I tried replying to the message he sent and once again it bounced back as undeliverable. I read some reviews on other sites that indicated that this site was once good but has declined a great deal in the past year or so. I think they are putting up a good front of being legit and paying a few people just so they can claim they are legit and giving everyone else the shaft. I would recommend that anyone who gets a survey invitation from this company delete it and move on. They are not trustworthy.
April 18, 2015 by Tom from United States
If you have the misfortune join OneOpinion, DON'T! They send you an email telling you when you get paid....only you won't get paid. They'll send another changing the dates...and you won't get paid. When you send an inquiry to the "contact us" link on the site, you'll get no reply. DO NOT JOIN ONEOPINION. You will not get paid.
March 27, 2015 by MP from United States
I took a follow up survey via MyView, also owned by same company as OneOpinion, the follow up came through OneOpinion. I noticed that the 4-6 weeks had expired, and have emailed them three times, each time them telling me that I would get paid in 24-48 hours. I just emailed them asking for my payment, only to be told the same thing, "We will resubmit the payment, it will be received within 24-48 hours" I have done this three times and have yet to be paid. All for one dollar! Horrible business, never again.
January 5, 2015 by stephen from United States
Really used to like this site ,Made some real money here , good surveys , paid in visa cards . Now everything is , I spend 5 -10 minutes and it .Oh you don't qualify . I was at $24 you need $25 to cash out , I would bet I took 20 surveys or more to make that last dollar . Just not worth it anymore.
Slow Accrual but Very Legit Site
November 29, 2014 by Donald from United States
I've been a member for about 2+ years and will admit that other post are correct that it takes a long time to accrue the $25 required for cash out. But I've never had any issues with their surveys. The help desk [Hugh is the name] always answers promptly, and I never had any disputes for credit on surveys I've completed. Compared to other sites, I'll take reliability over false promises of big rewards any time.