Looking for more information about online survey companies, but confused about the difference between a survey company, a survey panel, and a survey site?
In this article, we will distinguish between what these terms mean, and will provide a list of some of the top survey companies that pay in 2022.
» Skip ahead to view the top 5 survey companies
By joining a paid survey website hosted a reputable survey companies, you can expect to be treated well as a member, paid quickly and (hopefully) enjoy your experience earning money on their websites.
What is a survey company?
A 'survey company' is the business that owns and runs a paid survey website, or a 'survey panel' as they're sometimes called. Some websites use the terms 'survey site' and 'survey company' interchangeably, but this is technically incorrect. Survey companies are market research companies and survey sites are survey panels.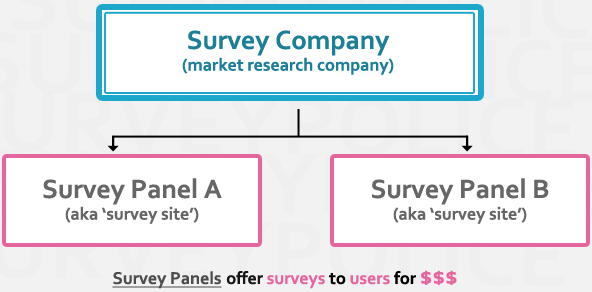 It is common for a survey company to launch several survey panels in a bid to capture a broader audience. Sometimes, these survey panels will look similar and work similarly. Otherwise, a survey company may launch multiple panels that are aimed at different markets. For example, they may have panel specifically for consumers and another that offers surveys for doctors.
The most established survey research companies typically have the biggest range of clients looking for consumer data, so members can expect a steady range of new opportunities to answer questionnaires and earn money.
These companies also tend to offer better customer service and a broader range of rewards.
Although there are other elements of survey panels to consider, you won't go far wrong by choosing a panel owned by an established online survey company.
Top 5 survey companies
The following is a list of the top five survey companies that pay based on size and panel offerings, including the names of online panels they own.
Prodege


Prodege is a California based company with a global membership. It has been awarded several notable business accolades including being listed in the Deloitte Technology Fast 500 and the Inc 500 Fastest Growing Private Companies.
The company is responsible for Swagbucks, which is one of the world's most well-known get-paid to websites and has paid out an astounding $800 million to its members.
Swagbucks features:
It is also the owner of MyPoints (U.S and Canada focus), InboxPounds (UK focus) and DailyRewards (Canada focus).
MyPoints was founded way back in 1996, which gives you a great idea of how long Prodege has been operating.
MyPoints features:
These panels listed are among the most popular on the web, partly because of the amount of years they have had to build a loyal user base.
Here is a full list of the panels owned by Prodege.
Dynata


Dynata is a U.S-based market research company. It was previously branded as Research Now SSI and before that, Research Now.
It is responsible for a huge range of popular survey panels. According to company data, there are over 62 million consumers using these websites across the globe!
Opinion Outpost and OneOpinion are the biggest and most popular Dynata websites.
Opinion Outpost features:
OneOpinion features:
MyOpinions in Australia, iPoll, the QuickThoughts mobile app and Valued Opinions are other properties owned by Dynata. These all offer a great range of surveys and many rewards. They are available in several countries apart from MyOpinions, which is exclusive to Australia and is currently the country's most popular survey panel.
Update: In mid-2022, Dynata also acquired Branded Research, which runs Branded Surveys.
Here is a full list of the panels owned by Dynata.
Nielsen


Nielsen Holdings PLC is a U.S based market research company founded in 1923. It is part of the S&P 500. Its global headquarters are based in New York.
Historically, Nielsen has been responsible for the progression of how companies use market research.
Nielsen's most popular survey panel is Pinecone Research, which is one of the best-rated on our website. This is one of the only panels that pays rewards in cash via bank transfer, although it has historically been difficult to join. You may have a wait on your hands if you apply to sign up, as it is in very high demand.
Pinecone Research features:
The National Consumer Panel, where U.S consumers are sent a barcode scanner or use a mobile app to scan products, is a joint partnership between Nielsen and IRI. Homescan Consumer Panel is the Canadian equivalent. These have also been historically difficult to sign up for, due to their incredible popularity.
National Consumer Panel features:
A key reason for the popularity of Nielsen websites is its broad range of rewards and money-making opportunities.
Nielsen also offers a passive way for users to earn rewards via the Nielsen Computer and Mobile Panel which only requires downloading an app that runs in the background of your phone in order to earn rewards.
Here is a full list of the panels owned by Nielsen.
Toluna


Toluna is based in France and has been offering paid survey websites since the year 2000. Harris Interactive and KuRunData are other survey companies in the Toluna umbrella.
The company ethos is to push the field of market research toward a better tomorrow.
Its most well-known panel is Toluna Influencers, as this website is available for anyone in the world over the age of 13 to sign up.
Toluna Influencers features:
Most of Toluna's smaller survey panels, such as Vocalyz and SheSays Community are only available to consumers in the United States.
Vocalyz features:
The Toluna group is well-known for adding fun community features to their survey panels, including discussion boards and the ability to add your own surveys for other community members to take.
Here is a full list of the panels owned by Toluna.
Ipsos


Ipsos was founded in 1975 and has grown to become one of the largest and most well-known market research companies in the world. Its global headquarters are in France, but it has offices across the globe and many of its panels are available to an international audience.
Ipsos iSay is its most well-known survey panel, which is available around the world and offers a huge range of rewards.
Ipsos iSay features:
Ipsos' other smaller panels include inCompass Media Cell and Rewarding Panel.
inCompass Media Cell features:
Ipsos considers its company's key values to be integrity, curiosity, collaboration, client importance and entrepreneurial spirit.
Here is a full list of the survey panels owned by Ipsos.
The bottom line
You're likely to enjoy your survey taking experience by choosing a survey panel hosted by one of the survey research companies listed above. With long histories, experience running multiple survey sites and managing millions of members, the companies above are considered some of the best the market research industry has to offer.
For more information on other panels that may be more suited to your needs, see our list of the best paid survey websites.
---
Related posts: