Digital Reflection Panel Reviews and Features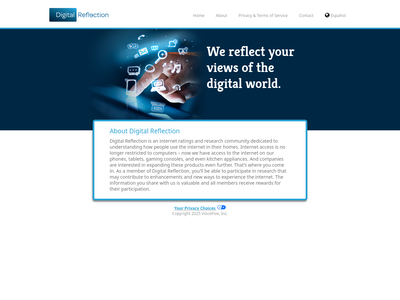 Digital Reflection Panel
11950 Democracy Drive, Suite 600 Reston, VA 20190 US
Tel: 877-574-1789 Contact: https://digitalreflectionpanel.com/supportform.aspx
Operated by: ComScore

PAYMENTS OFFERED

Cash paid via PayPal

Prepaid debit or credit cards

Donations to charity

HOW TO PARTICIPATE

Browser add-on

Online surveys

REDEEMING REWARDS
$50 minimum account balance required to request rewards.
Digital Reflection, a division of comScore, is a market research company that is dedicated to understanding how people use the internet in their homes (including computers, tablets, laptops, mobile phones, etc.). As a panel member, you'll be contributing to information that will allow companies to discover new ways to enhance a user's internet experience. Participants don't just get rewards, they also get a tree planted in their honor through the Trees of Knowledge program.
Use the Meter and Get Rewarded
Digital Reflection will ship you an internet meter which you connect to your wireless router at home. It's simple to install, and only takes less than 5 minutes. Once you've installed the device, you can connect it to your computers and phone and earn rewards for doing so.
Earn Reward Dollars Every Month
Program participants earn Reward Dollars which can be redeemed for PayPal payments, Visa prepaid cards, and donations to charity once you have $50 in your account. Receive the following amounts for participating:
Initial meter installation: $25.00
Extra speed bonus (for installing meter within 4 days of receiving it): $25.00
First 2 months of use: $60
If you keep it plugged in, you'll receive a further $10/month
First device update: $25.00
Possible subsequent monthly rewards: $5.00
Survey opportunities: various
You can potentially earn more than $200 during your first year with the program.
Your Privacy Is Important
Sensitive information such as medical histories and financial information is masked before the information is transmitted. Identifiable information is not shared or sold with any third party.
Eligibility: USA households with an annual income of $75k+
---
Digital Reflection Panel Reviews (53)
$800 Redeemed So Far, Couldn't Be Happier
July 12, 2021 by Daniele from United States
I don't recall how many years I've been a panel member, but I love it.

$5 every month for checking in and updating whether or not I have new devices.
Another $20 every three months.
And a $5 periodic technology update, In addition to the two other regular payments.

I've had occasional issues with my box, and yes at one time I had problems with it and the firewall, but they helped me work through it.

If I forget to complete my monthly update, they give me a courtesy reminder call, and have always been a pleasure to speak with.

It's true you can only take out $50 or more at a time, but I plan for that. I always leave at least $50 there when I take out money. And I usually take it out once a year a couple months before Christmas to give them time to process it and send in time for Christmas funds.
Then if anything happens to my account I have at least $50 so I can remove it all if needed.
May 16, 2021 by Terry from United States
One of the easiest survey/viewpoint panels I've participated in. Reward rate is good and it is easy to redeem.
February 22, 2021 by Anabelle from United States
I had joined the panel about a year or 2 ago and have made easy money. However, I always questioned it as easy money should be questioned. I have had issues with the meter but eventually after plugging it out and then back in it went back to normal. Everything was going fine until recently when my computer acted out. I had to reset it, but the meter was still plugged in. Things went back to normal for a bit, until I tried opening Chrome and it said there was a privacy issue. I clicked Microsoft Edge and it said the same thing! I have never had this issue before so I looked youtube videos but none of them worked. What I did notice, though, was that in the privacy error page it said something about an issuer certificate and it said Digital Reflection. That caught my eye, I knew it had something to do with it but by this time I managed to bypass the privacy error by changing some things of Chrome to ignore the SSL certificates or something. Then today I searched up how to fix the error but I was just furious because nothing worked. Although I changed the settings and bypassed it and was able to go to sites, the exclamation mark on top of the website bothered me. Simple sites like Twitter wouldn't work and it bothered me because if you bypass it, security features are at stake. I didn't like that. I also was not able to download anything. I tried installing Origin to play Sims, but nope. It said something about an error. I tried installing other things and they all said error. Probably because I was using Chrome with different settings to ignore SSL certificates in order to use my computer.

Amongst my research I decided to search up this panel and I came across a reddit thread that talked about how Digital Reflection used its logs to try and force change Someone's FTP password and bruteforce roots (i don't know what that means but i know that isn't good.) They said they also sent out emails. I read the comments and I knew it is just a fishy company all along. I didn't like that they can control your meter and also, the reason why the internet is slow is because they use it or something like that. Which is why many people say their internet is slow. Anyway, after reading this I decided no, I'm going to take it off. And so I did, and lo and behold, chrome and edge had no more privacy issues! All sites loaded and I was FINALLY able to download applications. I emailed them and told them I wanted to unsubscribe and they replied quickly saying they will send a shipment label to return the box.
My advice is to NOT use this. Sure you get money, but they control everything and can do whatever they want. Plus you are giving out your information, which at first I didn't think much about until recent. Be careful.
February 21, 2021 by Kristina from United States
We had a power outage and m6 meter stopped working when the power came back. I jumped through hoops with their tech support only to be told they were closing my account. That was 3 months ago. I tossed the unit since I didn't get any direction otherwise. Now they have the audacity to send me a letter in the mail wanting it back. 🤷‍♀️
July 27, 2020 by Jennifer from United States
They decided to take the meter back and now they say for the rest of my life I can't even sign up I only earned $100 I would highly recommend going with a different company and not this one. Thank God I have LegalShield/IDShield a legal & ID protection and restoration product out there because I know back.
» Return to: TOP RATED SURVEY SITES
---
Popular Topics
Top Survey Sites of 2023
---
Highest User Rated Survey Sites
---
Survey Sites That Pay Instantly
---
Get $100 Free PayPal Payments
---
9 Product Testing Job Websites
---
12 Online Surveys That Pay Cash
---
How to Earn Free Uber Gift Cards
---
14 Ways to Get Free Amazon Gift Cards
---
Best Paid Focus Groups
---
How to Get a Free Visa Gift Card
---
Ways to Get Free Xbox Gift Cards
---
Featured Advertisers: