E-Rewards Reviews and Features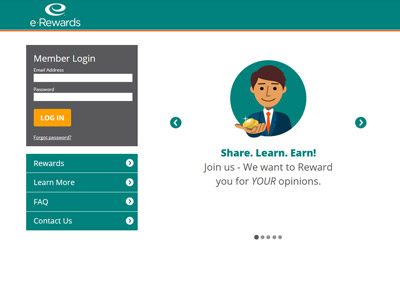 E-Rewards
6 Research Drive, Shelton, Connecticut 06484 US
Tel: 877-254-1234 Contact: [email protected]
Operated by: Dynata
Quick Overview:
Rewards Offered: Airline Miles Air Miles Reward Miles Best Buy gift cards Merchandise Retail e-vouchers Restaurant gift cards Starbucks gift cards
Member Opportunities: Online surveys Teen surveys
Redeeming Rewards: Point amounts vary greatly per reward. Yearly magazine subscriptions range from $10-$70 e-Rewards currency. A $25 gift card redemption may require $60 worth of points.
Similar Panels: Branded Surveys, Panel Champ, MySoapBox

e-Rewards is one of the world's leading market research panels. Share, earn and learn by sharing your experiences about top global brands.
Earn e-Rewards
Earn Opinion Points/e-Rewards currency for taking surveys. Exchange your points for gift cards, magazine subscriptions, hotel reward points, and airline points. Choose from over 30 different retailers to redeem gift cards with. You may redeem a gift card only once per quarter with most gift card options.
Prizes
e-Rewards can also be redeemed towards prizes. Many prizes come in the form of discounts towards purchasing products and services they provide.
Redeem Your e-Rewards Currency
In most cases, your account will be credited as soon as you complete a survey. However, in some cases the credit may take up to 7 days to appear on your account. Similarly, e-Rewards sends most electronic gift cards immediately upon request (within one hour). Most physical gift cards will be sent out within 4-6 weeks of redemption.
e-Rewards also requires mobile and landline verification in order to redeem your rewards. This verification helps you keep your rewards secure. For data security, they will need to verify your account with a valid US mobile or landline number in order to redeem your reward. Once you provide your number, you will receive a verification code via that number that you will need to enter in order to finalize the redemption process.
You can redeem your e-Rewards Currency/Opinion Points as soon as you accumulate enough to qualify for the reward you desire (the lowest gift card option is $10).
Invitation-Only Panel
e-Rewards is an invitation-only online survey panel. You may be invited to become a member by providing your email to one of the e-Reward partner companies. Once invited, e-Rewards is free to join.
Survey Setup
e-Rewards provides members the option to participate in various surveys and studies. Respondents have 30 days to complete the surveys.
Eligibility: Must be 13+ to join in USA/Canada. Minimum age to join varies in other regions.
Alternatives to e-Rewards
Survey takers who have joined e-Rewards are also interested in these survey programs:
Surveys pay but rewards never come!
September 17, 2010 by Stephanie from United States
No wonder they can offer such high payment, I've yet to receive a reward I have cashed out for. And "customer service" should be called "customer avoidance".
Safe, quality panel, but..
September 17, 2010 by Brooks from United States
I enjoy working with the E-rewards panel- they send a good amount of surveys and many are interesting and you'll feel like you are helping shape new products. It's as legitimate and safe as they come.

Your incentives can build up fairly quickly, as well. The main disadvantage of E-rewards is the rewards just aren't very enticing to me. You can save some money shopping at expensive websites with their incentives, or purchase discounted air miles- but there's just not much in their catalog that has wide appeal.

I usually just end up with magazine subscriptions.

It's a well-designed and concise panel but doesn't provide quality incentives.
I've had nothing but great experiences
September 17, 2010 by Kristen from United States
I've been with e-rewards for about a year and a half now. I get approximately 10 surveys per month and qualify for 7-8 of them (I guess I must be in a popular target age/area). They "pay" extremely well in their point currency and within a year of being with them I had racked up over $250. I've gotten free rentals and pre-viewed movies at blockbuster, $15 to Borders, lots of airline mileage, 3 magazine subscriptions, and gift certificates to restaurants. For the amount of time it takes, I think it's totally worth it. If you don't like the rewards you can always sign up for their upromise rewards where you can earn money to save for college or to pay of existing student loans.
bad rewards program, by kevin
September 17, 2010 by kevin from United States
I have been with them for about three years and I earn a lot of monet but the rewards that that you can redeem for are not very good. i have told them to give less money and better rewards but so far they have not done any improvements. i would not recommend this survey company. there are so many others that are better.
September 17, 2010 by Sam from United States
It's very easy to earn points quick with this site but their rewards are almost non-existant unless you want magazines or wait till you earn a trillion dollar points to maybe join an airline club. A BIG WASTE OF TIME