E-Rewards Reviews and Features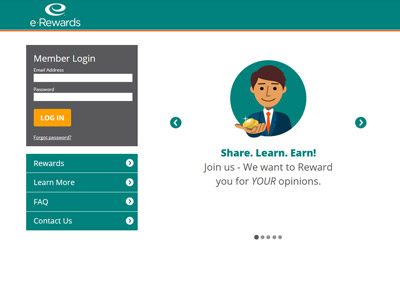 E-Rewards
6 Research Drive, Shelton, Connecticut 06484 US
Tel: 877-254-1234 Contact: [email protected]
Operated by: Dynata

PAYMENTS OFFERED

Airline Miles

Air Miles Reward Miles

Best Buy gift cards

Starbucks gift cards

Walmart gift cards

Home Depot gift cards

Target gift cards

iTunes gift cards

Retail e-vouchers

Merchandise

Restaurant gift cards

HOW TO PARTICIPATE

Online surveys

Teen surveys

Product testing

REDEEMING REWARDS
Point amounts vary greatly per reward. Yearly magazine subscriptions range from $10-$70 e-Rewards currency. A $25 gift card redemption may require $60 worth of points.

e-Rewards is one of the world's leading market research panels. Share, earn and learn by sharing your experiences about top global brands.
Earn e-Rewards
Earn Opinion Points/e-Rewards currency for taking surveys. Exchange your points for gift cards, magazine subscriptions, hotel reward points, and airline points. Choose from over 30 different retailers to redeem gift cards with, including Best Buy, CVS Pharmacy, Walmart, Macy's and more. You may redeem a gift card only once per quarter with most gift card options.
Prizes
e-Rewards can also be redeemed towards prizes. Many prizes come in the form of discounts towards purchasing products and services they provide.
Redeem Your e-Rewards Currency
In most cases, your account will be credited as soon as you complete a survey. However, in some cases the credit may take up to 7 days to appear on your account. Similarly, e-Rewards sends most electronic gift cards immediately upon request (within one hour). Most physical gift cards will be sent out within 4-6 weeks of redemption.
e-Rewards also requires mobile and landline verification in order to redeem your rewards. This verification helps you keep your rewards secure. For data security, they will need to verify your account with a valid US mobile or landline number in order to redeem your reward. Once you provide your number, you will receive a verification code via that number that you will need to enter in order to finalize the redemption process.
You can redeem your e-Rewards Currency/Opinion Points as soon as you accumulate enough to qualify for the reward you desire (the lowest gift card option is $10).
Invitation-Only Panel
e-Rewards is an invitation-only online survey panel. You may be invited to become a member by providing your email to one of the e-Reward partner companies. Once invited, e-Rewards is free to join.
Survey Setup
e-Rewards provides members the option to participate in various surveys and studies. Respondents have 30 days to complete the surveys.
Eligibility: Must be 13+ to join in USA/Canada. Minimum age to join varies in other regions.
Alternatives to e-Rewards
Survey takers who have joined e-Rewards are also interested in these survey programs:
1 Star Reviews (158)
40.0
Better than a stick in the eye,,,
September 17, 2010 by Robert from United States
Slightly better than a stick in the eye. I always love when a percentage of my "earnings" expire every year. I would love to spend them on the discount coupons they offer as rewards, you know, spend $350 at an online Steak company at their regular prices and get $5 off. What a deal. But the upside is they use more intrusive questions than a lot of companies. It is only a matter of time before they offer the social security number survey...where you need to list the SSN of every family member, then get told you don't qualify...but keep trying so you can earn enough to get $1 off a subscription that subscription to Teen Vogue you've been pining for.
September 17, 2010 by Deb from United States
I been a member for several years and used to enjoy doing surveys on ad effectiveness and products in development. I haven't seen one of those in at least a year. Surveys now ask for really specific information on my health and finances. Areas which fall firmly into the NYOB category. This morning, I got a request to do a survey on travel. When I clicked on the link to the sight, I got a security alert indicating that the website was trying to obtain information from my computer. I didn't allow the info to be transmitted, obviously, and was then transfered to a thanks but no thanks page. This is a new low and I'm officially creeped out. Goodbye Erewards.
September 17, 2010 by Lori from United States
I was excited about this one because I seemed to be getting surveys very frequently and had accumulated about $25 in my account towards the purchase of rewards- then I started to notice that the surveys they were sending me began to ask me about financial information. How much money do I make, what bank do I use, do I have a credit card, what credit card companies do I use ... considering that these people already had my name and address and various bits of personal information, I realized it probably wasn't a really good idea to just casually toss this information out there. I replied on one of the intrusive surveys and stated that where I do my personal banking is none of their business. I've never received a survey from them since!
September 17, 2010 by billy from United States
the awards are BOGUS, discounts on future spending do NOT qualify as legitamate awards. most awards are like coupons the companies give away for free!!!! get some real awards!!!!
Weak Rewards & Reward Restrictions
September 17, 2010 by Dave from United States
I've earned about $80 with this website. I have frequently gotten survey requests, and have qualified for the full amount on several. The problem is that the only reward I'm interested in is for Blockbuster ($25), but I can only redeem the award once every 6 months.
» Return to: TOP RATED SURVEY SITES
---
Popular Topics
Top Survey Sites of 2020
---
Highest User Rated Survey Sites
---
Survey Sites That Pay Instantly
---
Survey Sites with Low Cash Outs
---
9 Product Testing Job Websites
---
12 Online Surveys that Pay Cash
---
14 Ways to Get Free Amazon Gift Cards
---
Get Paid for Browsing the Internet
---
How to Get a Free Visa Gift Card
---
Get Paid by PayPal Without Fees
---
Featured Advertisers: