Tellwut Reviews and Features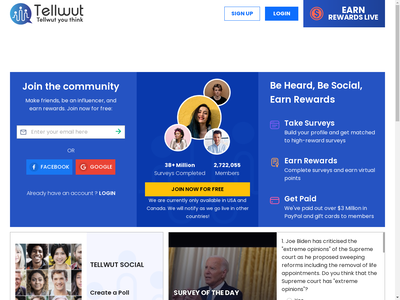 Tellwut
67 Mowat Ave, Suite 543 Toronto, Ontario M6K 3E3 CA
Tel: 416-530-4724 Contact: https://www.tellwut.com/contact
Operated by: Tellwut
Quick Overview:
Rewards Offered: Amazon gift cards Best Buy gift cards Walmart gift cards Home Depot gift cards Starbucks gift cards Prepaid debit or credit cards Merchandise Movie vouchers Retail e-vouchers Restaurant gift cards
Member Opportunities: Online surveys Daily surveys Refer-a-friend program
Redeeming Rewards: Minimum balance of 4,200 points ($10) required to request rewards. Some gift cards are mailed, others are e-mailed in the form of e-vouchers. The method of delivery is stated in the rewards catalog.
Similar Panels: Branded Surveys, Univox Community, YouGov, Panel Champ

Tellwut is an online community of individuals based in North America, providing their feedback and opinions on various topics through the Tellwut online survey tool and social media platform. Tellwut members participate in surveys and social media activities; earning rewards while being engaged in the Tellwut community experience. The panel grows yearly and boasts 700,000+ members.
New Member Bonuses
New members of Tellwut will receive 100 reward points immediately after signing up. 100 additional points are awarded upon providing shipping information, and a further 100 points are awarded for providing other account information.
Collect Points to Earn Rewards
Tellwut offers points whenever you take a survey. Points can be anywhere from 5-2000 points, so you have chances to accrue points fast! For example:
Answer a survey: 5-15 points
Create an approved public survey: 10-20 points
Answer an external survey: 25-2000 points
Redeeming Your Rewards
Tellwut rewards can be redeemed starting at 4,200 points ($10.00), though more rewards are available at 10,000 points ($25.00). Choose from a variety of gift cards options from Visa, Cineplex, Amazon, and Walmart, or merchandise such as a t-shirt or Motorola tablet. Your order will be fulfilled within 10-15 business days of redemption. Shipping times vary by location though some gift cards are available in electronic format, and will be emailed..
Visit Tellwut's website

›
Types of Surveys Offered
Fun polls created by users (maximum of 2 postings per week) or submitted by businesses. Users can log in to their accounts daily to take surveys and do not have to wait for e-mail invitations.
Survey Completion Times
Each survey/poll available typically takes less than 30 seconds to complete, and many new polls are available on the website daily. Once the surveys have closed you may browse through the results to see how your answers stacked up when compared to others!
Survey Availability
Members of Tellwut can simply log into their accounts to take all of the available surveys for that day - invitations to complete surveys are not typically emailed.
Most survey points are awarded directly after you finish a survey, although occasionally some surveys must close before points are awarded. Allow for 10-15 days to receive your points from survey participation.
Visit Tellwut's website

›
You don't just earn points for surveys! Just signing up gets you started on your way towards earning rewards:
Create your account: 100 points
Provide profile information: 200 points
Refer a friend: 25 points
Refer a Friend
For every friend you refer, you will get 25 points! You can find your "Refer Friend" link under your account balance.
Great Support Staff!
If you ever run into issues with the platform, you can reach out via the contact form online or email Tellwut at [email protected] They will typically respond within 48 hours!
Eligibility: Residents of Canada and USA, 18+
---
Good opportunities to accumulate points
January 24, 2020 by Sylvie from Canada
My favorite survey site. Every day you have fun surveys to answer either from Tellwut of other members. Each question is 5 or 10 points. It can be any topic,it's fun to answer then read what other members think about the subject. Also every Friday you get an email to answer some short surveys from tellwut for about 100 points. You can also check available surveys everyday and get points that way. Also every weekend if you use the email )link)they sent you you can get an addition 50 points on the surveys that are over 35 pts. It's easy to redeem points and it's fast. Try it out,you will have fun while get great gift cards.
January 16, 2020 by Mitchell from United States
This site is awesome they do everything they can to help you get your cashouts. Let me point out that this is a 5 star site and there's very few of those around. A true 5 star site.


January 7, 2020 by Christine from United States
I have been using www.tellwut.com for a few years now. This is a legitimate company that actually does pay u. I have gotten several Amazon gift card e-codes from them. They pay out very quickly too. THANKS TELLWUT!!!

Tellwut responded to this review on January 13, 2020
Thank you Christine! We are glad you are enjoying Tellwut and thank you for being a member!
December 9, 2019 by Maria from Canada
Thanks for you giving me an opportunity to do surveys. I just got a gift card for Walmart. Great surveys.
December 6, 2019 by walter from Canada
its fun to complete different surveys and collect a reward.