Tellwut Reviews and Features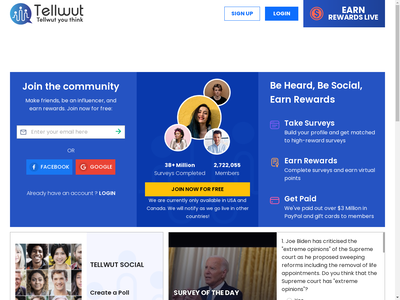 Tellwut
67 Mowat Ave, Suite 543 Toronto, Ontario
Tel: 416-530-4724 Contact: https://www.tellwut.com/contact
Operated by: Tellwut
Quick Overview:
Rewards Offered: Amazon gift cards Best Buy gift cards Walmart gift cards Home Depot gift cards Starbucks gift cards Prepaid debit or credit cards Merchandise Movie vouchers Retail e-vouchers Restaurant gift cards
Member Opportunities: Online surveys Daily surveys Refer-a-friend program
Redeeming Rewards: Minimum balance of 4,200 points ($10) required to request rewards. Some gift cards are mailed, others are e-mailed in the form of e-vouchers. The method of delivery is stated in the rewards catalog.
Similar Panels: Branded Surveys, Univox Community, YouGov, Panel Champ

Tellwut is an online community of individuals based in North America, providing their feedback and opinions on various topics through the Tellwut online survey tool and social media platform. Tellwut members participate in surveys and social media activities; earning rewards while being engaged in the Tellwut community experience. The panel grows yearly and boasts 600,000+ members.
New Member Bonuses
New members of Tellwut will receive 100 reward points immediately after signing up. 100 additional points are awarded upon providing shipping information, and a further 100 points are awarded for providing other account information.
Collect Points to Earn Rewards
Tellwut offers points whenever you take a survey. Points can be anywhere from 5-2000 points, so you have chances to accrue points fast! For example:
Answer a survey: 5-15 points
Create an approved public survey: 10-20 points
Answer an external survey: 25-2000 points
Redeeming Your Rewards
Tellwut rewards can be redeemed starting at 4,200 points ($10.00), though more rewards are available at 10,000 points ($25.00). Choose from a variety of gift cards options from Visa, Cineplex, Amazon, and Walmart, or merchandise such as a t-shirt or Motorola tablet. Your order will be fulfilled within 10-15 business days of redemption. Shipping times vary by location though some gift cards are available in electronic format, and will be emailed..
Visit Tellwut's website

›
Types of Surveys Offered
Fun polls created by users (maximum of 2 postings per week) or submitted by businesses. Users can log in to their accounts daily to take surveys and do not have to wait for e-mail invitations.
Survey Completion Times
Each survey/poll available typically takes less than 30 seconds to complete, and many new polls are available on the website daily. Once the surveys have closed you may browse through the results to see how your answers stacked up when compared to others!
Survey Availability
Members of Tellwut can simply log into their accounts to take all of the available surveys for that day - invitations to complete surveys are not typically emailed.
Most survey points are awarded directly after you finish asurvey, although occasionally some surveys must close before points are awarded. Allow for 10-15 days to receive your points from survey participation.
Visit Tellwut's website

›
You don't just earn points for surveys! Just signing up gets you started on your way towards earning rewards:
Create your account: 100 points
Provide profile information: 200 points
Refer a friend: 25 points
Refer a Friend
For every friend you refer, you will get 25 points! You can find your "Refer Friend" link under your account balance.
Great Support Staff!
If you ever run into issues with the platform, you can reach out via the contact form online or email Tellwut at [email protected] They will typically respond within 48 hours!
Eligibility: Residents of Canada and USA, 18+
---
Easy to get points and interesting surveys
August 19, 2019 by Shannon from United States
I love this site. Easy to rack up some points everyday and the surveys "by the people" are interesting. Comments that follow are often interesting as well. Points redeemed are awarded quickly and their customer service is responsive.
August 15, 2019 by John from Canada
i like the website, they offer lots of survey and polls to do. It's a fun place to go to and I log in everyday just to do the polls. When I got paid, it took 3 days for it to process and 1 day to get into the mailbox for me to redeem the prize. I highly recommend using this website as part of your survey groups.
Various topics and easy payout
August 7, 2019 by Beth from United States
Tellwut offers lots of surveys and polls of various lengths, values and topics, as well as user created polls. Their payouts are attainable & hassle-free.
July 28, 2019 by Nikole from United States
It's easy to earn points everyday, takes no time to build up enough points for a reward and once you put in for a reward, it comes super fast! Its based in Canada, when I put in for my first reward, it came in the regular mail (first one comes in reg mail, after that, they come in email unless you request otherwise), it took 3 days to get to me in the States. I just put in for another reward last night & it was in my email this morning!!
Fun site and great support unit
July 27, 2019 by Ingrid from United States
I've been with TellWut only a short time and so far, earned points quickly through their surveys. The surveys are short, fun, and interesting. They often include current issues of the day. There are additional ways to earn points but I haven't explored them to full advantage yet. My first award was mailed to me (as was explained for security validation). My second award was to be sent via email and when it appeared that it might be mailed like the first one, I became concerned and contacted support. Their customer service was superb! They responded promptly, addressed all of my issues, and within hours my gift card posted and was available for use. Thumbs up for TellWut!

Update 10/25/2016: Still a Tellwut member. They have become one of my favorite sites and a steady source of gift card rewards. Recently tried to cash out and to my dismay I was presented with prize options exclusive to Canadians only. I live in the US and thinking there had been a major change in policy, I feared my Tellwut days were over. I contacted Support and they responded rapidly with a solution and reassurance. A little tech magic ensued and in warp-speed, I was able to access the proper reward list and retrieve my gift card of choice. I would give them 5 stars for the site alone so these 5 for customer service should give them a total ranking of 10!

Update: 07/26/2019: Three years and many amazon gift certificates later, I am even more impressed with Tellwut than ever. About a month ago, I tried to apply their gift card to Amazon, only to have it rebuffed as already cashed in on another account. When I contacted Tellwut support, they investigated and sent me a replacement which was also rejected as having been cashed already. After some sleuthing, we determined it most likely that my email had been hacked and manipulated such that my gift cards were being commandeered before I could apply them to my own Amazon account. I don't know if Amazon chose to pursue investigating at their end but that wasn't our decision to make. Tellwut sent me yet another gc (keep in mind, they'd already released two to parties unknown and could have said 'no more' as this was none of their doing)....this time to my alternate email address and it went through without a hitch. I applaud their patience, understanding, and willingness to stand by me throughout the whole experience. Thumbs up, 5 stars, and kudos!!! I can't say enough good things about them.

Tellwut responded to this review on July 26, 2019
Hi Ingrid,
Thank you for the in depth review and for the updated review. Satisfying our customers is one of our top priorities we appreciate the glowing remarks!