Tellwut Reviews and Features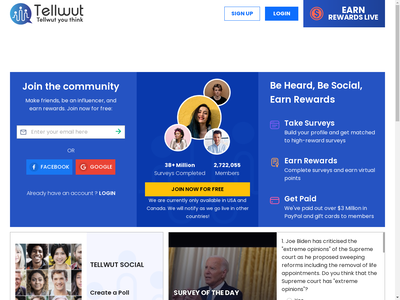 Tellwut
67 Mowat Ave, Suite 543 Toronto, Ontario
Tel: 416-530-4724 Contact: https://www.tellwut.com/contact
Operated by: Tellwut
Quick Overview:
Rewards Offered: Amazon gift cards Best Buy gift cards Walmart gift cards Home Depot gift cards Starbucks gift cards Prepaid debit or credit cards Merchandise Movie vouchers Retail e-vouchers Restaurant gift cards
Member Opportunities: Online surveys Daily surveys Refer-a-friend program
Redeeming Rewards: Minimum balance of 4,200 points ($10) required to request rewards. Some gift cards are mailed, others are e-mailed in the form of e-vouchers. The method of delivery is stated in the rewards catalog.
Similar Panels: Branded Surveys, Univox Community, YouGov, Panel Champ

Tellwut is an online community of individuals based in North America, providing their feedback and opinions on various topics through the Tellwut online survey tool and social media platform. Tellwut members participate in surveys and social media activities; earning rewards while being engaged in the Tellwut community experience. The panel grows yearly and boasts 600,000+ members.
New Member Bonuses
New members of Tellwut will receive 100 reward points immediately after signing up. 100 additional points are awarded upon providing shipping information, and a further 100 points are awarded for providing other account information.
Collect Points to Earn Rewards
Tellwut offers points whenever you take a survey. Points can be anywhere from 5-2000 points, so you have chances to accrue points fast! For example:
Answer a survey: 5-15 points
Create an approved public survey: 10-20 points
Answer an external survey: 25-2000 points
Redeeming Your Rewards
Tellwut rewards can be redeemed starting at 4,200 points ($10.00), though more rewards are available at 10,000 points ($25.00). Choose from a variety of gift cards options from Visa, Cineplex, Amazon, and Walmart, or merchandise such as a t-shirt or Motorola tablet. Your order will be fulfilled within 10-15 business days of redemption. Shipping times vary by location though some gift cards are available in electronic format, and will be emailed..
Visit Tellwut's website

›
Types of Surveys Offered
Fun polls created by users (maximum of 2 postings per week) or submitted by businesses. Users can log in to their accounts daily to take surveys and do not have to wait for e-mail invitations.
Survey Completion Times
Each survey/poll available typically takes less than 30 seconds to complete, and many new polls are available on the website daily. Once the surveys have closed you may browse through the results to see how your answers stacked up when compared to others!
Survey Availability
Members of Tellwut can simply log into their accounts to take all of the available surveys for that day - invitations to complete surveys are not typically emailed.
Most survey points are awarded directly after you finish asurvey, although occasionally some surveys must close before points are awarded. Allow for 10-15 days to receive your points from survey participation.
Visit Tellwut's website

›
You don't just earn points for surveys! Just signing up gets you started on your way towards earning rewards:
Create your account: 100 points
Provide profile information: 200 points
Refer a friend: 25 points
Refer a Friend
For every friend you refer, you will get 25 points! You can find your "Refer Friend" link under your account balance.
Great Support Staff!
If you ever run into issues with the platform, you can reach out via the contact form online or email Tellwut at [email protected] They will typically respond within 48 hours!
Eligibility: Residents of Canada and USA, 18+
---
August 12, 2019 by Nigel from United States
Tellwut refuses to reward me my agreed upon points for survey I completed.I finished surveys 1220628-120705 and 1220820-120705, neither of which I was rewarded. When I spent over fifteen minutes completing a survey and hit the submit button, it noted they met their quota. When I contacted them to complain, they said I was disqualified.

Tellwut responded to this review on August 13, 2019
Hi Nigel,
Thank you for your feedback about our surveys. We really apologize that you had difficulty in completing the surveys. As we mentioned in our emails to you, you only completed a couple mins of each survey and not the whole thing, which is why were unable to give the full points. We apologize for any inconvenience you might have had due to this.
Where is my Walmart gift card
June 5, 2019 by LINDA from United States
I earned a Walmart gift card last month on Tellwut.com and when I tried to use it, it was invalid! I have tried emailing them several times about this and to send me a legit one but no one has done anything! Can you please look into this for me?

Tellwut responded to this review on June 11, 2019
Hi Linda,
Thank you for the review. We have responded to your inquiry (three times). It seems like our replies to you are not going into your "Inbox" and we request you to check your junk/spam email. In order to send you a new one we would require the card number and the pin so that we can contact the supplier (Walmart) to re-send you a new one. We request you to email us the card number and its pin to
[email protected]
August 11, 2018 by Marcia from United States
Lets start by saying I've been a member since the beginning of 2013. I log in today and there are no "user created surveys". There are normally maybe about 25-30-ish on the site daily under "Most Recent"....there are only the external thru Tellwut to try and qualify for now. The "user created surveys" are the reason a lot of people like the site...feels like a community. Wheres the surveys? If the "user created surveys" are gone, so am I!
UPDATE....8/28/2017 I've emailed customer support yesterday...no reply yet...I logged in today and "Most Recent" link was back and there were usual amount of "User Generated Surveys" AND THEN, did 2 and the rest disappeared with the link of "Most Recent" completely vanishing.
UPDATE....later on 8/28/2017...email from support
Hi Marcia
Thank you for contacting us. In order to have full access to the user created surveys panel members must successfully complete an external survey (either from the Available Surveys page or from e-mail) at least once every 30 days. The last time you successfully completed one was July 27th 2017.
The user created surveys do not generate any income for Tellwut, therefore it is not a viable business option for us to pay panel members to only take the user created surveys.
Thanks and regards,
Tellwut Support

I have very rarely attempted the external surveys and have maybe completed an external survey 10 times in 4 years with Tellwut....most are "samplious" surveys that go nowhere fast...so, why all of a SUDDEN IS THIS AN ISSUE? I cannot find anywhere on the site where this is expressed in writing for members. Also, a Thanx for being a member could have went a long way here...maybe a when the policy was started....feeling very unappreciated right now.
UPDATE...8/20/2017...I had 3 available external surveys available to try today when usually there are a whole page full...I have to complete a third party survey to have access to user generated surveys.....kinda hard to do when have only 3 trys....hard to go with Tellwut!
UPDATE...2/24/2018...I log in today, take 1 user generated survey and Im told I now have to complete a third party survey every 14 days...as per Tellwut policy stated earlier in this reply to me, it was every 30 days!!!!! Whats going on????

Tellwut responded to this review on August 11, 2018
Hi Marcia,
In order to have full access to the user created surveys panel members must successfully complete an external survey (either from the Available Surveys page or from e-mail) at least once every 14 days. We have this outlined in our FAQ. For further details our members can email us at
[email protected]
Unfortunately we had to increase the number of user created surveys successfully completed within a month because too many people were not even participating in external surveys.
Tellwut is a social network where panel members can create and answer questions. The user created surveys do not generate any income for Tellwut, therefore it is not a viable business option for us to pay panel members to only take the user created surveys.
June 22, 2018 by John from United States
It is so bad.
4000 points = $10.
They always send you email with 75 points survey.
All survey is so long.
And it has adsense on its site, I never saw a good survey site with adsense on it.
DO NOT JOIN THEM!
February 14, 2018 by Edward from United States
Every survey that I have attempted to take has either automatically disqualified me without a single question asked or told me it was over it's quota. Stay very far away.

Tellwut responded to this review on February 15, 2018
Hi Edward,
The majority of our members who sign in and participate everyday can get a reward within 2 to 3 weeks.
It sounds like you're referring to external surveys - Tellwut does not control or create those surveys.
If any of our panel members encounter problems with an external survey we encourage them to tell us by providing us with the survey ID so that we can look into the issue and give them the points that they deserve.
If you're over quota - and you've spent longer than 6 minutes in the survey, tell us so that we can give you the points. We have reports that we can verify the information that you're giving us with.
In your case where you're saying that you're instantly disqualified - There could be something wrong with your IP although we can't say for certain since we don't know who you are on Tellwut. Another possibility which is quite is that you did the same survey on a different survey site.
You should contact
[email protected]
so that we can help you determine what the problem is.
We have tons of ways to earn points on Tellwut - including instant qualifying surveys:
Have you checked out the area of our site where you can instantly qualify for surveys? You can find them in the 'Most Recent' section (everyone qualifies)
- We have our weekly 50 point newsletter sent out over the weekend (everyone qualifies)
- We have monthly promotional giveaways of gift cards, and higher point value surveys. (everyone qualifies)
- We have various giveaways and extra point earning opportunities on our social media pages – on Twitter we have $5 Amazon gift card give away, on Facebook we have a 500 point give away, and a 25 point weekly survey. (everyone qualifies for the 25 points)
- Lastly, every time you participate in an external survey (these surveys are higher in point value) from the Available Surveys page or e-mail, you are entered into a 4000 point weekly give away.